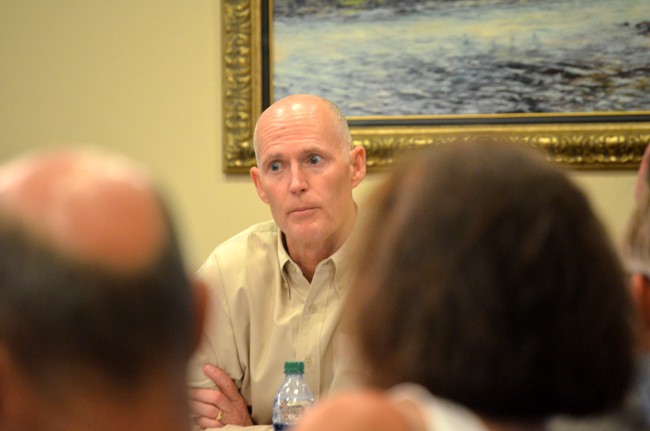 "The early results are positive," Gov. Rick Scott told local politicians and business leaders in a round-table discussion at the Flagler County Chamber of Commerce earlier this week. "Unemployment has gone from 12 percent down to 10.7, I think your area has gone up, you're the second-worst right now, but as compared to what's going on in the country, where unemployment is going up nationwide, in Florida unemployment has been going down. We've generated 65,000 jobs so far this year, we're second to Texas, when, again, the national numbers are pathetic. So we're bucking the national trend."
Scott's interpretation of the numbers is off.
The nation has added 1.4 million jobs in the past year–significantly less than what it needs to bring the unemployment rate back to its level in the late 1990s, but enough to bring it down almost a full point lower than Florida's, where the numbers, particularly in Flagler County, remain "pathetic."
The 70,000 jobs created in Florida in the past year represent 5 percent of the job creation across the nation, though Florida has 6 percent of the nation's labor force. In other words other states are proportionately creating more jobs than Florida.
And according to Gallup's just-released index of state-by-state job creation, Florida doesn't make the top 10 states, nor does Texas. Rather, it places Florida close to the bottom–in 39th place, with a job creation index of 9, one point  better than Idaho, New York and Maine. Leading in job creation, with an index of 32, is North Dakota, where the energy sector is powering economic activity, followed by the District of Columbia, West Virginia, Alaska and Oklahoma. Georgia is in 10th place with an index of 18.
The picture darkens on at least two counts: first, the University of Florida's Bureau of Economic and Business Research's consumer confidence index for August crashed again into recession territory. Second, when the type of economic activity being lost in Florida is analyzed, Scott's boast is difficult to sustain given structural weaknesses in Florida's economy.
Scott made jobs a key component of his campaign, promising 700,000 new jobs — above and beyond the jobs which would have been naturally created by the economy — in seven years. And, once in office, he has continued to focus on jobs.
The agenda this past legislative session was all about making Florida friendlier for businesses, with corporate tax breaks and across-the-board loosening of regulations — even environmental regulations. Florida's schoolchildren and teachers, public employees, and people with disabilities were all required to make sacrifices at the jobs altar.
And after all that, Florida is still likely to remain in the jobs doldrums, according to an analysis of Florida businesses by Economic Modeling Specialists and published Tuesday in the St. Petersburg Times.
EMSI found that Florida absorbed the loss of 24,402 businesses, mostly small start-ups, in 2009 and another 2,194 in 2010. That at least seems to reflect an improving situation. But, EMSI warned, the loss of 26,596 businesses in two years is unprecedented.
"No state has seen that big of a cumulative drop in the last decade," EMSI spokesman Joshua Wright told the Times.
Just to get a sense of what the loss of 24,402 businesses in a year represents, in the period up to 2008, Florida typically added 25,000 new businesses annually. It was one of the top states in the country for new business growth. But in 2009, it was ranked 51st (the District of Columbia is included in the rankings). Last year the Sunshine State was 43rd, although glee over that slight improvement should be tempered by the fact that 21 other states saw growth in new businesses.
What makes this development even more troubling is that, contrary to popular opinion that says small businesses are the job-creators in our economy, economists increasingly believe that job creation is not so much a factor of the size of the business, but rather the age of the business.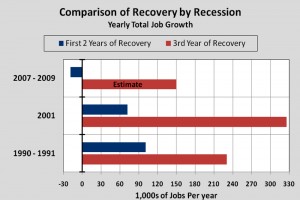 "The only group that disproportionately creates jobs is startups," said Ron Jarmin, assistant director for research and methodology at the U.S. Census Bureau and coauthor of that research paper, titled "Who Creates Jobs? Small vs. Large Vs. Young."
Start-ups like the 25,000-plus who shut down in Florida in the last two years.
There are some bright spots that might help start-ups rebound nationally, and in Florida: Credit is slowly loosening up, which is critical for small businesses and start-ups. The pace of job creation has almost doubled in 2011 over 2010. And oil seems to be stabilizing.
But considering that construction has been one of the hardest-hit industries in Florida — the EMSI analysis found that 17,000 construction start-ups failed between 2008 and 2010 in the state — and Florida remains at the center of the foreclosure crisis, it could be a tough climb back.
Florida Tax Watch just released a forecast on job growth (see below). "Though far better than none at all," the report concludes, referring to a 2 percent job growth rate in the coming year, it will be half the pace of previous job recoveries. "The unemployment rate will decline only gradually and the recovery will continue to be sluggish, even into its third year. From the perspective of economic sectors, the reasons are clear: (1) the lingering surplus of houses and (2) the sluggish adjustment of the balance between private and government jobs. Eventually construction will return to normal and lost government jobs will be replaced by private jobs, but the transition is likely to be slow."
–FlaglerLive and Ralph De La Cruz, Florida Center for Investigative Reporting