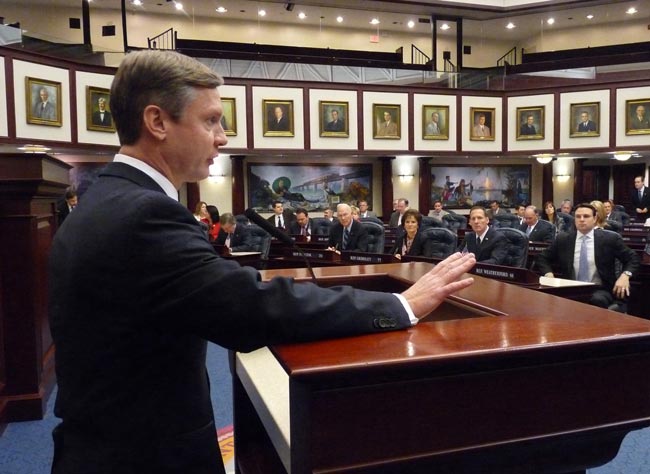 A $69.2 billion budget that plows an addition $1 billion to education, but slashes other services to plug a nearly $2 billion shortfall, passed the House on a party-line vote Thursday.
Republicans hailed the measure, which passed 79-38, as a responsible way to balance the state's needs as a sputtering economy continues to slow revenue growth. The GOP highlighted the 2.3 percent increase in per-student funding, spurred by veiled veto threats from Gov. Rick Scott, even as they conceded that they would like to devote more funding to areas like education.
"Our circumstances are what they are," said Rep. Erik Fresen, R-Miami. "This budget is a direct reflection of that."
But Democrats slammed the budget, which would take effect July 1, for focusing exclusively on cuts to fill the revenue shortfall. As they have, practically since the difficult economy began taking a toll on state spending, the minority party called for the state to consider taking further steps to collect the sales tax on Internet purchases or otherwise raise revenue.
"This budget looks at only one side of the equation, folks," said Rep. Jeff Clemens, D-Lake Worth. "It's a half budget. It's halfway, half-witted and half-hearted."
Democrats also said that the spending measure actually restored less to education than lawmakers had taken out in last year's budget.
"We need more than that," said Rep. Alan Williams, D-Tallahassee. "Our children deserve more than that."
They also tore into some of the particular cuts, including $11.7 million in savings from lowering the age at which the state ends a subsidy for former foster children from 23 to 21.
Rep. Cynthia Stafford, D-Miami, shot back at the suggestion Wednesday from the House sponsor of the measure (HB 5303) that residents who would lose the subsidy should "get a job."
"None of these people asked to be in this position. … To tell them to get a job is not the answer. It's not that they don't want a job. There are no jobs out there for them to get," she said.
Republicans countered that the state needs to prepare foster children for the world they will face as adults, instead of encouraging them to remain on the state dole.
"What we're building is a highway of dependency," said Rep. Dennis Baxley, R-Ocala, himself a foster parent. " … We need to truly build a road to independence."
There are still some differences with the version of the budget emerging in the Senate, which is expected to be approved in the next couple of weeks. The Senate would slash university operating budgets by $400 million, expecting the schools to draw on their reserves in the coming fiscal year, while the House would boost tuition by 8 percent. And public education would grow by nearly $1.2 billion instead of the slightly more than $1 billion proposed by the House.
Overall, though, the different areas of the budget are similar in size, something that makes lawmakers confident they can avoid the drawn-out negotiations over allocations that have often slowed the conference process in recent years.
"That makes it a little easier, when we are closer on the silos," said House Appropriations Chairwoman Denise Grimsley, R-Sebring.
–Brandon Larrabee, News Service of Florida