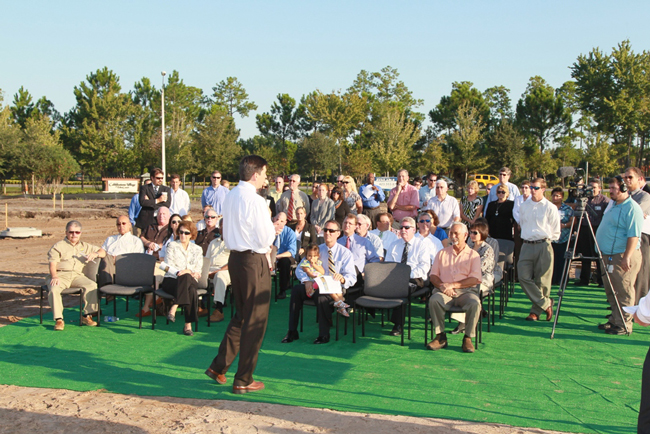 Florida Hospital Flagler hosted a ceremonial groundbreaking this morning at the future Florida Hospital Flagler Medical Plaza at 120 Cypress Edge, near the Golden Corral restaurant and parallel to Palm Coast Parkway, in Palm Coast.
The hospital 3 acres in the Cobblestone Village in July 2011. Construction on the $8 million facility is scheduled to be complete by next summer. The hospital is investing $15 in all into the facility, when equipment is included. The Florida Hospital Flagler Medical Plaza will be a 34,000 square-foot facility with physician suites and outpatient hospital services, such as rehabilitation, imaging, laboratory, and a women's center. The facility adds Florida Hospital's imprint on the Palm Coast Parkway area of the city, until now home to many medical offices, particularly toward the western end of the parkway, but none belonging to the hospital.
The facility should result in a net increase of some 15 to 25 new, well-paying jobs.
"Several uses were proposed for this property, but none of them seemed quite right," Palm Coast Mayor Jon Netts said. "This is better than we could have imagined. This will make it easier for our people to access the special kind of care available at Florida Hospital Flagler."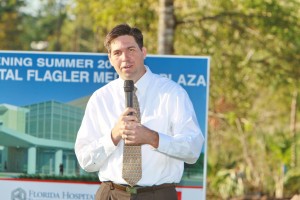 Alan Peterson, chairman of the county commission, reminded the crowd what one of the uses was going to be: a tire shop. He and Netts were both on the city council when that was proposed–and prevented.
A brief presentation and blessing of the site marked the beginning of the project to bring the latest in health care technology and care to Palm Coast. Florida Hospital Flagler is a Seventh Day Adventist non-profit hospital, where faith has a central role in management and employee conduct.
"Over the last several years, Florida Hospital Flagler has continued to grow, adding new services such as minimally invasive robotic surgery and PCI," David Ottati, the hospital's CEO, said, referring to Percutaneous Coronary Intervention, also known as interventional cardiac care. "We had run out of space at our main campus and this will be a good location for us. We appreciate the outpouring of support from the community and we plan to bring even more new services to the area."