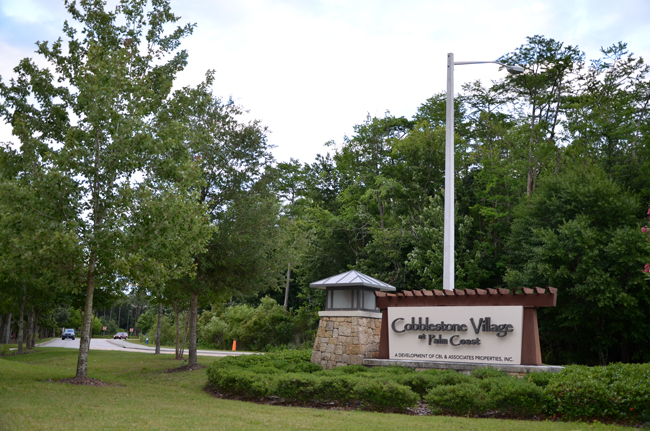 Cobblestone Village is the 45-acre commercial development that snakes along Cypress Edge Drive in Palm Coast, just past Walmart. The development parallels Palm Coast Parkway, with Sonny's Bar-B-Q on one side, Belk's and Lowe's on the other, and Golden Corral and a good deal of thick woods and wetlands in between. Two years ago the city approved a zoning change to allow a hotel, two restaurants and a free-standing building on nearly 8 acres. On Tuesday, the Palm Coast City Council will be asked to approve an amendment to that plan: the addition of a medical office building.
The application doesn't mention what type of office building, likely because the prospective occupant hasn't yet closed on the property, but will.
And by mid-2012, the building in question will be a 30,000 to 34,000-square-foot Florida Hospital Flagler facility that would add 15 to 25 new, relatively well-paying jobs. The facility would have physician offices, a rehab facility, a walk-in urgent-care clinic, and imaging, among other services.
"It's strongly in the works," David Ottati, Florida Hospital Flagler's CEO, said on Monday. "This is the hub for Flagler County and the health services," he said, referring to the hospital's campus on State Road 100, but, he added, "there seems to be a need to have us in our opinion a strong presence on the Parkway as well."
The building itself is to be an $8 million project, double that when all investments, including equipment, is included. "Our goal would be to have that done by next year, and get that rolling up there," Ottati said, specifying the middle of next June.
For the hospital, it's the latest expansion in a steady string of expansions, within the hospital and around it, that have defied the recession—if not, in the case of this latest expansion on the Parkway, taken advantage of it by buying land and building at a time when costs are far less than they'd been at the height of the building boom five years ago.
The strategy isn't an all-around winner for those who are sitting on commercial property they'd like to unload. "What I hear from the community periodically is, why don't we use existing space that we have out there," Ottati said. "We have done research in multiple different spaces, and by the time you buy the building, buy the land and reengineer it to what we need, it's cheaper to build it ourselves, which is unfortunate. We've done that analysis a couple of times, which is a struggle, because you want to help the community out, but on the other hand the cost is just high. We just can't be subsidizing everybody around us, so we've had to look at a couple of opportunities and pass, and this one is one we can actually build economically, to our needs. It'll be nice. It'll actually be very nice."
One of the hospital's latest rounds before the city council wasn't an entirely happy one. The hospital was looking to change allowable building densities and building heights on its main campus, which the city approved. It was also looking to add a large, electronic sign at the main entrance to the hospital. The council turned that down, in line with a universal ban on electronic signs across the city (except for schools). Ottati is still smarting from that rejection: he noted ruefully that two months ago, the Daytona Beach City Commission carved out an exception to its electronic-sign ban for hospitals, large auditoriums of performing arts venues, sports districts and sizeable colleges. The same exception could have been fashioned here, he said.
Ottati doesn't expect any difficulties with the process leading to the expansion along the Parkway.
That land-use amendment would eliminate the construction of a fast-food restaurant in the second phase of Cobblestone Village's development, should a hotel be built there as well (though should a fast-food restaurant come first, the hotel would be eliminated). The Walmart parking lot and Florida Hospital Flagler's facility are likely to be connected by a driveway, according to the proposal.
The city council takes up the matter shortly after convening Tuesday morning at 9 a.m. at the Palm Coast Community Center.