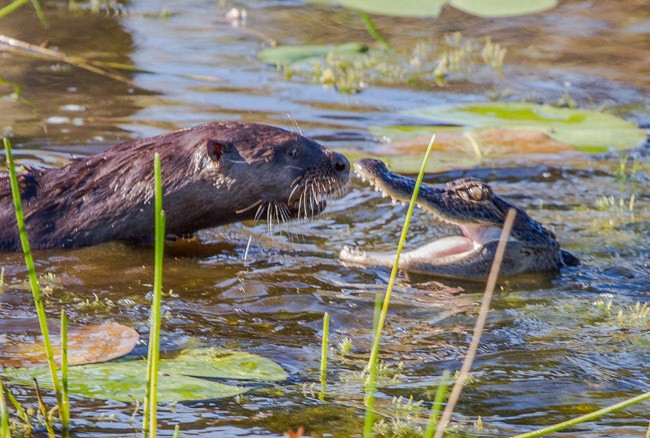 Several senators want their chamber to float more than a proposed $2 million for land purchases in the Florida Forever program, after voters last year overwhelmingly backed an increase in money for conservation efforts.
But for now, those lawmakers will wait to see if the amount can be increased during upcoming budget talks with the House — talks that in part will be handled by Sen. Alan Hays, a Umatilla Republican who says Florida already has enough land in public hands.
Hays on Wednesday assured members of the Senate Appropriations Committee that the $2 million figure for Florida Forever is "a placeholder, a point for negotiations to begin."
Yet Hays, chairman of the Senate General Government Appropriations Subcommittee, reiterated his contention that there may already be an overabundance of government-owned land in Florida. Hays' subcommittee has divvied up money under Amendment 1, a ballot initiative that voters passed in November.
"We don't need to be known as the hoarding-land state," Hays said. "We need to be known as good stewards of the resources that the people own, whether it be their cash or whether it be their hard assets."
Hays' comments came before Sen. Thad Altman, R-Rockledge, and Senate Minority Leader Arthenia Joyner, D-Tampa, withdrew proposed budget amendments Wednesday that would have significantly increased money going from the state Land Acquisition Trust Fund to the Florida Forever program.
The senators were among a number of lawmakers and environmentalists who said voters expect more land acquisition from the estimated $741.2 million that will be generated for land and water issues under Amendment 1.
The House has proposed $10 million for Florida Forever, while Gov. Rick Scott requested $100 million.
---
An amendment that requires 33 percent of revenue from a real estate tax to be spent on land and water projects is being reinterpreted by the Legislature.
---
"I just feel we have many, many projects that if we don't (buy) soon, they will be gone forever," Altman said "And then we'll have more very, very expensive capital-improvement projects, retrofits, engineering solutions that may never be able to turn it back."
The amendment requires 33 percent of the proceeds from a real-estate tax to go for land and water projects.
The funding level is currently projected to generate more than $200 million above what lawmakers allocated for such uses in the current year.
The Senate plan designates $491 million to existing environmental programs, including parks and wildlife management, invasive plant control, water resources programs and debt service.
An additional $50 million would go to natural springs, $25 million for trails funding, $82 million for Everglades restoration, $22 million for the Kissimmee River and $25 million for beach renourishment.
The House, which includes $25 million for the Rural and Family Lands program, $100 million for the Everglades and $105 million for land management, matches the Senate on springs and beach restoration funding.
The House is at $91.6 million for the management of state parks, greenways and wildlife management areas, while the Senate is at $25 million.
Altman had proposed using bond proceeds to generate $350 million for Florida Forever land purchases. That would match the estimated amount of a proposal for the state to purchase U.S. Sugar land in the northern Everglades for a reservoir.
A 2010 deal requires the state to purchase 46,800 acres, of which 26,100 acres would be used for construction of the Everglades Agricultural Area reservoir, by Oct. 12. Otherwise, Florida would have to buy an additional 157,000 acres to get the land for the reservoir.
Joyner proposed a budget amendment to raise the land purchase total to $79 million.
Sen. David Simmons, R-Altamonte Springs, said the rush to increase funding for land purchases is "premature at this point in time."
Simmons, who supports a "rational" purchase of land for reservoirs to clean the Everglades and to protect some of the state's most endangered natural springs, said lawmakers need to set up a land-acquisition plan.
"I assure you there are targeted acquisitions that I believe need to be made, and I believe common sense requires we make, and that we give the appropriate agencies the ability to study, finalize and complete that plan, whether it's one year, or a year-and-a-half," Simmons said. "This is an opportunity that is a lifetime opportunity."
Sen. Joe Negron, R-Stuart, said $2 million for Florida Forever is "not responsive to the constitutional amendment."
Negron said that voters from his district expect significant land purchases that are part of a process to reduce releases of polluted water from Lake Okeechobee into estuaries east and west of the lake.
The concept of the constitutional amendment was spawned as funding diminished for the Florida Forever program.
Florida Forever, which uses bonds backed with revenue from the documentary-stamp real-estate taxes, authorizes lawmakers to spend up to $300 million a year for preservation. But as the economy went sour during the recent recession, so did funding for Florida Forever.
–Jim Turner, News Service of Florida