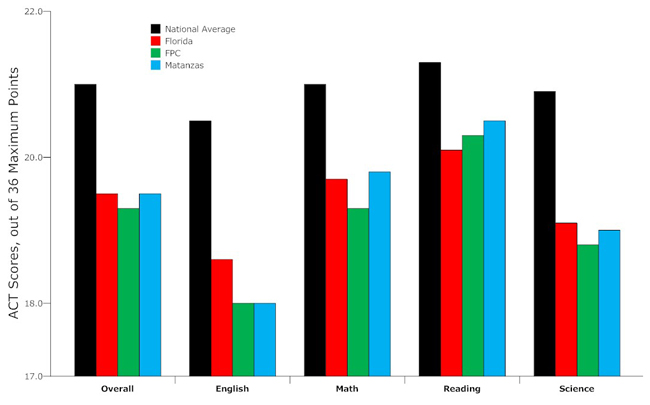 The Flagler County school district may have scored an overall A for the third year in a row when measured by the state's self-contained Florida Comprehensive Assessment Test, which has no relationship with national standards. When it comes to college readiness, neither Flagler nor Florida have much to be proud of.
Florida's high school students rank third from the bottom in overall college preparedness as measured by the latest ACT results, one of the more rigorous and standard national measures of academic achievement.
The average ACT score for the 119,000 Floridians who took the test in 2010 is 19.5. Only Kentucky and Mississippi students fared worse. Kentucky's average 19.4. Mississippi's averaged 18.8. The national average is 21, though that average is exceeded by 32 states. Most Southern states rank near the bottom. The top 10 are all Northeastern states with the exception of Washington and Minnesota. Massachusetts is at the top, with an average overall score of 24.
While the national ACT trend has held relatively steady since 2006, fluctuating between an overall average of 21 and 21.2, the trend in Florida is decidedly downward. Florida's graduates had an average score of 20.3 in 2006. The average has fallen every successive year until it steadied this year at 19.5, where it was last year. The scores, combined with Florida's drop-out rate, which leads the nation, and the low quality of its public higher education system relative to the rest of the country, paint a dismal picture of the state's commitment to education. Financially, the Florida Legislature and is among the stingiest
Here's the story in charts: