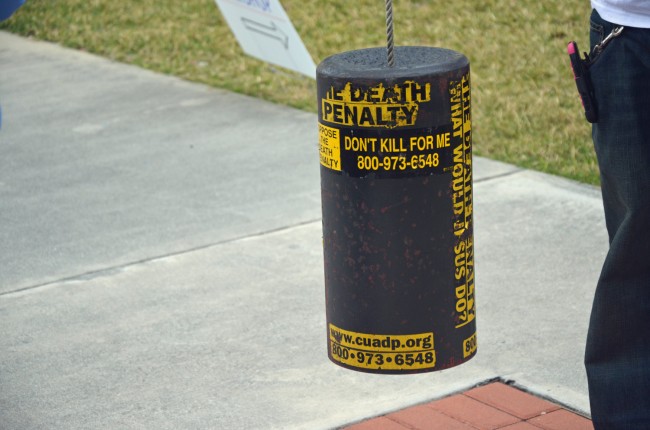 Gov. Rick Scott on Friday signed the controversial "Timely Justice Act," a measure aimed at reducing delays in carrying out the death penalty in Florida. The signature makes at least 13 inmates immediately eligible for death warrants, which must be signed within 30 days of the state Supreme Court certifying that an inmate's appeals and clemency reviews have been exhausted. Once the governor signs a death warrant, executioners at Starke state prison have six months to carry out the killing.
Opponents have argued that the measure (HB 7083) will heighten the possibility of executing innocent people, but Scott rejected that argument as he signed it. With that new law, Scott may be on course to sign the death warrants of at least 21 inmates since he took office, in one term, equaling the number of inmates executed during Jeb Bush's eight years. On Wednesday, William van Poyck became the eighth inmate executed on Scott's watch. Marshall Gore will be the ninth when he is killed by lethal injection on June 24.
Since Florida resumed executions in the 1970's, twenty-four wrongfully convicted death row prisoners have been exonerated thus far (the largest number of wrongfully convicted and exonerated death-sentenced prisoners of any state in the country) while seventy-seven prisoners have been executed. "That's one exoneration for every three executions," said Mark Elliott, Director of Floridians for Alternatives to the Death Penalty. "It is unconscionable to hurry up executions and further restrict access to evidence of innocence."
The Timely Justice Act "improves the orderly administration of capital punishment in our state," wrote the governor. "The bill does not increase the risk of executions of persons who did not commit murder."
The measure cuts the time between sentencing and execution by imposing strict time frames for appeals, post-conviction motions and reports on case progress.
In part, it requires the clerk of the Florida Supreme Court to notify the governor when a Death Row inmate's state and federal court appeals have been completed. The governor would then have 30 days to issue a death warrant if the executive clemency process has finished. The warrant would require that the execution be carried out within 180 days.
Sheila Hopkins of the Florida Conference of Catholic Bishops, which opposes capital punishment, said the bill will put pressure on Scott and every governor who follows him into office.
"The bill says he shall sign the death warrant within a certain number of days of the executive clemency process being completed," Hopkins said. "He is being told that he is to do this."
But Scott argued that the measure is the object of "misrepresentation" by opponents.
"It does not 'fast-track' death-penalty cases through the court system," he wrote in his transmittal message on the measure. "It does not change the full panoply of judicial review available to death-sentenced inmates."
But House sponsor Matt Gaetz, R-Fort Walton Beach, posted a message Friday on Twitter that appeared to disagree with the governor's position about whether the bill will speed up executions.
Gaetz tweeted his thanks to Scott for signing the bill and noted, "Several on death row need to start picking out their last meals."
Scott's office helped draft the Timely Justice Act, according to Gaetz, who called it "a modest down payment on the reforms that we need to ensure that victims' families aren't waiting decades for justice."
Howard Simon, executive director of the American Civil Liberties Union of Florida, issued a statement condemning the changes and charging Scott with signing the bill for political gain.
"Shame on the governor for putting the cynical calculation of his chances for re-election over ensuring that Florida will never execute an innocent person," Simon wrote. "Signing the 'Rush to Execute' bill (the grotesquely-named 'Timely Justice Act') will make this next year the deadliest and ugliest in the history of Florida's death row."
If Scott signed the bill for political gain, however, he went against the tide of calls, letters and emails urging him to veto it. As of Thursday, his office had received 447 phone calls, with 438 opposed to the bill; 14 letters, with 13 opposed; and 14,571 emails, with 14,565 opposed.
Scott also ignored pleas from the Conference of Catholic Bishops. Michael McCarron, the conference director, wrote Scott last month, noting that the state had led the U.S. in death sentences handed down in 2012.
"This fact, coupled with Florida's other dubious distinction of leading the country in the number of death sentences overturned, compels our state to conduct a careful and deliberate review of the system," McCarron wrote Scott.
The Death Penalty Information Center lists Florida Death Row inmates who were under a sentence of death for more than 10 years before being exonerated by new evidence of their innocence:
James Richardson (21 years), Juan Melendez (18), Rudolph Holton (16), Frank Lee Smith (14), Freddie Pitts (12), Wilbur Lee (12), Joseph Brown (13), and Seth Penalver (13).
According to the Innocence Project of Florida, in January, 2000, some 14 years after his death sentence, Frank Lee Smith died of cancer on Florida's Death Row. After his death, DNA testing not only confirmed his innocence, but identified the real perpetrator.
Less than six months ago, Seth Penalver became Florida's 24th exonerated Death Row prisoner. Penalver was released after 18 years in prison and on Death Row. "If executions are sped up, then we will be killing innocent people like me." said Penalver. "Evidence of my innocence was withheld and hidden for almost eighteen years after my conviction." Seth Penalver is one of eight Floridians who were exonerated more than ten years after being sentenced to death. "Executing innocent people is murder by all, not justice for all," said Penalver.
Juan Melendez was on Florida's Death Row for almost 18 years for a crime he did not commit. A "lost" confession by the real perpetrator was presented some 16 years after his conviction. Melendez was exonerated and freed.
But Scott's office disputed that any of the 24 exonerated inmates would have been executed if the Timely Justice Act had been in place. It said that none of the 24 would have been certified as eligible for a death warrant under the requirements of HB 7083, because none of them had exhausted their legal remedies.
The Timely Justice Act passed the House 84-34 and the Senate 28-10, mostly on party lines.
Lawmakers also voted down an effort to amend the bill to require the unanimous vote of a jury to impose the death penalty. Florida is the only state in the Union where a simple majority of a 12-person jury can sentence a defendant to death. In Alabama, a 10-2 vote is necessary, while the rest of the death-penalty states require the jury's decision to be unanimous.
Florida has the nation's second largest Death Row with 405 people, according to the Death Penalty Information Center's latest report, The Death Penalty in 2012: Year End Report. Florida also sentences far more people to death than any other state. Last year, Florida had 22 new death sentences out of 78 nationally—that's more than one quarter of all new death sentences in the U.S.
–FlaglerLive and News Service of Florida