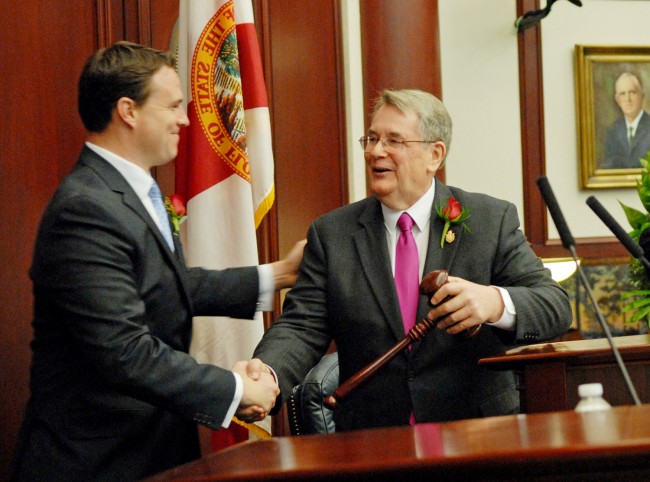 The House and Senate completed a far-reaching agreement on ethics and campaign finance bills Wednesday that could force Gov. Rick Scott's hand in a showdown with the Legislature.
The intricate deal, negotiated outside the public eye, would give House Speaker Will Weatherford, R-Wesley Chapel, and Senate President Don Gaetz, R-Niceville, a victory on what each has identified as one of his top priorities. And it could remove key pressure points for Scott as he looks to force lawmakers to follow his lead on an unrelated budget dispute.
The campaign finance measure (HB 569) would abolish "committees of continuous existence," shadowy campaign groups that have been blamed for making some political contributions virtually untraceable; however, the unlimited donations that currently flow to CCEs could now be given to other political committees.
At the same time, it would increase the amount that each contributor can give to candidates during an election, boosting that limit to $3,000 for statewide and Supreme Court campaigns and $1,000 for other candidates. Those limits currently sit at $500. The bill would also increase reporting requirements for campaigns.
That measure passed the Senate on a 37-2 vote.
The ethics bill (SB 2) would bar elected officials from taking advantage of their positions to get taxpayer-funded jobs and block lawmakers from lobbying state agencies for two years after they leave office. But the measure approved by the House dropped a two-year prohibition on legislators taking quasi-lobbying jobs with firms trying to influence the Legislature.
House members unanimously backed the proposal, 117-0.
Neither measure sailed through completely unchallenged. Sen. Jeff Clemens, D-Lake Worth, said he was concerned with a provision of the campaign finance bill that would allow candidates to roll over $20,000 from one election to the next. Clemens said he needed $60,000 to win his first House election.
"It may not be significant for a race for state Senate, but certainly, for some of these House races, keeping $20,000 in an account gives someone a large unfair advantage in a race," Clemens said.
In the House, Rep. Mike Fasano, R-New Port Richey, questioned removing the ban on quasi-lobbying jobs from the ethics bill.
"We come up here to serve the people of our district, not to further our financial careers," Fasano said.
Both bills still have to go back through their original chambers before heading to Scott, but that is not expected to be a problem.
The agreement could play into a complicated faceoff between Scott and the Legislature on the budget and the ethics and campaign finance bills. Scott wants a $2,500 across-the-board raise for classroom teachers instead of the performance-pay plan pitched by lawmakers, and has implied in recent days that the fate of the Legislature's priorities could be tied to the budget fight.
Scott's office had signaled earlier that he was uneasy with raising contribution limits, a stance that didn't change Wednesday.
"No one's shown me a rationale for raising these limits," he told reporters. "So I don't know why we'd be doing it."
Asked if the agreement on the bills was meant to force Scott to sign or veto the bills before the Legislature adjourns — and before it votes on the budget — Senate Ethics and Elections Chairman Jack Latvala, R-Clearwater, smiled and said "no" in apparent sarcasm.
"I'm sure that won't affect the governor one iota," Latvala said. "He'll do what he thinks he needs to do."
–Brandon Larrabee, News Service of Florida