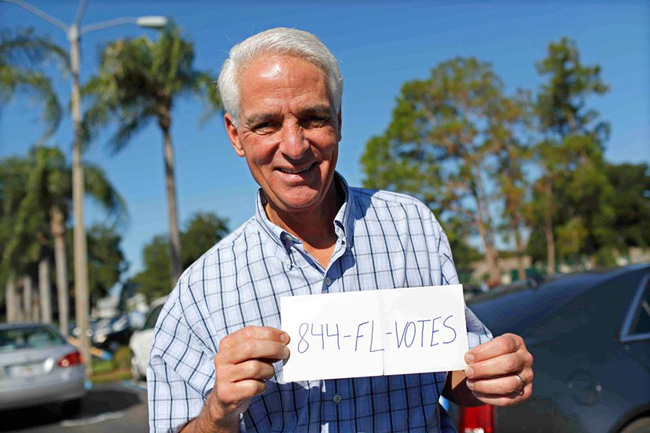 By Daniel Tilson
The condolence calls, texts, tweets and Facebook messages started coming in just before 10:30 on Election Night, right after the Associated Press called Rick Scott the winner of the governor's race.
Family and friends from New York to California and points in between (including Florida!) knew how hard Floridians like my Mrs. and me fought for Scott's defeat.
A voicemail message from old pal Kevin, who lives just outside D.C. in Virginia and has worked for decades at the Department of Justice, summed it up.
"Would you tell me, Daniel, what is wrong with your state of Florida, seriously, how could they re-elect Rick Scott, what is it that Rick Scott gives Floridians?"
We Florida Democrats are asking the same questions today. Sure, some of us are wondering if we'd be better off relocating elsewhere rather than fighting on for political balance of power here. But mostly, we're trying to answer those questions in ways that move our party and state forward, toward much better days than these.
So, what's wrong with Florida?
Well, about 3 million Christian conservatives and other mostly anti-government Republican voters (sprinkled with some independents) keep re-electing governments that the other 15 million of us get stuck with.


Exit polling confirms they're whiter, wealthier, older, more religious and rural/suburban-based than the rest of us.
However good-hearted and well intended they might be otherwise, as voters they're motivated and manipulated by frustration, anger and fear.
These are people who'll fight tooth and nail to protect and perpetuate a 20th (19th?) century American pecking order of power and privilege.
The notion of an emerging majority consisting of people of color, immigrants and struggling lower and middle-income workers in need of an activist government that creates, promotes and protects equal socioeconomic opportunities for all; that's a threatening notion to the frightened folks who elect our government.
---
For all its fear-based tactics, the Florida GOP focuses on understanding their base voters, and making them feel respected and protected. Democrats in comparison have no clue.
---
Their frustration and fear is fueled by unlimited corporate billions in conservative media and political propaganda, and translates into high levels of brand loyalty and voter engagement.
That's a big part of what's wrong with Florida. It's how a radical right wing extremist like Scott gets elected, and re-elected. And it's why the GOP gained six seats and a supermajority in the state House Tuesday, missing in the Senate by only one seat.
The Florida GOP focuses on understanding their base voters, and making them feel respected and protected.
That's what Scott gives Floridians; well, about 3 million hardcore conservatives anyway.
And then, there's the Florida Democratic Party (FDP).
Too little space here to go into detail about what the FDP did wrong in 2014. Another time.
For now, know that thousands of dedicated Democratic grassroots activists worked tirelessly for months on voter contact and Get Out The Vote operations.
Yet none of the turnout percentage gains I kept hearing were coming on Election Day materialized in the three Democratic strongholds — Miami-Dade (40.6 percent), Broward (43.5 percent) and Palm Beach Counties (49.1 percent).
But in most Republican strongholds, voter turnout hovered around 60 percent.
Game over.
Don't blame Obama.
Don't blame the efforts of grassroots activists.
Don't blame Nan Rich for weakening Crist in the primary, or Libertarian candidate Adrian Wylie for stealing more votes from Crist than Scott.
FDP leaders, pundits, advisers, analysts and apologists will cite assorted "explanations" for losing.
Yet too few seem to understand and appreciate their rapidly evolving base. They don't break it down into local communities of shared interest and gain credibility by working with them between elections. And they don't communicate a progressive vision big, bold and unifying enough to activate such a diverse base when needed.
And so about 85 percent of Florida's residents will get run roughshod over for at least two more years by the barely 15 percent who pick our government, and by the party that knows and caters to them so well.

Daniel Tilson has a Boca Raton-based communications firm called Full Cup Media, specializing in online video and written content for non-profits, political candidates and organizations, and small businesses.