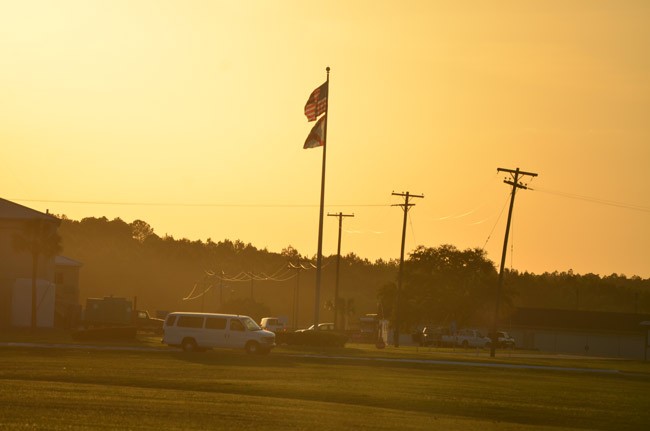 By Martin Dyckman
For 13 years, Florida's death penalty process has been on thin ice at the U.S. Supreme Court. The Legislature has pretended not to notice even though the state Supreme Court sent an early warning.
Now, the ice is cracking.
On Monday, the high court agreed to consider whether Florida's law conflicts with its 2002 opinion in Ring v. Arizona that the jury, not the judge, must determine the existence of aggravating factors to support a death penalty.
Florida law leaves that to the judge, along with the power to condemn a defendant even without a unanimous jury recommendation for death. Only Alabama has a law like that.
Although juries are told they must find aggravating factors in order to recommend death, there's no provision for specifying the factors or even how they voted. The judge is left to infer what they found.
If the U.S. Supreme Court rules Florida's peculiarities to be unconstitutional, many if not most of Florida's 393 death row inmates might have their sentences–though not their convictions–overturned. The case is scheduled for argument during the court's term beginning in October 2015.
The court could decide the case on narrower grounds. Convicted murderer Timothy Hurst, who slashed and stabbed a restaurant co-worker at Pensacola, is also challenging Florida's refusal to have the jury rather than the judge determine whether he is mentally retarded and ineligible for the death penalty.
---
Florida and Alabama are the only states where a person can be executed without a unanimous determination from a jury.
---
Then, too, it takes the votes of only four justices to accept an appeal. There might not be a fifth to do anything but uphold Hurst's conviction and sentence.
For now, however, Florida legislators who favor the death penalty have a decision to make. Do they enact legislation to require unanimous jury votes and specific findings? That would moot the Hurst case with respect to future convictions, but it might lend strength to his claim. Or do they sit on their hands, pretending that the situation in Washington isn't serious?
The moral aspect is a separate and compelling question. Nearly every other state has addressed it either by having no death penalty, by repealing it, or by requiring the jury to be unanimous before a life is taken, which is also federal law.
In 27 of the 31 death penalty states, according to a Florida Senate staff report, "the jury's decision to impose life imprisonment is final and may not be disturbed by the trial judge under any circumstances.
If jurors don't have to be unanimous, do they spend enough time and moral capital on debating life versus death? A 2006 American Bar Association report cautioned Florida that they don't.
In Tallahassee, both the House and Senate have identical bills to conform to Florida's procedure by requiring specific jury findings and a unanimous vote. SB 664 by state Sen. Thad Altman, R-Rockledge, is on the Criminal Justice Committee agenda but was passed by Tuesday for testimony on the prison scandals. It remains on the agenda for next week. House Bill 139, by state Reps. Javier Rodriguez, D-Miami, and Clovis Watson Jr., D-Gainesville, has yet to be scheduled by the first of three committees to which it is assigned. The legislators had filed the same bills last year to no effect.

"If you want the Supreme Court to invalidate the death penalty, just sit on your hands," Rodriguez says.
Death row inmates have raised the Ring decision in scores of unsuccessful appeals to the Florida Supreme Court, which has never agreed that it applies here. Individual justices have repeatedly said that it does. When Hurst's public defenders argued it last year, the court's majority said in effect, "That's our position and we're sticking to it."
But it was a rare split decision, 4-3, in which the minority agreed with Hurst.
"I continue to believe that, in light of Ring, Florida's death penalty statute, as applied in circumstances like those presented in this case where there is no unanimous finding as to any of the aggravating circumstances, is unconstitutional," wrote Justice Barbara Pariente in a dissent signed also by Justices James E. C. Perry and Jorge Labarga.
The Florida law spells out 16 aggravating circumstances, among them the defendant having a prior felony conviction or committing the murder in the course of a robbery. Some can be assumed automatically–for example, conviction of another crime is a matter of record–but most have to be supported by testimony for the judge to invoke them.
In Hurst's sentencing order, as Pariente pointed out, there were only two aggravators: a murder that was "heinous, atrocious and cruel" and committed in the course of a robbery. But although testimony suggested that Hurst had robbed the restaurant, he wasn't convicted on any such count, and there was no way to know whether the jurors believed the killing could also be characterized as "heinous, atrocious and cruel."
Because the jury voted only 7-5 for death, "the slimmest margin permitted," Pariente wrote, "it is actually possible that there was not even a majority of jurors who agreed that the same aggravator applied."
The Florida law provides for automatic Supreme Court review of every capital conviction and death sentence. According to the clerk's office, of 296 cases heard from 2000 through 2012, only 60–that's a mere 20 percent–involved unanimous jury death recommendations. The court upheld 38 of them. In 32 cases, the jury votes were 7 to 5 and the court sustained only 17, barely half.
In refusing to apply Ring, the Florida Supreme Court noted in a 2005 case that the U.S. Supreme Court had upheld the state's law against challenges of a similar nature. But those cases came before Ring, and the high court hasn't spoken on Florida's situation since.
In the 2005 case, Justice Raul Cantero's majority opinion suggested that "in light of developments in other states and at the federal level, the Legislature should revisit the statute to require some unanimity in the jury's recommendations…
"We ask the Legislature to revisit it to decide whether it wants Florida to remain the outlier state."
That's apparently what the Legislature did want. If Hurst wins in Washington, chaos in Florida could be their reward.

Martin Dyckman is a retired associate editor of the St. Petersburg Times. He lives in western North Carolina.