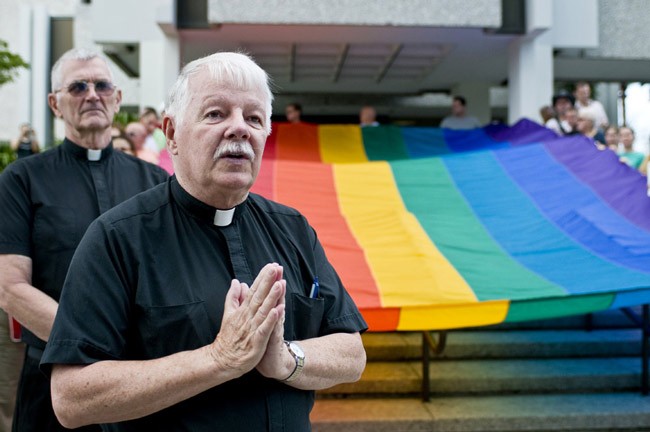 By Nancy Smith
To my knowledge, nobody has threatened a single Florida clergyman. But never mind that. Fear is a powerful unifier. And now legislators in each chamber are plowing ahead with bills to protect the religious freedoms of lawsuit-fearing clergy in case the U.S. Constitution doesn't.
I think I've just gotten too old. How has religion and politics become so tangled up together that they can threaten the veracity of the the law of the land and drive a wedge between people who don't try hard enough to understand each other?
Wednesday was depressing. I knew the so-called "Pastor Protection Act" was coming, I just didn't realize how unsavory it would sound, or how subtly divisive.
Rep. Scott Plakon, R-Longwood, introduced HB 43 to the House Subcommittee on Civil Justice. And frankly, I don't fault him. He was asked to carry a banner, he is a strong social conservative and his manner at every turn was respectful and statesmanlike.
"Court positions in the area of religious freedom have been evolving so rapidly," Plakon explained. "It's important that we provide pastors and other clergy who do so much important work in our communities this additional layer of clarity, certainty, comfort, and protection in state law."
HB 43 would allow anybody who performs marriages to refuse to officiate at a wedding if it violates his/her religious convictions. And the law would make it plain that churches or other religious organizations could refuse "to provide services, accommodations, facilities, goods, or privileges" to support any marriage that violates their theology.
Plakon tried to stay away from aiming the bill directly at the single-sex marriage issue. In fact, at first he stayed so far away Rep. John Wood, R-Winter Haven tried to help him explain the reason the bill is necessary. "Couldn't you call this bill an affirmation of our values?"
Pastors who had come to speak certainly did not avoid linking single-sex marriage and HB 43.
In June, the Supreme Court decided in favor of marriage equality the nation over. That decision instilled fear in social conservatives who say same-sex marriage compromises their religious beliefs. It was compounded by a 2014 case in which Houston passed a human rights ordinance that was challenged by a ballot campaign.
The case got sloppy. Houston officials subpoenaed sermons from local churches. Which gave pastors in Houston the notion they were being religiously persecuted.
I promise you, if that were the case, I might have jumped on a plane myself to join the protests across Texas. But the truth is, the subpoenas were intended to question the political motivations of tax-exempt churches waging a political battle. They were dropped because of the controversy. Not only that, the city hadn't even issued the subpoenas; they came from the pro-bono attorneys working for the ordinance.
Entirely needless divisiveness.
Here's where my age shows: In the 1960s, when one of my college roommates wanted to marry her divorced professor, the Catholic Church told her "no," we won't do it. Another college friend and her boyfriend, an interracial couple — were refused a marriage ceremony in their North Carolina Baptist churches. In the 1970s, when my then-divorced husband and I wanted to marry, the Church of England also said "no — not for at least seven years."
I promise you, in none of those cases did my friends or I remotely consider suing the churches or pastors who turned us away. As I recall, it created a personal sadness, but none of us would ever have dreamed of making it a cause. Ultimately, we all found clergy who married us. End of story.
On Wednesday the Rev. Paul Gibson, a pastor at Trinity Lutheran Church in St. Petersburg, said it best. "The (Pastor Protection Act) will create fear and confusion in the public and perpetuate the lie that religious freedom and basic human rights are in conflict with one another." Precisely my feeling.
Gibson suggested that instead of protecting pastors who have the First Amendment on their side, lawmakers spend their time in the Legislature passing bills that protect the state's most vulnerable — children, the elderly, the disabled, and the persecuted. Good suggestions.
Rep. Dwight Dudley, D-St. Petersburg  debunked one pastor's statement that nationwide there are six lawsuits against pastors who wouldn't perform same-sex marriages by pointing out the actual number of suits against clergy is four, and "in a nation of 300 million people, four lawsuits isn't exactly terrible." I have to agree. It really isn't.
Plakon claims there are more bills in the "Pastor Protection Act" vein coming down the 'pike — not only Aaron Bean's companion bill in the Senate, but  "bills for private businesses and adoption agencies and workplaces … HB 43 is only one of a handful of bills addressing the outcome of the Supreme Court case."
It's a way to make a production of the liberal judiciary's overreach, I suppose. And it's probably deserved. But when all is said and done, the bill is unneccessary, the Constitution guarantees religious freedom, the bills are little more than time in a hot-air balloon.


Nancy Smith is the editor of Sunshine State News. She started her career at the Daily Mirror and The Observer in London before spending 28 years at The Stuart News/Port St. Lucie News as managing editor and associate editor. She was president of the Florida Society of Newspaper Editors in the mid-1990s. Reach her by email here, or follow her on twitter at @NancyLBSmith.