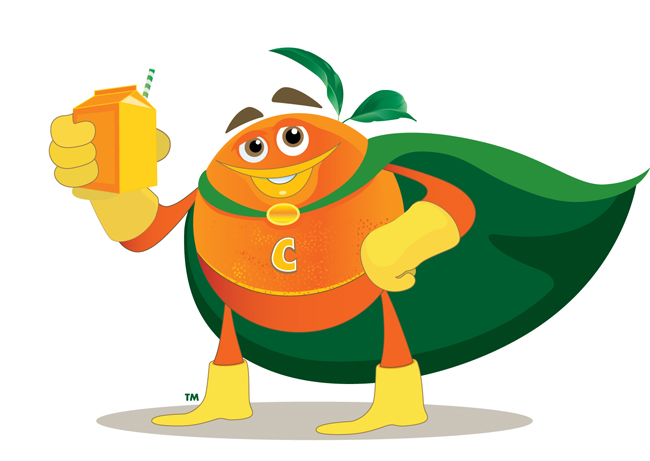 Marvel Comics, the creative home of Spider-Man, the Avengers, and the X-Men, might soon revamp the Florida Department of Citrus' own caped crusader.
The state agency, as it redirects marketing dollars to help juice the industry's sales, expects to finalize talks in the next few weeks with the Disney-owned company on a contract worth about $1 million to redesign Captain Citrus from a rotund creature from the Planet Orange into a male superhero.
Department spokesman David Steele said the goal is to transform the state program into a global brand.
"Marvel is dominating the superhero space at the moment, and we want to benefit from their genius as we work to get the message of orange-juice nutrition into the hands of children and their parents," Steele said.
The proposal is to have a redesigned Captain Citrus appear in at least one printed comic book and two digital sequels alongside characters from the Marvel universe, such as Captain America and his cohorts in the Avengers, Steele noted.
While Steele said the story lines won't be discussed until the re-launch, the idea is to "develop affinity for the character, deliver a message about the nutritional benefits of 100 percent Florida orange juice, and build loyalty for Florida citrus."
Captain Citrus was created by the department in 2011 to get the message of OJ nutrition into the classroom.
The redesigned captain is also expected to play a role in the department's new "There's Amazing Inside" campaign, launched this week at the Florida Citrus Industry Annual Conference in Bonita Springs.
The money for the program and the new marketing campaign come as the department will no longer purchase high-volume TV time for ads, a move expected to free up about $13 million for branding and marketing programs.
"The evolving media habits of consumers, combined with (the Florida Department of Citrus') declining revenues and unpredictable funding levels, it no longer made sense for us to lock up such a huge percentage of our budget in television buys," Steele said.
The department's funding mostly comes from a tax on the sale of oranges and other citrus.
The refocus comes as the U.S. Department of Agriculture projects Florida orange juice production is down 22 percent from the same time a year ago. A large part of the drop is credited to the spread of an incurable disease called citrus greening.
The state budget signed June 2 by Gov. Rick Scott includes $3.5 million for citrus-disease research and $500,000 for in-state citrus-breeding programs and to develop and acquire new citrus varieties.
–Jim Saunders, News Service of Florida