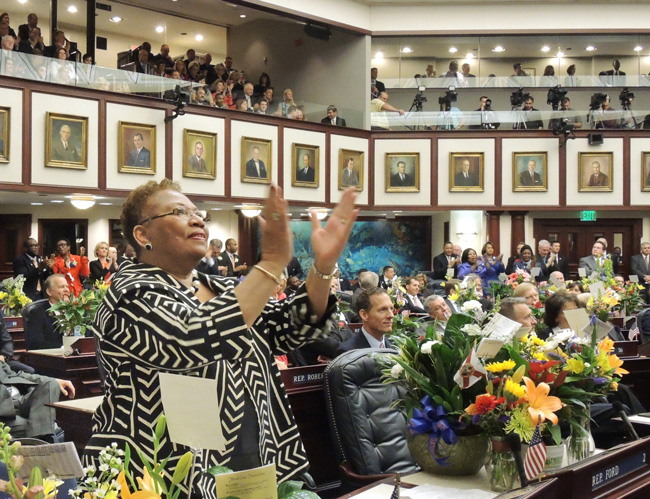 It appears Gov. Rick Scott will have more than $1 billion in extra money to work with when he begins crafting his budget recommendations for the legislative session that begins in the spring.
State economic forecasters added $324.3 million to expected tax revenues during the current budget year, which ends June 30, and the fiscal year that begins the next day. Because lawmakers have already passed a budget covering this year, all of the new money should be available for the spending plan that starts in July.
Lawmakers were already expected to have a windfall of $845.7 million next year, even after anticipated spending in areas like education and $1 billion in reserves was taken into account. The new estimates would push that close to $1.2 billion, though a firm number likely won't be available until meetings next week to determine whether public schools and health-care programs will need more money.
The added income will presumably make it easier for Scott to sell his plan to slice taxes and fees by $500 million. It will also give lawmakers, who will work off of projections issued in a few months, the room to fund their own ideas and initiatives ahead of the November elections.
Still, legislative leaders moved quickly Friday afternoon to play down the possibility of a spending spree.
"While I am pleased that it appears we will once again see a budget surplus in the upcoming fiscal year, the Florida House will still work to develop a fiscally responsible budget that maximizes every dollar, prioritizes funding in the best interest of all Floridians and also provides for meaningful tax relief for our hardworking families," said House Appropriations Chairman Seth McKeel, R-Lakeland.
Senate President Don Gaetz, R-Niceville, also pushed a careful approach.
"Our budget planning will be cautious, our reserves will be adequate, and our spending will be conservative," Gaetz said.
Forecasters said they were being cautious about boosting expectations too much, given the continued battles in Washington over the federal budget and debates over whether to increase the cap on the nation's borrowing. The economic turnaround, though, appears to be taking hold.
"We're well into the recovery, and it's unfolding like we expected it to," said Amy Baker, the Legislature's chief economist.
The federal government, though, also appears to be boosting the state's fortunes. Economists added $76.4 million in new income next year from the state's insurance premium tax because of an expected increase in the number of Floridians purchasing insurance due to the Affordable Care Act.
–Brandon Larrabee, News Service of Florida