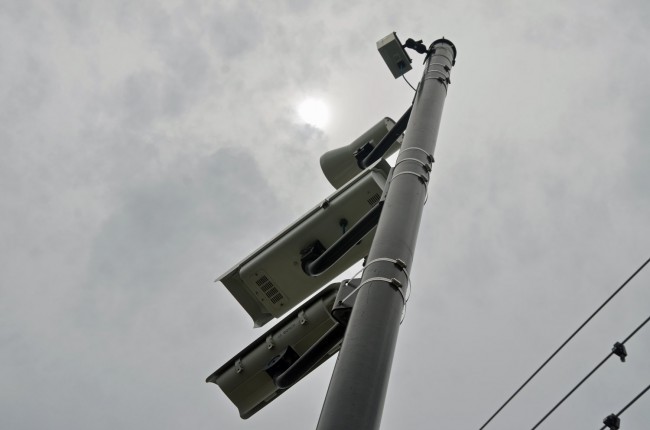 A provision in Florida law that would have significantly scaled back the power and means of local governments like Palm Coast to issue red-light camera violations was replaced this week with provisions that do the reverse.
A bill that cleared the House and Senate in the final days of the legislative session vastly increases the power of local governments to issue red-light camera violations. It discourages people accused of running red lights from challenging their ticket by increasing their fine 158 to $406 should they contest and lose. It eliminates the independent court magistrate who presides over hearings, replacing that magistrate with an appointee of the local government using the cameras, such as a code enforcement board or its designee. And anyone who doesn't pay a ticket after being found guilty will have his or her next car registration renewal suspended until the penalty is paid.
The bill in one regard helps drivers by reducing the likelihood that prudent right-turn-on-red are cited, even when the driver has crossed the white line before stopping or slowing down. But that's the only provision that lowers drivers' risks of getting ticketed. All others raise those risks while making appeals more difficult.
The new provisions severely weaken the 2010 Mark Wandall Act that legalized and codified the use of red-light cameras, creating rules that somewhat limited the cameras' use as lucrative revenue sources to local governments. Several of the new rules dilute or eliminate those rules.
The new provisions are part of a 226-page omnibus transportation bill (HB7125)  that includes numerous other provisions unrelated to red-light cameras. They were slipped into the bill on the next-to-last day of the legislative session, without a single hearing in committee (only the bill in its original form was heard in committee). The bill cleared the House on Thursday in a 114-1 vote. It is awaiting Gov. Rick Scott's signature.
The red-light camera provisions' major shifts represent a severe blow to consumer interests and protection. Conversely, the shifts will help local governments that have spy cameras, such as Palm Coast, further increase their revenue from the scheme, since the totality of the supplemental fine portion—allowable as "administrative" costs—will go exclusively to the local government assessing them, giving local governments an incentive to do just that.
The shifts are an indication of the lobbying power in Tallahassee of private companies that run red-light cameras, at great profit, such as American Traffic Solutions. Phoenix, Arizona-based ATS is the main provider of such cameras, including the 50-some cameras operating in Palm Coast.
Two years ago, the Florida Sun-Sentinel that ATS had spent $1.5 million in lobbying and contributions to political campaign, and that the company "as many as 17 registered lobbyists in Tallahassee and nearly two dozen more in South Florida cities and counties, with one reporting in a disclosure form last year that the company paid him $400 an hour."
ATS's lobbying arms went to work several weeks ago not only to weaken the Mark Wandall Act, whose rules considerably eroded ATS and other red-light camera companies' ability to profit from the cameras, but to defeat a proposed bill that would have further strengthened the Wandall Act in drivers' favor, and at red-light companies' expense.
Two months ago Rep. Frank Artiles, the Miami Republican, introduced a bill in the Florida Legislature that would have prohibited  issuing tickets  by red-light cameras for all right-on-red turns, regardless of speed. It would have required violation notices to be sent by certified mail, not regular mail. (Currently, the certified-mail requirement kicks in only when payment has not been made within 30 days). It would have allowed alleged violators to request a hearing within 30 days, at no additional cost. It would have placed the burden of proof of a violation on cities or companies operating traffic cameras and required them to have representatives present at hearings, rather than just provide an affidavit. And it would have required all yellow-light intervals at intersections rigged with spy cameras to be synchronized according to Florida Department of Transportation standards.
The Economic Affairs Committee approved the bill 12-4. Then the bill went nowhere. By session's end Friday, the bill was dead.
Meanwhile, quietly but persistently, amendments to the larger transportation bill were written in as if directly by red-light camera companies' lobby desks, although the more than 70 local governments that have such cameras in Florida were also behind the effort.
The key changes, should Scott enact them into law with his signature, are as follows:
Individuals who would like to contest a ticket will no longer appear before an independent magistrate. They will instead appear before a hearing officer chosen by the local government that contracts for red-light cameras.
That's how Palm Coast used to do it before July 2010—before the Mark Wandall Act went into effect—when Palm Coast's and ATS's use of the cameras may not have been legal. (ATS's use was challenged in court; ATS settled, and has been paying drivers back. Palm Coast is still fighting, and has joined Casselberry in an amicus brief before the Florida Supreme Court in a case that may go before the court later this year.)
Before July 2010, Palm Coast appointed its own hearing officer (who happened to be Sid Nowell) to rule over contested tickets. The Mark Wandall Act eliminated that allowance to also eliminate real or perceived conflicts of interest: if, as in palm Coast's case, the city was running the red-light camera scheme, it would be in the city's interest to ensure that as many tickets were paid—not to excuse tickets. By moving the hearing process to an independent hearing officer contracted by the state, the conflict of interest was eliminated. (That hearing officer, currently, is Judge Charles Cino, who once a month conducts hearings red-light camera hearings at the Flagler County Courthouse.)
Previously, an individual had 30 days to request a hearing to dispute a ticket and avoid court fees. The individual now has 60 days, but should the individual in the meantime cancel the hearing appearance, an additional $50 fee will be added to the $158 ticket, with that $50 going to the local jurisdiction. That added penalty may discourage individuals from challenging their ticket in the first place, thus raising the probability that the ticket will be paid—or that the $158 fine will be lost to the local government if successfully contested.
The hearing may be conducted before the code enforcement board or an agent of the code enforcement—or anyone the city or local government designates. "Formal rules of evidence do not apply" at those hearings, the new law states, "but due process shall be observed and govern the proceedings." If an individual contesting a ticket loses, the hearing officer may impose the additional fee of up to $250, raising the total cost of the ticket to $408. No such additional fee was allowable under the original Mark Wandall Act. The entirety of the additional $250 would go to the local government imposing it—another incentive for that government to ensure that tickets are penalized rather than disallowed.
Under current rules, a local government "must notify the public that a traffic infraction device may be in use at that intersection, including specific notification of enforcement of violations concerning right turns." That provision has survived.
Palm Coast currently has 43 cameras generating flashes and traffic tickets. By contract with ATS, Palm Coast is paid $700 per month per camera, regardless of the number of citations issued or paid. At the current level, Palm Coast is making $30,100 a month from the cameras, or $361,000 a year.
The cameras are just as profitable for ATS.
Every camera flash does not translate into a ticket issued. In fact, about 90 percent of the time, the flash does not result in a ticket. In the first week of April, for example, more than 4,100 flashes resulted in just 416 actual tickets.
Despite that ratio, and assuming every one of the ticket is paid, that's a $65,728 return. ATS must pay the state $83 per ticket. That lowers the take to $31,200. ATS must also pay Palm Coast's weekly share, which comes out to just under $7,000 a week. That still leaves ATS with $24,200—in just one week, or over $1.23 million a year.