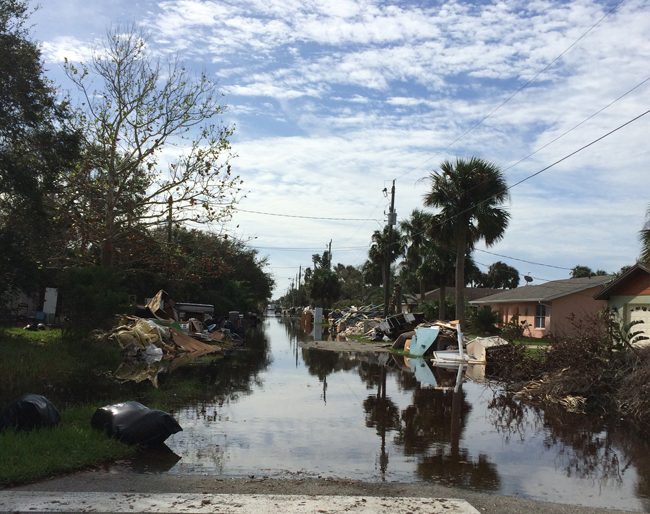 Weekend rains dumped from 4 to 14 inches on already-saturated Flagler County, flooding streets, overcoming swales and ditches and soaking some areas more than others, among them the northern end of the barrier island and low-lying sections of Flagler Beach along the Intracoastal Waterway.
But reports of flooded houses and damages—at least houses that were still occupied after Hurricane Irma—are few even as high tide was overtopping banks in areas of the Intracoastal Waterway as late as noon today. And what's left of the dunes, which are a concern (most have been eroded past their protective norms), appear to have held.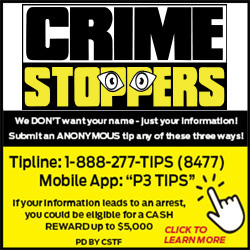 Most areas saw rainfalls range between 8 and 9 inches.
"There is a coastal flood warning, there will be some low-land flooding along the Intracoastal Waterway, that will be a thing over the next several days," Bob Pickering, Flagler County Emergency Management's weather specialist, said early this afternoon.
Areas especially prone to flooding include the same areas that were struck heavily by Hurricane Irma three weeks ago: Surfside Estates in Beverly Beach, South 23rd Street in Flagler Beach, and low-lying areas of Lambert Avenue. Still, Pickering said, while the Intracoastal's waters are about two and a half feet above normal, "we haven't gotten close" to Irma-like flood stages, when waters went over 6 feet above normal.
Other areas that have seen flooded streets and water rising up to garages and door stops are at the north end of the barrier island, which County Commissioner Greg Hansen visited over the past three days.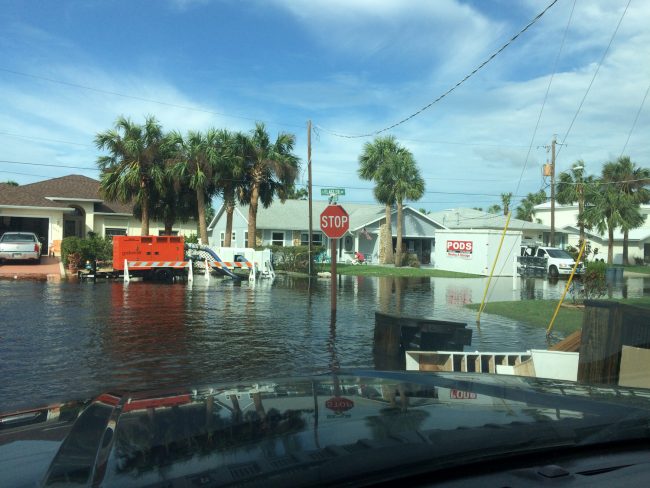 "When I could get to the beach, I checked all the dunes," Hansen said, "from what I could see there were no breakthroughs. We were dealing with rainwater. And the water table is so high, there's just no place for it to go."
The most affected streets at the northern end of the barrier island were First Avenue, off Mala Compra Road, Surf Drive, the seaward end of Rollins Drive and Ocean Drive ("that was the worst I'd ever seen on Ocean Drive," Hansen said). Further north, past, Marineland Acres, in the area of old A1A, some areas flooded badly as well.
The county has been pumping out water in the area, draining it of floodwaters.
Craig Coffey, the county administrator, said the water levels, combined with the tides and the Intracoastal backing up was overcoming the storm water system. "I know my property took two or three weeks to dry out," Coffey said of Hurricane Irma, "and all of a sudden it was worse than Irma in literally two days. We went up and down streets yesterday, we were worried about ocean breaches and supertides but it wasn't as bad." Coffey said the pumping started on Sunday, with three additional, large pumps brought in from the St. John's River Water Management District today, replicating pump-outs carried out after hurricanes Irma and Matthew. "It's definitely back in emergency homes," he said.
As for flooded homes, he said "there were some homes that were flooded during Irma that were already gutted" that got flooded again, as on Oceanside Drive. "I just don't have those numbers yet."
A couple of factors are causing floodwaters to linger along the Barrier Island, Pickering said: the wind continues to blow from east to west, preventing water from draining out, and tides are 1 to 2 feet above normal. "All of those things combined are causing the flooding conditions in the Intracoastal Waterway," Pickering said. "But I want to stress at this point in time it's nothing close to what Irma did."
It may not look so reassuring from some vantage points in Flagler Beach. "The water has been steadily rising since 8:00 AM today," one resident wrote city commissioners and the mayor. "I realize the ground is saturated and we've had a lot of rain, but this is unacceptable! Happens too often!"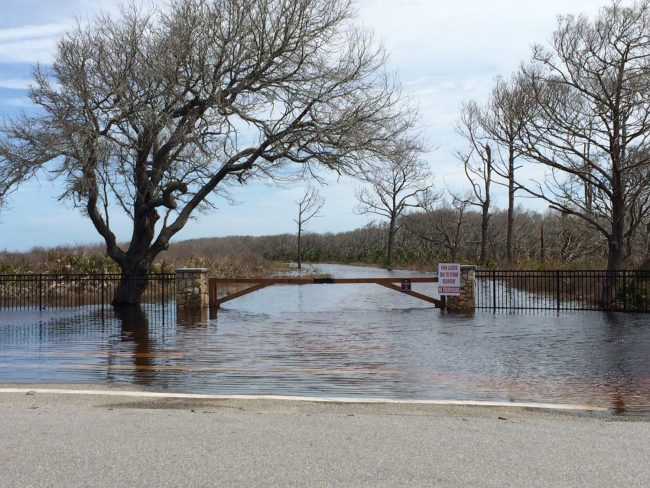 It may be unacceptable, but a commissioner's response seemed as accurate as it was a reflection of a new reality: "I too live on south Flagler along with a fellow commissioner, the City Manager and the mayor," Belhumeur wrote back. "We all experienced the flooding of our homes, so we certainly understand the situation. However, today is another tidal surge that absolutely no one has any control over. We all have a choice to stay where we are and accept Mother Nature's fury, or take our chances somewhere else. Personally, although I'm totally overwhelmed with what I'm dealing with, I'm going to stick it out here. We as commissioners will do our best to see that those that need help, get it. I wish you the best with your recovery along with all of our friends and neighbors."
Palm Coast was heavily drenched, especially its northern end, and over the weekend there were images on social media of vehicles fording water in places like Island Walk shopping center, and road closures, according to County Fire Chief Don Petito, in the B Section, with heavily flooded streets in the Ws and elsewhere—but less so in Seminole Woods.
Palm Coast spokesman Jason Giraulo said as soon as the rains stopped the storm water system started recovering—which likely explains this morning's largely dry city streets and receding waters in swales. He said there were no reports yet of water flooding into homes, with one exception—a W-Section home that got some water from a next-door property whose backyard was draining its way. Giraulo said grounds were already near saturation point, so "with all the recent water, it's going to take longer than normal for us to be back to normal levels."
One of the ways for the city to expedite normalcy has been visible on city streets in the form of big tanker trucks that have been pumping down lift stations—15 such trucks were already at work Sunday, 17 of them today, Giraulo said, contracted by the city for just such occasions (that's why they have names like "Woody's" and "Brownie's"—yes, Brownie's—rather than "Palm Coast" on their flanks). But it is a municipal service. "We did it during Irma, I know we did it during Matthew as well," he said, "it's pretty standard with us, those tanker truck are pre-contracted with us when we need them to do the job."
Pickering cautioned that the system that caused the weekend's weather "isn't over yet, we're still in the noreaster," with tides still impacting the shore above normal and "potentially another system impact us toward the end of the week." Emergency Management is urging residents to keep in mind that hurricane season isn't over, and to ensure that whatever hurricane kit supplies were used up during Irma are replenished.
Here's Pickering's storm report:
Rainfall reports Storm Totals 9/30-10/1/2017
Amount / Location / Source / Notes
8.54" / Bunnell / Flagler EOC /
7.55" / SW Palm Coast / Skywarn / Quail Hollow of Palm Coast
8.52" / Northeast Palm Coast / Skywarn / Flagg Ct 2300hrs 10/1/2017
6.12" / Flagler Beach / Skywarn
11.21" / North Palm Coast / City of Palm Coast / Leaver Drive
7.57" / Central Palm Coast /City of Palm Coast / Belle Terre
6.69" / South Palm Coast / City of Palm Coast / Underwood Trail
6.80" / South Palm Coast / City of Palm Coast / Uhlerleaf Court
5.00" / St. Johns Park / Skywarn
10.00" / West Central Palm Coast / Skywarn
5.49" / Northeast Palm Coast / Skywarn
8.31 / East Palm Coast / Skywarn / Casper Drive area
8.70" / Northwest Palm Coast / Skywarn / Birchwood Dr
9.48 / East Central Palm Coast / City of Palm Coast / Water Plant 1
8.20" / West Central Palm Coast / City of Palm Coast / Water Plant 2
13.20" / West Palm Coast / City of Palm Coast / Water Plant 3
7.83" / East Palm Coast / Skywarn / Carol Ct
13.92" / North Palm Coast / Skywarn / Boroughs Drive
Storm Surge Reports
Height / Location / Notes
Overwash / A1A N County Line / 10/1/2017 1714hrs
6" over canal walls / Palm Coast / 10/1/2017 2100hrs
Wind Reports:
MG – Measured Gust
MSW – Measured Sustained Wind
Wind / Location / Notes
9/30/2017
MG 42 / North Flagler Beach / Skywarn
MSW 40 MG 46 / North Flagler Beach
Storm / Damage Reports: All reports are promptly relayed to the National Weather Service:
Time / Event / Location / Source / Notes
1715hrs / Beach Erosion / Malacompra Road / REACT
0607hrs / Burroughs Drive Flooded / REACT
0815hrs / Multiple roads flooded / Multiple sources
1022hrs / Canal over walls / Palm Coast / Skywarn
1028hrs / Multiple reports street flooding / Indian Trailsand Matanzas Woods as well as the Hammock Marineland Acres / Social media
1117hrs / Street flooding / Quail Hollow
1437hrs / Lake about to overflow / Florida Park Drive and PC Parkway / REACT
1445hrs / Mutiple reports road flooding / NE Palm Coast, Hammock, / Skywarn – ARES – REACT
1551hrs / Reports of water washing into garages and cars flooded / Indian Trails / REACT
1646hrs / Flood Warning till 2245
1714hrs / Overwash / A1A St. Johns Line (Marineland) / FCSO