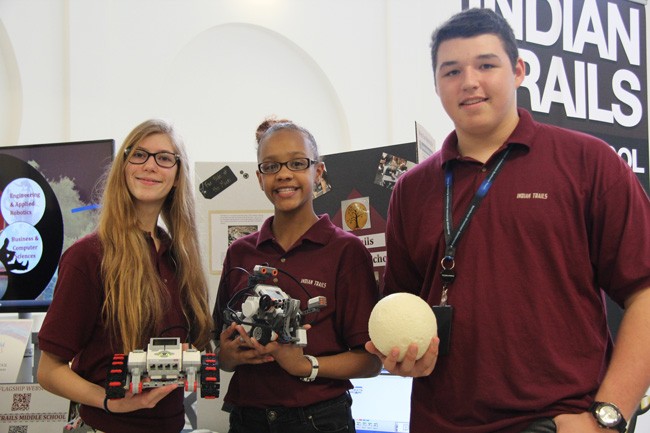 Today's workplace requires individuals to multi-task and command  a variety of skills. Flagler schools know this and have taken that concept a step further, with the creation of multi-tasking classes. No one likes to hear the loaded word "overhaul," but if you graduated more than a year ago, this new educational approach is not one you grew up with.
At the first Flagler County education symposium, titled Classroom to Careers, which was held at the government services building in Bunnell last Thursday, Superintendent Jacob Oliva shed light on the new flagship initiative in a presentation attended by business owners, local government officials, teachers, school board members and students eager to demonstrate their abilities. An iPad was available for anyone who registered.
Each school has its own career-driven flagship program, which seeks to deepen students' understanding of a particular type of enterprise, whether it's banking, journalism, agriculture or medicine (yes, even medicine).
"Kids aren't going to pick their careers, but they can start realizing what they're doing and how it relates to their future," Oliva said. A couple of highlights: the Flagler Schools Observer—part of the i3 Tech Academy, a flagship for Palm Coast High School—an actual student newsroom monitored by Palm Coast Observer staff and the VyStar Credit Union Academy at Matanzas High School, a bank branch fully operated by students.
"So we always hear that 'we don't teach kids how to balance a checkbook and they don't know financial literacy. Well, I'm hear to tell you, our kids are running a bank," Oliva said.
Then there's the emerging partnership with Florida Hospital Flagler. The hospital will donate all the necessary equipment to integrate a complete medical lab at Rymfire Elementary School, whose flagship is medical sciences.
According to Oliva, the flagships came at no cost to the district. "That's the business community working with the schools to get students ready for college and career readiness," he said.
---
An innovative way of integrating the world of work in the classroom, without short-changing academic rigor.
---
Deborah Williams of the Flagler Education Foundation, the non-profit, fund-raising arm of the district, credited Flagler Hospital's Chief Nursing Assistant Robert Davis and local surgeon Steven Bower for securing the medical equipment for the school.
Rymfire provided Bower with a wish list that he accommodated them. The plan is to create a small clinic with equipment that'll be applicable to a variety of different classes types, not just sciences. "It's more like a resource center, so you'll be using real life medical tools," she says. "How do they work? What lessons can we learn using them."
There's no exact date for the project's start, but the space has been dedicated, Williams says. Williams expects the lab to be in place by the spring. The foundation also contributed $10,000 to Rymfire Elementary, some of which will be used to pay teachers to stay longer after school to help plan the new curriculum. Last year, the foundation contributed the same amount to Bunnell Elementary School and its Agroscience flagship program.
The foundation this year made similar sums available to all Flagler elementary schools to help get their respective flagships going. "We said, this is really working," Williams said. "In other words, this is a good investment: the district is really moving well and providing the leadership. We need to hitch our wagon to this start, because it's a good one."
After Oliva's presentation, those in attendance milled around and talked to students and faculty. Rymfire Elementary's health medical booth was manned by lab-coat wearing students pedaling an exercise bike and handing out homemade smoothies. With them was Heather Doutrick, who leads the flagship program's health and fitness component and owns a local yoga studio.
The flagship, she said, is "about making students aware on the health side to healthy living and then from the medical side, it's about exposing students to various medical fields, not just doctors and nurses," but also lab technicians, chiropractors, or physician office managers.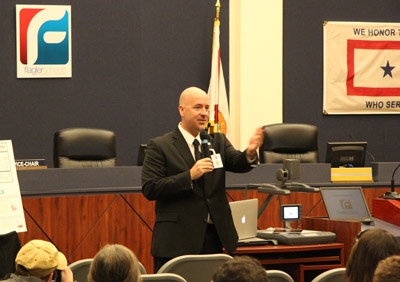 Samantha Lauria, 14, Rose Minaya, 13, and Justin Cestare, 14, were representing the Indian Trails Middle School robotics flagship. It's one reason Cestare transferred to Indian Trails. "I've always been interested in messing around with computers and stuff just to see what I can pull off," he said.
For the most part, those three are satisfied, but they wish the program was bigger. "I mean, I wish there was more, with funding and everything," Lauria says. According to Cestare, they're hoping to get more funding so they could acquire some larger expansion sets that would allow them to mess with more advanced programming.
"I wish we'd be able to build bigger robots," Minaya said. "You can always get a job building stuff, or making robots that can make people's lives easier. Like cleaning your house."
At the Palm Coast High School I3 Tech Academy flagship booths, Kerri Sands, the flagship coordinator, addressed the 21st Century skills and learning at the heart of the the program. In other words, "the skills that get lost in the wayside in an effort to pass the standardized test or boost the GPA," she said, referring to grade point averages.
The key to the project-based learning approach is student collaboration on the way to solving real-world problems. Academics are very much integrated in the new learning approach. A biology-literature class is required of all freshmen. The students are on the verge of beginning a project that'll have them partner with scientists and chemical companies and conduct soil-testing on an arsenic-contaminated field in Bunnell. (A lot of traditional literature has been dropped from the standards, Sands says, though essay writing is still vital to the curriculum.)
"We learn more in depth by writing about it," says Samantha Mumma, 14, one of the I3 student representatives.
Katelyn Mumma, 16, Samantha's sister, is currently enrolled in World Studies and English 2. "We don't read text books. We do projects," she says. Recently, her class finished a project that had them create a senior citizen vacation. They had to create a brochure and write an essay about the overseas location, calculate the cost and give a presentation on the history of wherever potential participants were to land. "We're not given articles to read. We have to do our own research. You have to find your own pieces," Mumma says.
William Naughton, 17, another student representative spoke about the bigger picture benefits. "I would say, the biggest thing for me isn't the integrated classes. A lot of what it's done for me is connected me with the community and given me opportunities I might not have gotten on a traditional campus, Naughton said."
For example, last year, the radio station WNZF came to FPC looking for student interns. During the summer Naughton hosted a radio show. He was able to interview teachers and school board members about the flagships. He also has taken part in the Flagler Schools Observer. "So we're being given these real world skills and we know what's going to be expected. I don't even think of it as a class. I think of it as a job," he said. "People are depending on me and I'm depending on people. I have to be professional."
One interested observer from the business community was Ray Peter of Palm Coast's Business Assistance Center. The center staff met with the district to discuss mentoring opportunities. The goal, Peter said, is "advancing the knowledge of business—being able to establish a business, the whole concept of having a sales and marketing person, a technology person, an actual product, and being able to work through all the constructs of owning and operating a business. So from the BAC standpoint we're in the early stages of being able to set that up."
First the schools need to define the types of businesses they're interested in, Peter said. "Once that's put in place we'll be able to move forward a bit more." One simple, early concept is a customizable tee-shirt store. "It's just another avenue to help students prepare for the business world."
Bob Alex, a member of the Flagler County Economic Opportunity Advisory Council, had been at the original flagship meeting, when the notion was launched. However, "Until today, I didn't understand fully the depth and breadth of the program," Alex said. "I have deep interest in helping this program move forward because of the obvious advantages to our school system and the youngsters who, frankly, intimidate me with their depth of knowledge—and I've been around the block a few times."