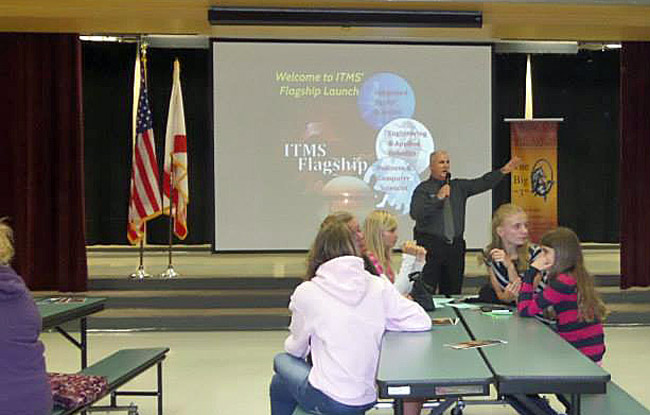 The student sitting at his or her desk, confounded by a complex math problem, asks, "What's the point of this? How will I ever use this?" The image is a cliché, but we've all seen it or experienced it ourselves. If students don't see how a subject relates to their lives or, more importantly, to their future, what's the point?  Flagler County schools are working to change this mindset with a new future-focused, career readiness program, starting as early as elementary school.
The district launched the program under a simple broad based banner called Flagship Schools. Each school offers its own unique approach. The goal is to begin the college and career readiness process much earlier and more comprehensively, says Flagler Superintendent Jacob Oliva, who first unveiled the plan at an April school board workshop, where the board gave its unanimous support.
The program is based on science, technology, engineering, and math initiatives, also known as STEM, with an eye toward preparing students for employment in area industries. The district will apply for grants to help offset the cost.
The flagship initiatives are to be incorporated into the normal daily curriculum, with more STEM-focused after-school sessions, though some of the details still need to be worked out. The decision to go ahead with the Flagship Schools came after several brainstorming sessions with school leaders on how to better prepare students for both college and their careers. The point of starting early, Oliva says, is to enable the students to "understand where those opportunities are going to take them." The programs will culminate at the high school level where working relationships have been established at Daytona State, Embry-Riddle, and the Flagler Technical Institute.
"We're not telling people they're going to have to pick what they want to be in the fourth grade," says Oliva. What they're doing, he says, is merely adding special content that's pertinent to viable jobs, yet still adheres to Florida educational standards. "And we know that when students can see relevancy in what they're learning and how it pertains to the real world, they tend to buy into it more and do a lot better."
Flagship Schools is also tied to growth industries identified by the Flagler Department of Economic Opportunity, a county government agency. According to Helga van Eckert, department director, those industries are agriculture, aviation and aerospace, green technology, health sciences, high-tech science, logistics/manufacturing, and marine research.
Businesses that are either considering a move to Florida or an expansion of an existing facility will always consider the qualifications of the available labor pool. "One of the first questions that these industries are going to ask is what is the education system like," van Eckert says. The local business community has been very willing to work with the Flagler school district in setting up mentorships and other types of partnerships.
The first partnership to get underway was with the Flagler County Education Foundation. Garry Lubi, Senior Vice President and Commercial Manager for Prosperity Bank, who in June became president-elect of the Foundation, has conducted training sessions with school leaders on economic development.
"I don't know if I'd want to call it a program," Lubi says of the flaglship initiative. "It's probably more of a strategic planning process." While the concept for Flagship sounds promising, its ultimate success will depend on how it is executed, and whether the district can not only get students excited, but also the rest of the business community. That last part falls to Lubi.
Step one, he says, is to effectively communicate the goals of the program to the overall community. "Through various business organizations, in particular the chamber of commerce, Rotary Clubs, and other organizations," Lubi says, "we need to increase awareness among the business community about what's going on in our schools, and about how they can become engaged or volunteer and support this initiative as well."
The recruitment drive for volunteers is still in its early stages. In the works over the next three to six months are workshops or focus groups that will explore the best way to reach out to area businesses.
Within the Flagship curriculum itself, Oliva has given each school principal creative control to work with teachers to determine how best to prepare students for the targeted industries. Cathie Zanella, a health teacher at Bunnell Elementary School, was handed a very visible role with her school's green energy flagship, as a result of her efforts to keep the school's vegetable garden going after it lost its funding from the University of Florida Extension. The greenhouse garden, part of Zanella's nutrition curriculum, made her realize the importance to students of hands-on experience.
"When the kids got in there and were able to have ownership, when they got their hands dirty, when they planted everything, watched it grow and then harvested it, the excitement was incredible," says Zanella. "I don't know who was more excited, the students or me. To have them go and pick a little cherry tomato off a plant and just pop it into their mouth was really a whole different side of teaching."
So strategizing about Bunnell Elementary's flagship  evolved from agricultural science to environmental studies, before the school settled on the cross-curriculum subject of green technology. "They can be farmers, they can do anything in the solar power world, they can be chefs. It's a way to introduce them to a broad variety of things to become interested in," Zanella says. Strategies for integrating the subjects into the Bunnell Elementary classrooms are being worked out by Flagler STEM coordinator Jose Nunez, who has also played a major role in teacher training.
Some businesses have already extended their support for Bunnell's efforts, Zanella says. A Jacksonville company, WeatherSTEM, donated a weather station to the school. AT&T provided a STEM grant and St. Augustine-based Cornucopia Gardens, LLC, supplied an aquaponics unit—a 150-gallon fish tank that rests under a vertical garden—so that fish waste acts as a fertilizer.
Kathryn Crooke, a science teacher at Indian Trails Middle School, is a major player in the school's multi-pronged flagship program that integrates health science, engineering and applied robotics, business and computer sciences, and outdoor sciences. She says she was "ecstatic" when Oliva came to them with the district's new vision.
"I'm a firm believer in change. I think it's really good, a breath of fresh air," says Crooke. "With the change in our economy, and the academics, the expectation levels are advancing for our kids and for our teachers. If you're familiar with the standards of the state of Florida, and with what's required of our kids, expectations are growing."
She and her peers at other elementary schools and high schools have spent many hours interviewing representatives from both in-state and out-of-state colleges to better understand exactly what sorts of students the colleges are looking for.
At Indian Trails, the flagship classes will be offered at first as electives. Incoming seventh graders will get a taste of each program through "wheel classes," which will alternate every nine weeks. If a student demonstrates ability in one program, he or she can jump ahead to full-blown flagship classes after school.
Eighth graders will choose one or two focus areas to specialize in, with the option to take Flagship classes after school if that better accommodates their schedule. Each program requires about 20 hours of field experience, Crooke says, and she too emphasizes the value of hands-on experience. "When you see things for real, and you're able to touch them and manipulate them, and break things down, that's higher level thinking," says Crooke.
The school district's nod toward a more job-related curriculum—part of a national trend—does raise troubling issues for some educators. Is the traditional, broad liberal arts curriculum in danger of disappearing? Crooke, for one, doesn't think so. "That'll never go away," she says. "The arts program is for another group of students, not that they're any less capable of technology, but art is what motivates them." With the right manipulation of their schedule, students can get a taste of both approaches, but, says Crooke, "They'll be busy. I don't think it's going to pull kids away. I think it's just going to help fill in the gaps for kids who don't have their niche. I think we're trying to cover all the areas."
With that in mind, not every school in the district is taking a strict STEM approach to their flagship effort. Old Kings Elementary has chosen for its initiative the FranklinCovey time management consulting firm to help foster its The Leader in Me program. The idea here is to emphasize cultivation of leadership qualities, specifically what the program calls the "seven habits of highly successful people." The school received a grant from the private I Am a Leader Foundation, aimed at providing services dedicated to building student character.
According to Old Kings Principal Robin Dupont, "The jobs our children will have when they graduate do not yet exist.  But, there are certain 21st century life skills we can teach our children now." Among them, she says, are working in teams, communicating, taking initiative, setting goals, resolving conflicts, innovating, building relationships, caring for health, dealing with diversity, and prioritizing time. "The seven habits have been sought after by top leaders of companies and governments around the world for well over two decades and overlap with the 21st century skills," she says.
According to Oliva, there is no risk in the Flagship endeavor that students will find themselves pigeonholed too early on in their school years. Education is not being replaced by specialization. Every student still needs to pass the Florida standardized assessment, he says. "This is just an extra little layer of programming to give students an opportunity to get excited about learning." It's not an overhaul, he emphasizes.
Additionally, if a family decides their child is better suited to one school's flagship than the one in which their child is enrolled, they have the option to transfer, if the other school has room. With the impending changes, Oliva says, "Someone who doesn't start looking ahead towards college or career readiness until ninth grade may find themselves a little behind, because some of these programs have prerequisites."