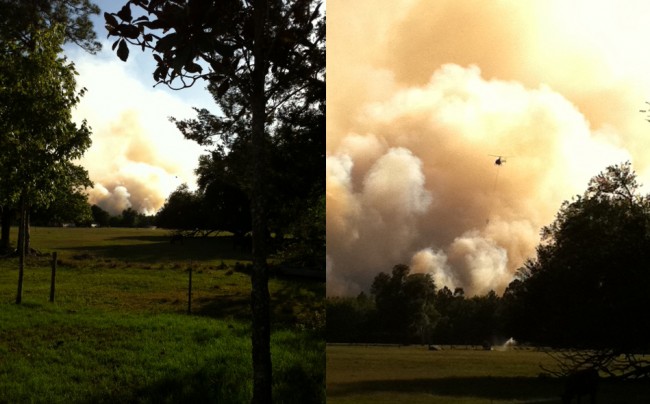 Firefighters continued battling and monitoring about a dozen fires in Flagler County on Thursday, including two large ones and one new one at Haw Creek. That new one was small. A falling power line triggered it along the road. It was quickly contained. It burned about half an acre, but very near houses.
The two most consequential fires–the White Eagle fire in Seminole Woods and the fire west of Espanola–are still not under control, and are growing. The Espanola fire, which was status quo on Thursday, will soon grow to 2,000 acres, but mostly intentionally so as firefighters will "back-burn" their way to it in order to tame it. "We're still having trouble to get to it. It's not contained, it's a long way from being contained," Don Petito, Flagler County's fire chief, said. Most of the area belongs to Jacksonville-based Rayonier, the timbering and real estate company, which harvests trees in that area. The company is helping firefighters.
The White Eagle Fire near U.S. 1 and County Road doubled to 120 acres on Thursday as firefighters intentionally set areas around the existing fire ablaze on order to reach the source of the fire in a swamp and battle it. (See pictures below.) That fire declared itself suddenly and violently on Tuesday afternoon. US1 between Seminole Woods Parkway and Old Dixie Highway was closed on Tuesday, it reopened on Wednesday, and was closed again today because of the thickness of the smoke.
"It's going to be a long one down here on this one," Mike Beadle, Palm Coast's fire chief, said. "The neighbors down here in the Squash and County Road 335 are just absolutely phenomenal. They're really understanding, coming up to us, offering us water, food, that's really gone a long way with our people."
Palm Coast crews have been concentrated on the White Eagle fire, while county crews have been focusing on the Espanola fire. But crews from across the county, including Bunnell and Flagler Beach, have been pulling duties on any fire as needed. In essence at the moment, there is only one fire fighting force working in unison, along with volunteers. "We're all in it and it's working out well so far. We just keep our fingers crossed," Beadle said, in hopes of not seeing new fires. But the very dry weather portends more trouble ahead, not less.
And the back-burns are about to magnify the amount of smoke in the air.
"The Division of Forestry makes the decisions, they come up with the strategies, and we're just there to back them up," Petito said. The division has decided to attack the large fires through back-burns in order to bring them under control and, presumably, eliminate them. A back-burn is a controlled burn, a technique used to essentially either keep a fire from growing out of control by burning an area ahead of it in a controlled manner to eliminate its fuel, or to do what firefighters are having to do with the White Eagle Fire: literally clear the way to the fire by burning their way there.
"There's always a risk when you do back-burning because it can get out of control," Petito said. "So you do small portions. You don't back-burn the whole 2,000. You may do 20 acres, let it back in, when that's contained, you can move to the next 20 acres, because once it's burned it's not going to be a problem."
On Friday, Flagler County will ask for more personnel from the Division of Forestry as firefighters–who are on 36 hours on, 36 hours off schedules–are feeling the effects of battling brush fires almost continuously since December, but with particular intensity in the past week and a half.
"Bring more boots on the ground is what we call it," Petito said, "because our people are working 12 hours overtime every day to go out and try to keep these fires contained, so what I want to do is get some extra people to give my people some relief so they can go home and get some rest." Firefighters, keep in mind, are not just fighting forest fires: they're still going on medical calls and pulling the rest of the duties firefighters and paramedics pull.
Every day at 8 a.m. and 5 p.m. the state, county and city firefighters have been meeting to devise tactics or strategies and calculate who'll be needed where–assuming no new fires declare themselves, or existing ones don't suddenly flare new personalities.
Needless to say, a burn ban continues to be in effect, which means no fireworks, no open flames, no bonfires, no foolish stunts with flames, and most of all, no flicking lit cigarettes in the yard or, as you're driving, on the side of the road. "It's not the residents we're really concerned about as much as tourists, visitors, people who don't live here who don't quite understand" what brush fire season entails, Beadle said.
And yes, you can help: firefighters don't need food, but they do need water–in stacks of small bottles, not gallons or large-size bottles. The reason: they carry those small bottles with them, and can fit them in their pockets, as they go into the forest, and water–hydration–is a primary concern for firefighters at the moment. Stacks of water bottles may be delivered to any city or county fire station.