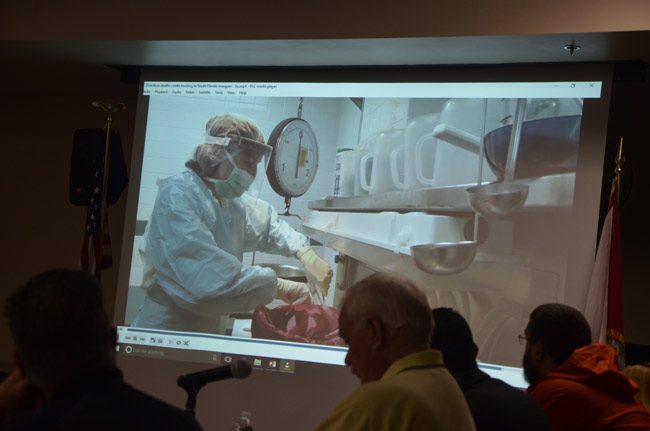 What are the effects of the opioid crisis in Flagler County? The most comprehensive answer to date was presented this morning in a 95-minute set of presentations and discussions before Flagler County's Public Safety Coordinating Council. The panel gathers judges, law enforcement chiefs and prosecutors, the public defender, local government officials and social service agency heads most months to take stock, detect trends and recommend initiatives. Mental health and the opioid crisis are atop the group's agenda this year.
This morning's discussion on opioids was stark and dispiriting but not hopeless. The means to address the crisis are no mystery and are, in various ways, within grasp. But the money necessary to tackle the problem more broadly is lacking, as are the facilities, the beds, the personnel required to make any treatment and recovery effort stick. Missing too is the coordination necessary between agencies to know how one addict is making it through what amounts to the maze of a system that works more effectively in its component parts to police an individual's behavior than to help and treat an individual through the sum of those parts.
In other words, the police do what they can to arrest the addict or drug pusher, a judge will confine the person to jail, if a bed is available a treatment center or a slot opens in Drug Court that might work for the addict for a while, the probation office will keep tabs and return that person to jail if necessary, and the Department of Children and Families might remove a child from that person's home if the crisis has reached a critical point. Yet each of those agencies operate in autonomous silos that turn individuals into billiard balls knocked about this way and that depending on their ability to abide by their responsibility to recover. Addiction by definition degrades that sense of responsibility, shifting much of the burden to shepherd the individual back to those agencies. And that's when agencies' jurisdictions or means get fuzzy, the effort fragments, and addicts pay the price by recycling through instead of sticking with recovery.
Initiative and Fragmentation
In a sense, the profile of the Public Safety Coordinating Council is a reflection of both the strength of local agencies, police and the judiciary individually: these discussions and hunger for new and workable initiatives would not take place but for the genuine desire among council participants to achieve a breakthrough in the fight on opioids. But the same panel, through no fault of its participants, also reflects the inherent weakness in the way the system as a whole forces them into more fragmentary than holistic roles.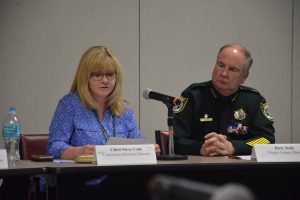 Today's discussions provided an unfiltered factual and analytical perspective on opioids' effects locally from many voices that usually operate behind the scenes or from positions less prone to public pronouncements–whether judges, jail, and probation officials, top cops or social service agencies such as the Department of Children and Families and Stewart-Marchman Behavioral Health. As a group they never meet together except through the coordinating council, and as agencies they are at times barred from sharing information by privacy and regulatory constraints, which was actually one of the concerns discussed today, as it limits the agencies' effectiveness in following through with certain patients, or anticipating their next relapse. The meeting, in sum, was a unique window into a devastatingly common problem that in 2016 alone totaled 5,725 opioid-related deaths in Florida. More than 1,000 of those deaths were attributed at least in part to heroin overdoses.
The relatively good news is that while it is present, the crisis is not acute in Flagler. "Until recently, we haven't seen what our surrounding counties have seen with this epidemic," Flagler County Sheriff Rick Stalky said. "but it's here."
Drug Court Overrun
"I can tell you, I've been doing it for a year now, and I can tell that and I don't know if it's the opioid crisis but we seem to be getting busier and busier. In Drug Court, we reached capacity. When I first started last year, we graduated a handful of people when I first got here, and we had 18 people. Well, we just reached capacity the other day, so we're up to 42, and have some people that are interested in coming in but of course they'll have to wait. Since we were talking about in-patient space and waiting lists and that kind of thing, I can let you know: my choices are kind of limited. We have quite a few people in Drug Court, not so much on probation but in Drug Court, that basically are being held in custody until bed spaces are available. I've had a few of them in there for quite a few months. Even when we don't have the bed space, there's a cost to the community because we're holding them for, in some cases, several months before they get there." He said those waiting in jail are high-risk individuals who would relapse otherwise. Lower-risk individuals are allowed to wait out of jail.
"Quite frankly I could probably double it if we had the resources," the judge said of his capacity. When Staly asked him what it would take to double that capacity, Craig said he could handle the additional load. The administration could not. "I could handle twice as many in Drug Court, so it's not my time that counts, it's our Drug Court coordinator that's doing all the urinalysis all the time, we have treatment, we don't have the bed space for everybody that needs in-patient, so it's everything in the whole system."
"Maybe that's something that we should look at as we go into the 18019 fiscal year, because it has a domino effect," the sheriff said. "If Drug Court is successful then they're not in my jail, my deputies are not dealing with them in burglaries, and getting productive."
Nate McLaughlin, the county commissioner who chairs the Public Safety Coordinating Council, suggested more funding could be proposed through the County Commission. "We need to have a conversation with the commission and see where we're going, because this is a public safety issue and that's job one for our board, for my board. If this is an increasing issue, then we need to address it early rather than later," McLaughlin said. "We need to watch this curve and keep up with it at minimum, and get ahead of it if we can. Let's prepare some kind of presentation for our board, we'll workshop this and figure out where we're going to go when we get into budget season."
Lacking Treatment Bed Space
Beyond Drug Court, the treatment bed space issue is a broader concern. Put simply, there are no treatment beds for men in Flagler County. Stewart-Marchman has some 75 beds at the Vince Carter Sanctuary in Bunnell, where it runs Project Warm. (It's licensed for 88 beds, but the facility has space for only 75.) But that's exclusively for women, and they're not cheap: treatment there costs $425 a day. The Department of Children and Families may subsidize a bed, providing up to $188 a day, and client cost may end up being as little as $21 a day, depending on her financial condition and insurance capabilities, but it could also be $425 a day. Besides, it's full: Project Warm has a three-month waiting list. "We get phone calls and families begging to get their family members into the program," says Stewart Marchman's Alicia Vincent. They end up having to wait for an opening.
Stewart-Marchman has a five-county service area that extends to Duval, St. Johns, Putnam and Volusia. Between Duival and Volusia there are upwards of 400 beds, some of which end up being occupied by Flagler residents depending on availability and classification. But choices for judges, deputies and social service agencies that refer individuals to treatment are limited by capacity.
"I was one of the ones who wanted to have this particular presentation because of the bed space issue that we're facing,"Public Defender Jim Purdy said. "We are swamped in the Public Defender's Office, the State Attorney's office, the entire court system is swamped because of the opioid more than anything crisis. This fentanyl is what's the killer. When you kick that heroin with fentanyl, people are dying everywhere. But the bed space is the thing we're short of that we need to focus on in my opinion to try to increase the number of bed space available because of the fact we have people sitting in jail for three to four, five months."
Purdy's definition of bed space is defined by people addicted to drugs who want to recover, "either as a condition of their sentencing or voluntary. The numbers are shocking as far as the cost per day. That is an amazing figure to see that it's $400-something per day, or even in some places, $700 a day. There's got to be some way to reinvent this wheel to come up with some type of new treatment in-house."
Jail as Waiting Room
There is, and some larger counties have turned to devoting portions of their jails into treatment facilities, or "pods," as the term jailers use. But that's not been easily accomplished at the Flagler County jail, Staly said, because by law he must keep inmates separated according to 12 classifications, and inmates needing treatment are "sprinkled" among them all. There's no space at the jail, new and enlarged though it is, to accommodate a separate "pod."
---
"We need long term recovery as opposed to one month in. One month in really doesn't do anything."
---
Nevertheless, Pastor Charles Silano, who runs the Tabernacle Grace Food Pantry and a six-bed recovery house for addicts in Bunnell, with a second house nearing its opening, for women, has been working with some inmates at the jail to prepare them for a transition to recovery beyond it. "What we need is more recovery houses. They are held accountable there, they are processed back into the community," Silano said, specifying that in recovery houses, there's no medical treatment. It's all based on the will of the addict to get over the addiction, learn sobriety skills, learn job skills, apply them, and stick with them. There's a strong religious component to the process that Silano refrained from talking about, though he candidly spoke about the "corruption" those houses may be prone to, and that must be guarded against.
"We need long term recovery as opposed to one month in. One month in really doesn't do anything. It's a start. We need detox facilities. But we need long-term care," He proposed a Silano continued, seeing recovery houses as such long-term care. He was echoed by another provider of such houses, John Lowe, who runs several houses as the Hearthstone Fellowship Foundation in Daytona Beach. Those recovery houses are licensed by the Department of Children and Families.
"So there's a lot of things I think that we have at our fingertips if we could perhaps make our way to using them properly," Silano said.
And then, in a coda unwittingly addressed at the state prosecutor and local judges–Craig, as the felony judge, has been particularly keen on harsher rather than more lenient sentences, mirroring one of his predecessors in that seat, Raul Zambrano, now the chief judge of the circuit–Silano added this: "If we don;t change our sentencing guidelines or make departures from them on a more regular basis, they're only coming back to us having received nothing at all in the prison system. Nothing good happens in there. Maybe nobody wants to talk about it, but I can get more drugs in prison than I can get on the streets. It's the same thing." He proposed a task force that would focus on the issue, with an eye on keeping inmates in their community as much as possible so when they're done with their sentences, they're not disconnected and they can more easily recover from their addiction.
Probation's Catch-22
A related point was made from a different angle, a perspective rarely heard in the community at large: that of the state probation office. Sharon Davis, the regional supervisor of probation and parole for the state prison system, was as blunt as Silano: "This is our main focus at probation and parole," she said. "Our biggest problem is substance abuse treatment and lack thereof. We recently got a contract with Hearthstone Fellowship and it's been a great partnership with them with outpatient treatment." That was made possible by a grant, which is not open-ended: it started only last year, when a single treatment class per week cost outpatients $30. Those classes are not helpful without continuity. And that's after losing the Salvation Army's facility, where addicts were sent until it closed because of Hurricane Irma.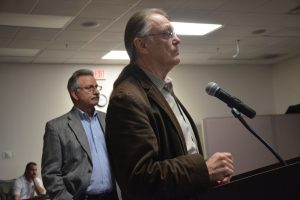 "That puts us in a catch-22 situation, where they're on probation, they've used drugs, we have to do a violation because that's our job," Davis said, a probation violation meaning that they have to be booked back in jail. "We don't want them necessarily to go to jail. We want them to get treatment, but there's no treatment available. So what do you do? You ask that they be held for bed space, they sit in a jail for a few months. Maybe it's a public safety issue sometimes, we have some real violent people that are using these drugs. Maybe we're saving our law enforcement from investigating theft crimes, because how do you think these people are paying for their drugs? We're kind of in a unique position where we're always, constantly caught between the court system and the correctional system. We want to do what's best for our offender, we want them to get treatment and get help, however, we're always stuck with the treatment as the problem."
Davis too urged expanding the Drug Court program.
Cops, Firefighters and Corrections
Meanwhile in the trenches–at the deputy and police officer's level, at the level of the paramedics on the street, the county jail–there are challenges there as well. Sheriff's deputies just got delivery of narcan, which can stabilize and arrest the effects of an overdose, saving a life. Paramedics have been using it for years. Joe King, the assistant fire chief in Flagler, said it was administered 155 times in 2014 and 190 times last year. With addicts not responding to the usual dosage, the county just got approval to increase the amounts of narcan it administrers when faced with addicts. But the product, which is available over the counter for $136, has many more uses than just to stabilize addicts. Paramedics use it as one of their diagnostic tools for other issues.
Once an individual is taken to jail, a new set of issues develop, as Jail Director Becky Quintieri described it: it's not as if keeping inmates there to await an opening in Drug Court helps the bottom line. Protecting staff is a priority: fentanyl can be absorbed through the skin and trigger an overdose, so deputies wear gloves and masks even to open inmate mail. (Staly says cops elsewhere have overdosed from accidental exposure to fentanyl.) Drug addicts' presence at the jail increases the number of ER tips and subsequent medical appointments.There are times when an inmate cannot be detoxed safely at the jail, so he or she must be sent to the hospital or to Stewart-Marchman, incurring additional costs for the jail.
Heroin injections means more infections, more HIV and hepatitis. "Our pharmacy bills for the last year was in excess of $20,000 a month because of HIV and hepatitis," Quintierei said. Addiction also exacerbates other health problems, from cardiac conditions to diabetes. Then there's mental health. "We're trying on our end to do the treatment that we can do with the jail but it is very costly for all of us," Quintieri said.
In February Staly secured a contract that now enables every inmate to be seen and triaged by a medical provider to determine drug usage and a proper response while the inmate is at the jail. "Hopefully that will also reduce the amount of transport to outside facilities," the sheriff said. "A jail is still a jail, it's not a medical facility." And, he added, "You might be able to save a life but there's no treatment, we're not helping the addict other than keeping them alive for their next high."