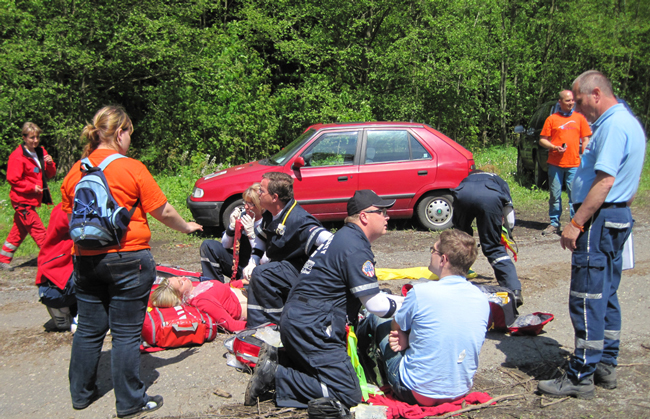 Flagler County Local 4337, representing the county's firefighters and paramedics, was back in Prague for the Czech Republic's international paramedics competition this week, a competition Local 4337 won two years ago. Last year they sent two teams, winning second and 14th place out of 24.
Today, competing against 27 teams, Flagler's paramedics–Dennis Kline, Caryn Prather, Mike Pius, Jessie Hunter–took the world championship again.
Rallye Rejviz, as the competition is called, is now in its 15th year. It is "is based on the concept of testing emergency medical, driving and management skills in a friendly, yet competitive and very realistic setting," accoprding to its web page.
"With the recent participation of the international observers we realized that the RR project could take on a new dimension," the organizers go on. "It could serve as an international model for any country that wishes to test the theoretical and practical skills of its rescuers 'live' in the field. By allowing a more realistic and meaningful comparison of different techniques and equipment, as well as of different systems, as they would function in 'real life,' it lends itself nicely to use as a QI (Quality Improvement) tool. This information can be then used for developing or improving standards for organization, equipment, training and interventions in EMS."
Competition is broken down into several competitive categories, including three for Slovak teams only. The international category featured 28 teams from 17 countries. Flagler's Local 4337 was the only team from outside Europe. Last year the competition had a few teams from Japan. Those decided not to compete this year, possibly because of the earthquake and tsunami disasters that hit Japan, throwing the nation into a severe recession.
Among the nations in the competition: Austria, Belgium, Germany, Hungary, the The Netherlands, Poland, Romania, Turkey and Britain.
[This is a developing story. More soon.]
Photo gallery of last year's team, courtesy of Flagler's firefighters.

[nggallery id=16]