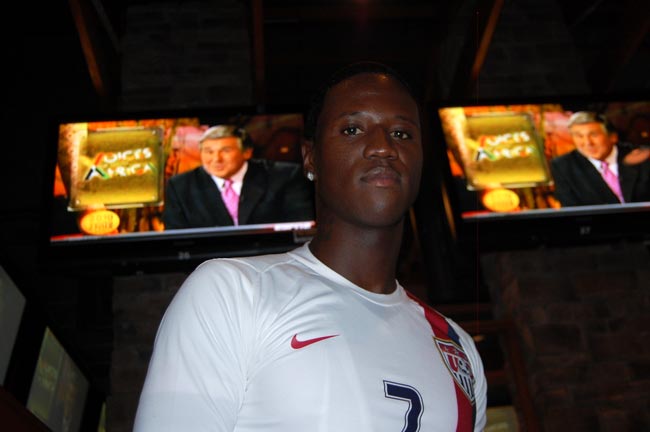 Pull up a keyboard, pull up to your stadium-size TV screen, or better yet, come down to Hoolligan's in Palm Coast, where we're live with Eddie Johnson, a native son–of Bunnell, not Palm Coast! That's for you, Mrs. Edith Johnson (Eddie's grandmother)–and a member of the 2004 World Cup team who has 45 caps with the national team.
Eddie's just showed up with his team of the moment, all of them 2007 graduates of Flagler Palm Coast High School: Shadrick Johnson (Eddie's cousin) Anthony Smith, Marcel Solomon and Timothy Anderson, with a few more coming. We're
And he's making a prediction: "I say the US wins 1-0." The reason: Ghana is a more defensive team this year, the US "got a ton of confidence in a group where they weren't the favorites."
We'll cover the match moment by moment. Get set, with plenty from Eddie describing what it was like to be a member of Team USA, then to be cut.
So to the hard question: what happened this year?
Every World Cup team is a different team, Johnson says. In the last World Cup in 2006, "I was the face, the next young big player. I was the Josey Altidore of the last World Cup." He's the up-and-comer now. "After the World Cup with Bruce Arena," the coach, "who I did well for, came a new coach." Bob Bradley had new ideas, different players, different strategies. "I didn't adapt to that well with the new coach. He had his certain ways that he wanted me to play." It took Eddie a while to adapt.
But he did.
"I did adjust, and in about two or three weeks before the season was over in Greece, I pulled my hamstring." Johnson plays with Fulham in the English Premier League, but he was on loan to a Greek team (it's complicated). When he joined the national team ahead of the World Cup, "I never really recovered right away, so I was playing at 75, 80 percent." Every striker in camp was in good form, including Eddie: they were scoring, playing hard, making Bradley's decision difficult. But seven players had to be cut. "I mean you have all these ideas that are going on in the coache's head, do we take this guy, do we leave him," Johnson said.
"If you asked me, was I going to be let go, I would have said no." But he was one of the seven.
"I've never been cut from a team, or released from a team," Johnson says. "I was always the one scoring, always in the starting 11 or coming off the bench. At that time it didn't hit me. It kind of hit me when I got back in to Florida." He returned on May 25 to Florida. "But it's something that every good player goes through, some adversity in their career, or some politics. I'd never faced that type of politics. It hurt. But at the end of the day, what can't kill you makes you stronger."
And here we are, minutes from the US-Ghana match. Stay tuned for more.
OK: for the rest of the afternoon and throughout the match, click below for the absolute-live experience: follow us with Eddie minute by minute as the match unfolds–and ask him questions if you like.