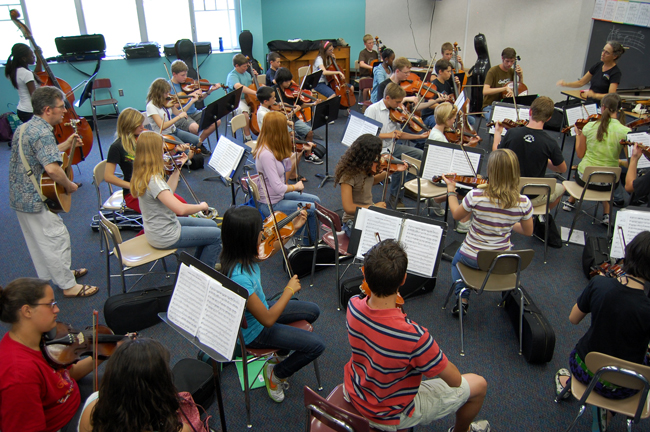 In Jack Jeffe's room, they're rattling violin and viola bows like light sabers, which is only fitting: "Everybody starts," Jeffe directs. "Second line of Star Wars." They play. He stops them and reminds half the class of its cue: "That's where you've got to stand. Got to be ready." They play again. They nail it. Cue James Earl Jones' voice, if you can imagine it: This is the Flagler Youth Orchestra.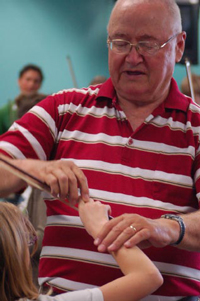 More precisely: this is just one small segment of the Youth Orchestra in its last rehearsals last Monday, in preparation for tonight's final concert of the season at 7 p.m. at the Flagler Auditorium—the annual "Take a Bow" concert dedicated to the School Superintendent.
Jeffe's class is a fraction of the orchestra. It's one of three that he leads for the orchestra's older beginners, though 62 classes in, they're hardly beginners anymore. Together they form the orchestra's String Explorers. (It's still about 4 p.m.; the other two hour-long classes come in at 4:30 and 5:30. at Indian Trails Middle School, where the orchestra holds its rehearsals every Monday and Wednesday.)
Move to Deborah Lawrence's class down the hall: it's the littlest beginners ones who, between breathing exercises, posture lessons and reminder tips on how to hold the bow, they play the D major scale. (Minor scales come with age.)
---
Audio: The Youth Orchestra and Paul Umbarger: Stand By Me[media id=41 width=250 height=100]
Skip a door (we'll get back to that one) and go to the last class down the hall: It's Justin McCulloch, whose group—the Discovery Consort—is one notch below the top-level orchestra. They're marching through the "Fanfare Overture," a short work composed by (and for) a school district in suburban Des Moines in Iowa, by Michele Senger. The notes aren't all there. In fairness, McCulloch may not be all there, either: his wife, who gave birth to their first child during the Youth Orchestra's dress rehearsal for the May 2008 concert, is due any note now. McCulloch, at last check on Wednesday afternoon, was still planning to be at the concert. "I'm not too worried," he tells his students of their fanfares. "A lot of it is actually sounding pretty good." They'll be high on Strauss's "Blue Danube" and a tango, a calypso bit and a Brazilian dance come tonight.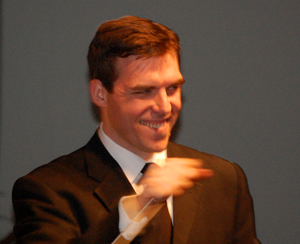 Finally, on this rehearsal Monday, you make your way into the room skipped a little while ago. The group in there is the amplest (in sounds). It's also the most intense. The oldest. The sweatiest. It's the Upper Orchestra, which also goes by that other familiar name—The Flagler Youth Orchestra (it's complicated). And it's now led by Caren Umbarger, the entire operation's artistic director. She's only in her sixth week as lead conductor, though you wouldn't know it from the sounds churning out of the orchestra: they're sounding pretty damn good. And churning, because they're rehearsing Smetana's great "Moldau," a piece the Czech composer wrote in leaps of emotion about the mighty river that twists and swells through his land.
From that dose of Bohemian romanticism, the orchestra plays on to the final and rousing movement of Mendelssohn's Fifth Symphony, also known as "The Reformation."
---
The Reformation Symphony: Last Movement[media id=42 width=250 height=100]
It's not as well known as Beethoven's Fifth, but it has Ludwig Van moments to spare (and a few drum-roiling moments that no doubt inspired Van Halen). The orchestra is into it. Umbarger is into it, judging from the creases between her eyes and the smiles that whip across her face from time to time. And a man playing the entire woodwind and brass section by himself, on a trumpet, is into it. That's Paul Umbarger, Caren's husband, who's standing in for several members of John Seth's Flagler Palm Coast High School band, who'll be the woodwinds and brass section tonight—their fourth appearance in three years at the year's final concert.
The top orchestra is scheduled to perform a half dozen pieces, including the opening movement of Bach's fifth Brandenburg Concerto and a polka by Leo Delibes. Along the way, the May Players—the orchestra's emerging quartet—will perform a Mozart presto and Scott Joplin's "Weeping Willow."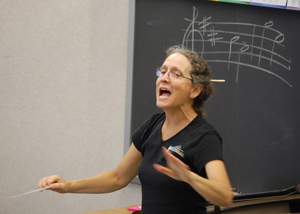 Thinking back on the rehearsals a day later, Caren Umbarger declared herself satisfied on several levels. They improved a great deal since we started working together," she said. "I think these kids can tell that they're better. Many of them are excited about their new sound–sounding good."
The adjustment they had to go through was no small matter. This is the orchestra that for the past five years was led by Jonathan May, whom students adored. May died unexpectedly in February. Umbarger, who'd studied with May and performed with him on innumerable occasions, stepped in, saw many students re-dedicate themselves to their music, and did what any artistic director does when assuming an orchestra's leadership: she stamped it with her personality and her methods. "You must adjust," the most famous Jonathan May phrase and command, had never sounded more appropriate. Adjust the students did.
"One of the things I said yesterday," Umbarger said of Monday's rehearsal, "is I applaud them for their brave foray into a completely new thing with me." Umbarger ended the class and launched an end-of-year class party, with cookies in the shape of musical notes she'd baked, and various performances by students.
---
Cheryl Tristam Introduces Bill Delbrugge, and Bill Speaks (Warning: Poor Audio)[media id=43 width=250 height=100]
The results of that foray was on stage tonight at the Flagler Auditorium, where Delbrugge was also recognized for his five years' involvement in the orchestra. Delbrugge led the orchestra's rejuvenation five years ago when he got the school board to fund it, enabling the Youth Orchestra to be offered free of charge to any student willing to play. Some 200 student-performers are finishing the year in the orchestra's various groups, down from more than 300 at the beginning of the year.