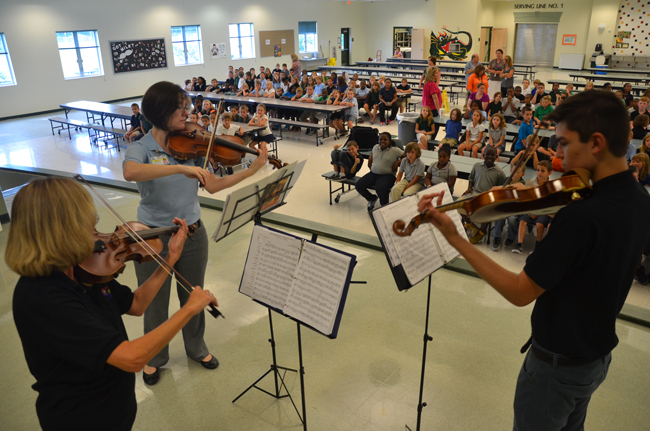 The Flagler Youth Orchestra's open house is scheduled for 5:30 today, Monday, Sept. 9, at the Indian Trails Middle School cafeteria. Enrollment is open to all students grades 3 and up. The program is free. Call or text 386/503-3808 for information.

The Flagler Youth Orchestra is back for its ninth year–and what appears to be another record-setting enrollment–three months after the school board had considered eliminating the program altogether.
After the orchestra auditioned some 200 returning students Monday and Wednesday at its home at Indian Trails Middle School, a trio went on tour of most of the district's elementary schools Tuesday and Thursday, recruiting young students, showcasing how accomplished an 11th grader can sound after just five years playing the violin, and introducing Sue Cryan, the orchestra's new artistic director.
At every stop Cryan, 57, would tell the story of how she'd picked up the violin when she was in 4th grade. She'd actually started playing the flute and "cried bitterly" when a teacher switched her to the violin. "But I loved it right away, I don't know why." By the time she was in high school she was already teaching music to neighborhood children. She hasn't stopped teaching since, including a dozen years in the Hartford, Conn., public school system. It's the sort of experience that frames the patience she displayed Thursday as she faced groups of 50 to 100 students at a time, most of whom had never seen a live string performance.
"I want to help develop kids who love music, develop audiences," Cryan says over a late lunch at the end of the day. "That's a big part of being a musician, and to nurture wanting to play an instrument, because I'm really afraid it's going away. I'm reading a book about piano practice, and it's written back in the 40s. And he begins his preface by saying, 'of course, most homes in America have the piano sitting in the living room.' I said, what? When was this written? And it's true, they used to be decorative, but it's so rare now to walk into a home and see a piano. It's so rare to meet a violinist. Even teaching reading music, you almost don't have to know how to read music to make music anymore. And that's wrong. It's such a basic thing. I just want to pass it on."
A Connecticut native, Cryan earned a degree in violin performance from Boston University, where she studied with Roman Totenberg—the famed violinist who started his solo career at 11 with the Warsaw Philharmonic, in 1921, and who died just last year—then taught privately for many years as she raised three children. She was working so much—at her home studio, ironically—that she wasn't seeing her own children by the time they were in middle school, so she started teaching in school to have the sort of schedule that would allow her to be with her family more.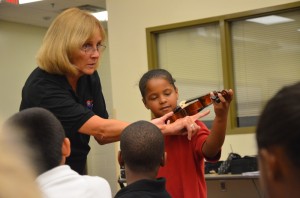 "The goal of a teacher for music should be to wind up with a student who becomes their own teacher," Cryan said, summing up her teaching philosophy. "I should be superfluous, because when the student goes home, I'm not there. So the student should be given the tools to be their own teacher for lifelong learning. If you think it's going to end when they leave the studio, then you haven't taught them anything. You could do that on the computer. But you want to have the wherewithal to find the Telemann fantasies and go out and learn them on your own."
Tuesday and Thursday Cryan toured with Cheryl Tristam, the program director, Maggie Snively, one of the teachers in the program, and Daniel Masbad, the 11th grader and the Youth Orchestra's star performer. He'd wow his audiences by first playing the recognizable "Twinkle Twinkle," slower than slumber, as an example of how he'd started off as a beginning player, then switch to a dazzling Telemann fantasy that had every child stunned by the effect.
The group was also accompanied by a 4th grader who started playing two years ago, and who'd play a duet with Cryan to show students how quickly they could progress (assuming they also apply the advice usually attributed to Jack Benny, who was actually a concert violinist before he was Jack Benny the comedian).
At Rymfire elementary Thursday morning, each of the two groups of students ushered in for the performance made their entrance to the tune of Bach's third Brandenburg. They sat along seven rows of a dozen seat each, eyes glued to the performers, heads not yet sure whether it was ok to sway to the rhythms, though by the end of the session—after hearing Handel's "La Réjouissance" (the rejoicing) from his Royal Fireworks, Scott Joplin's "Paragon Rag" transcribed for strings and a little Mozart night music among others—dozens were either swaying, air-bowing or conducting.
There were many questions, not least the one about how long it takes to become good. Practice, patience and commitment sums it up, and the guidance of a good teacher.
"I think I'm pretty calm," Cryan said of her teaching style, which shuns any notion of competition or hierarchy among her students. "But I had a student once who was spectacular and I moved him on because he wasn't practicing for me. And I said I'm not going to harass kids. I don't yell at them, I don't belittle them. I had a teacher who did that, and it worked out of fear for me, and I don't want kids to learn out of fear. It doesn't make any sense. I think the kids that are going to make the most progress are the ones who want to do it inside, they want to do it themselves, not—their moms are real good at organizing them, or the teachers terrifying them. If people want a drill sergeant I tell them to go somewhere else."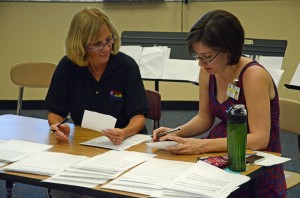 It's been some kind of year for the orchestra. It started last fall with a record number of students (350), ended the year with a record too (280), and saw two of three performances at the Flagler Auditorium sell out. Yet back in May, literally days after that sell-out final concert, the orchestra's future was in doubt. The school board was meeting to figure out how to cut more than $1 million from its budget. It had a long list of line-items to choose from. The youth orchestra was on the list.
Tristam, the program director, went into EMT mode before the board. By day's end the program had survived, but not before the board took up Tristam's proposal of doubling the private fund-raising the orchestra would assume. It was previously responsible for the cost of one of its four teachers, or the equivalent of $9,000. It is now responsible for two of the four, and must raise $18,000 of the program's cost, or more than a quarter of its overall budget of $65,000. (You can make contributions here.) A few weeks later the program's second artistic director, Caren Umbarger, resigned after a meeting with Superintendent Janet Valentine ("We had a disagreement over the direction of the program," Valentine said), and Cryan was named in her place. And that was that.
Cryan, Snively and Tristam spent what portion of the summer they had prepping for the orchestra's ninth season. By the time they held their first class for returning students—and before the recruiting tour's first day on Tuesday, the fliers about the program going home to parents, or the open house on September 9—enrollment had swelled to 265. That's 65 more students than at the same point last year. Enrollment increased to such a point that organizers were nervous about too successful a recruiting tour. In a couple of schools they lucked out: some of the students the tour performed for were second graders, too young for the program, which starts taking students in third grade, but old enough to have a seed planted for next year's enrollment.
The Flagler Youth Orchestra's open house is scheduled for Sept. 9 at 5:30 p.m. at the Indian Trails Middle School cafeteria. See below for additional enrollment information.
Disclosure: FlaglerLive editor Pierre Tristam is married to Cheryl Tristam, program director of the Flagler Youth Orchestra.