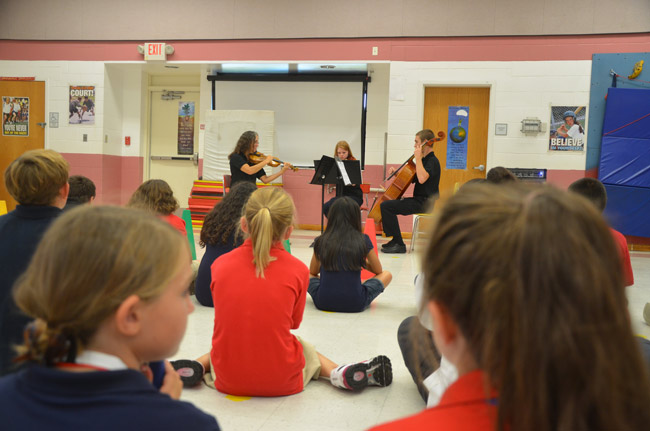 It's become one of the Flagler Youth Orchestra's many rituals: the annual, two-day recruiting tour through as many Flagler County schools as the trio can manage. This year it's five elementaries: Wadsworth and Belle Terre today, Old Kings, Rymfire and Bunnell on Friday.
Not that recruitment is as necessary as it was when the program took off eight years ago. The youth orchestra—the school district's free after-school strings program—already had 200 students signed up this fall, before the open house on Sept. 12, and before some 5,000 fliers advertising the program went out to students and parents this week.  (See below for details.) That's the highest enrollment, at this early stage of the school year, in the program's history, most of it driven by returning students.
Last year the orchestra started with more than 300 students, split in four orchestras to reflect their skill levels. The orchestra meets every Monday and Wednesday at Indian Trails Middle School from 3 to 6 p.m., where students attend one-hour classes based on their preferred schedule. Four music teachers, including the artistic director, lead the classes. The program also provides instrument scholarships to students who can't afford an instrument of their own, ensuring that no one is turned away for economic reasons. That's been one of the pillars of the program's success, as has the school district's commitment.
Signs of the program's growth and awareness were clear even during today's tour. At Wadsworth Elementary, every third, fourth and fifth grade class was able to attend one of the 40-minute mini-concerts the orchestra's trio held for them in the school's all-purpose room. And when Caren Umbarger, the artistic director, would ask students who've been enrolled in the program in previous years to stand up, many would. One fifth grader—Carolyn Figueroa, who's starting her third year—even gave her classmates a taste of her abilities, playing them the D major scale (her younger sister is also starting this year). That sort of example goes a long way to convincing students that they can pick up any of the four instruments taught in the youth orchestra, and readily learn it: the violin (by far the most popular), the viola, the cello and the double bass.
Assistant Principal Fred Terry, who coordinated the morning for the orchestra—he's a musician himself—picked up on orchestra participants' pride. "Some of our students," Terry said, "are really excited to be able to let their friends know they're part of the youth orchestra." For many others, it's a unique opportunity to be exposed to classical instruments for the first time, he said.
"They love it," Sandra Rush, the music teacher at Wadsworth, said of the exposure to the live trio. Students there get to take music for 45 minutes a day for six weeks. "They're all intrigued by it because it's something different. They hear music in my room all the time, but it's totally different when it's live." And when it's played by fellow-students: Umbarger played the violin, but 16-year-old Austin Smith played the cello, and 15-year-old Mary Thompson played the viola, an instrument she's played for just two years. She played the violin for four years before that. Mary's brother plays cello, and one of Austin's brother plays the violin in the orchestra. (They're all home-schooled: the program is open to all Flagler County students from grade 3 through 12, whether in traditional public school, charter schools or home-schooled.)
Umbarger's trio would play a piece—a couple of Renaissance dances, a Swedish walking song with an unpronounceable name, a Haydn trio—and either explain a few basics to students or take questions (no, guitar is not taught in the program, yes, bows are made of horse hair, no, it doesn't cost money to join). For Umbarger, putting in performance after performance today was a bit of a feat: she auditioned almost 100 students the day before at Indian Trails, another one of those youth orchestra rituals that takes place at the beginning of the year to figure out who plays in what orchestra.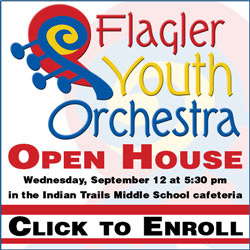 "I see general overall improvement from every level," says Umbarger, who's starting her third year as artistic director, "and I see children who are motivated to improve. We have a program that can serve them as they rise up and become better and better players."
Some students were squealing as they were leaving their auditions once they learned that they'd made it in a higher-level orchestra than they'd been in last year. No mystery why. Learning an instrument, Rush, the music teacher at Wadsworth, had said earlier, "develops a sense of responsibility, a sense of respect for other people and other cultures, and I think when they begin playing it, it gives them a sense of self-worth and accomplishment."
But it takes work. Umbarger and Cheryl Tristam, the program director, spoke to students of the commitment they must make when joining the orchestra, a commitment that goes beyond two hours of classes every week. It takes practicing at home, regularly and seriously. That'll be emphasized throughout the year, the two directors say, as will other areas of focus this year.
"Every year we work on improving and developing materials in order to impart a deeper understanding of how to play these instruments," Tristam said. "We're focusing a lot more attention on our cello and bass students this year as well as a new and more methodical approach to beginner instruction." Tristam's daughter graduated from the program last May after seven years, and joined her college orchestra. Tristam's 8-year-old son, a third grader, begins with the program this year. (Disclosure: Tristam is married to FlaglerLive's editor.)
The results of the students' work are on display in another orchestra ritual that's animated Flagler County's biggest stage for eight years: three times this year—in December, February and May—every musician in the orchestra will perform in public concerts at the Flagler Auditorium. Many will be part of smaller ensembles, including a chamber group, that perform roughly a dozen times at community events—at city of Palm Coast ceremonies, at Town Center at Christmas, at Florida Hospital Flagler's events, at Rotary clubs and a few other venues.

Download the Form: Flagler Youth Orchestra Enrollment and Open House