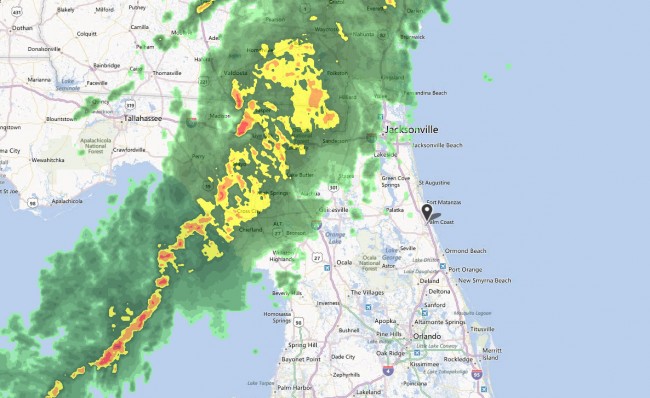 The National Weather Service and Flagler County Skywarn have issued alerts about possibly severe weather and damaging winds this evening as a line of storms moves rapidly through the area, ahead of a cold front. Flagler County is expected to feel the brunt of the front after 7:30 p.m., with rain developing around 9 p.m.
The weather service says the storms are moving east over southeast Georgia and Northeast Florida with wind gusts of 30 to 40 miles per hour. Minor damage to trees and unsecured outdoor objects could result. Isolated thunderstorms are possible, "and some totation is possible in these storms."
Light rain is expected between 9 and 10 p.m., with heavier rain for a while until midnight. It'll clear up by morning, when temperatures are expected to be in the mid-40s. Flagler County is expecting a high only in the mid-50s on Friday and the upper 50s on Saturday, with overnight lows in the low to mid-30s.
Since the temperature is expected to fall below 40 overnight, the Sheltering Tree, Flagler County's homeless shelter, will open its doors both nights–Friday and Saturday, and very likely wil open them again Sunday night, when the temperature is expected to hit only 41. The Cold Weather Shelter is located at Bunnell's First United Methodist Church, 205 N. Pine Street. It opens at 5:30 p.m.
The shelter is run by volunteers, using supplies donated by the public.
A list of supplies needed by the shelter is below. You may also call Lee Willman, who heads the shelter's board at 386/597-2774 to find out more on how you can help.

Flagler County's Cold Weather Shelter Supply List of Needs:
Toothbrushes
Toothpaste – small tubes
Antiperspirant/deodorant
Small tissues packages
Disposable razors
Small bottles of shampoo
Small bottles of lotion
Combs, small brushes
Nail clippers
Emery boards or nail files
Small bottles of shaving cream
Small bars of soap
Chap Stick
Women's personal hygiene products
CLOTHING FOR GUESTS
Gloves
Hats
Scarves
Warm white tube socks
Jeans – mainly men's medium (waist 28 to 34) and women's 10 – 18
Warm, heavy sweatshirts – hooded is great
Tee shirts
Long-sleeved tee shirts
Warm jackets – for both men and women
New/gently used Boxer shorts
New/gently used white under shorts
New/gently used ladies underwear (size 6, 7 panties)
Bras
Belts
Sturdy shoes, sneakers, work boots. All Sizes needed
SHELTER SUPPLIES
Paper towels
Toilet paper
Laundry detergent
Bleach
Dish detergent
Commercial dishwasher detergent 5 gallon bucket
Floor cleaner
Spray ammonia cleaner
Window cleaner
Spray bleach cleaner
Bathroom bowl cleaner
Latex gloves for cleaning
Lawn and leaf bags – 39 gallon
Tall kitchen bags
Commercial Grill stone
Hand sanitizer
Sponges, "Scruffy" pads
Napkins
Small paper dessert dishes
MISCELLANEOUS
Writing tablets, small memo pads for phone #'s and appointments
Envelopes
Pens, pencils
Stamps
Reading Glasses 175 – 225 magnification with cases
Paperback books for reading
Magazines
Hand towels
MISCELLANEOUS Continued
Small bath towels
Old bath towels to be used as bath mats
Wash cloths
DVD's or VHS Movies rated PG
FOOD SUPPLIES
Decaf and regular coffee
Tea
Instant tea – unsweetened
Pasta
White rice
Instant potatoes
Stewed tomatoes
Diced tomatoes
Tomato sauce
Spaghetti sauce
Salt
Creamer- powdered
Sugar
Cooking/salad Oil
Salad dressing – Italian/Ranch
Hot chocolate
Margarine/Butter
Crystal Light drink mix
Peanut Butter
Jelly
BREAKFAST SUPPLIES
Eggs
Sausage
Bacon
Juice
Pancake mix – just add water
Pancake syrup
Grits
Margarine
Milk
WISH LIST
Building or storefront to create a "Drop-In Center"
House for Transitional housing for homeless,
Storage room for clothing, food, linens
Bus to transport guests to shelter
Bike rack
Steamer "TO DEFROST FOOD"
Showers
Room for showers and Washer and dryer for guests
Antenna for the shelter roof – digital to receive news and sports
OTHER POSSIBLE DONATIONS
Gift cards to grocery stores, Walmart, Target "FOR SHELTER USE"
Laundry vouchers each $5.00 purchased from FUMC
Donations of money to shelter for operational costs for gas, electricity, water
and sewage
Ice machine