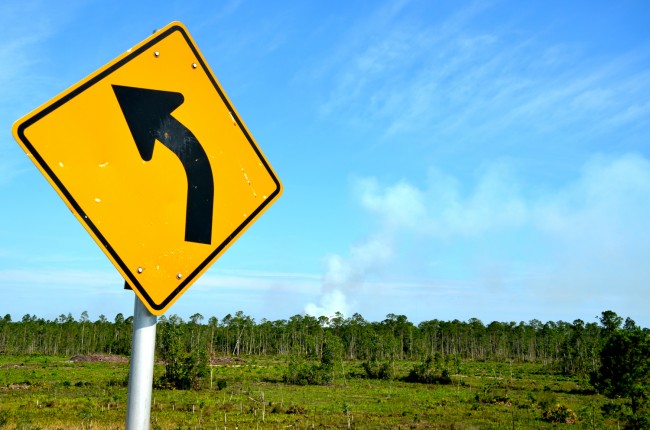 Last Updated: 6:18 p.m.
Thursday evening's thunderstorm dropped some rain, but also unleashed damaging lightning that triggered at least nine new fires overnight and through the day, many of them nearer homes and around Palm Coast's city limits than most other fires had been.
The largest two fires were off of Opossum Road, itself a dead end off of County Road 13, across from the county fairgrounds. One of the fire was around 5 acres, the other about 15 acres. They were still burning strongly this morning, with firelines dug around them.
A small fire no larger than 10 feet by 10 feet was triggered near Colbert Lane but was put out by morning. A larger fire, about half an acre, was still burning off Roberts Road, just south of Sea Ray Drive, though firemen expected to have that one controlled or put out later today.
In Palm Coast, a tiny fire, about 10 feet square, burned off of Erickson Lane but was readily put out. There were also small fires or 0.2 acres or less on Ulaturn Trail in the Seminole Woods subdivision, one in the Mondex (or Daytona North), which was found to be suspicious and is under investigation, a second fire off of Roberts Road, and one in western Flagler County. All of those are either out or contained.
Three other fires, all of them very small, started in the area south of the Hess gas station on U.S. 1 (south of the White Eagle Saloon). They were controlled or put out.
The larger fire on Opossum Drive kicked up after midnight. It was burning within walking distance of about eight homes along Opossum Drive, though Lesley Nobles, one of the residents there, whose property is the closest to the fire, was not worried. "I know Road and Bridge is out there now," Nobles said, referring to the county department, "and they've got a line cut around it. I know they'll stay on it."
Meanwhile, the Division of Forestry's Red Team, which had been deployed with more than 200 firefighters on all the county's active wildfires for the last two weeks, especially the 5,200-acre Espanola fire, is being replaced by a new team today–the so-called Gold Team. Manpower is not expected to fall.
Thursday's rains were not significant enough to affect the Espanola fire, which experienced a break-out–its first in several days–on its southern flank. The breakout was controlled. Most of the rain fell east of State Road 11 and south of State Road 100, where there have been few fires. About a half inch fell in that area.
Friday's afternoon weather is predicted to be more unstable than Thursday's, with more thunderstorms and lightning, especially after 2 p.m.
Audio of this morning's news conference on the fires is below. Yesterday's is available here.
---
[media id=215 width=400 height=300]