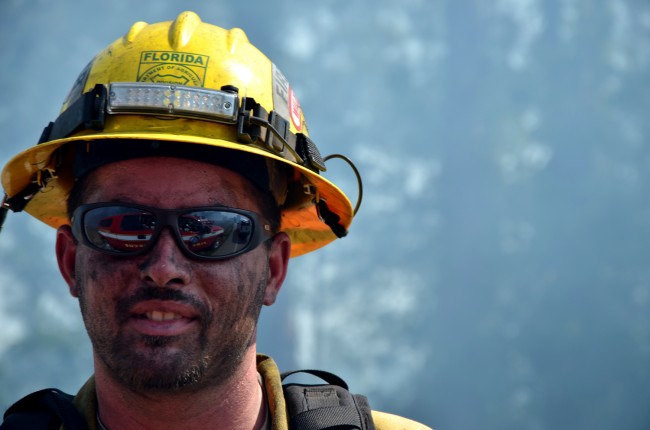 It's a strange sight: a fireman setting fire to a forest, not far from where the same forest has been burning for almost a week. But that's what the Division of Forestry fireman was doing Friday afternoon—dousing flames along U.S. 1, just north of the White Eagle Saloon, with a large silver can full of a diesel-gasoline mixture. Flames caught on quickly, crackled, spread. It wasn't long before that entire segment of forest was charred, and a different set of firemen—from the Palm Coast Fire Department—set to work spraying left-overs in water.
Motorists driving along U.S. 1 might have thought that the White Eagle fire, which declared itself suddenly the afternoon of May 31, had spread again to the highway and was threatening to jump it and attack the lush tinderbox to its west. The smoke was thick enough to warrant "fog" warnings. But firemen were carrying out a controlled burn to eliminate just such a possibility. By burning the fuel west of the White Eagle fire up to the highway, the idea is to deny what's left of the fire any chance to combust again and grow bigger than the 120 acres it has consumed so far. That fire was mostly under control, if not put out in most sections of the Seminole Woods it had burned in previous days, along County Road 325, leaving behind dramatic evidence of how close it came to devouring residences.
In one case, the house at 265 County Road 325 stood just a matter of yards from the charred forest around it. That's one of the houses firemen saved earlier this week. "Imagine if it's a big wall of fire and you're standing there," Flagler County Fire Chief Don Petito says, describing the scene. "The guys get right between that house and the fire to beat it back." As they did. The forest nearby is now a mausoleum of stumps and cold gray ash, like so much of the forest beyond it. Petito drives around, checking on the latest status of the fire, seeing little evidence of flames or smoke along that county road anymore, but plenty of evidence of the recent apocalypse. On one side of the road looks thickly green with woods, brush, impassably lush grounds. The other side of the road looks like the aftermath of a volcano explosion. It's a monochrome of blacks and grays and tree now turned into their own grave markers, as stumps set against a blazing blue—and dry—sky.
That dryness: it's worrying Petito and every other fireman in the county. It's not ending. Nor is it about to end. This whole weekend will be hot and dry, favoring more fires. Petito emerges at the eastern end of County Road 325, into the Seminole Woods subdivision, showing how close the fire had been to assaulting those close-cropped middle class houses.
As he emerges into the subdivision, an antique car catches his eye. "I'm an old-car guy," he says, backing up to take a look. It's a 1920s-type model, but he doesn't have time to admire it. Petito hears a different sort of crackle, an echo these days no less ominous than the sound of flames on bone-dry brush—his radio. Word from firemen at the northwestern end of the county. More bad news. The Dog Pen fire had jumped its firelines.
"They were there today, and they said it looked good," Petito says, meaning that the fire was under control, but the voice of Richard Bennett, a fire department lieutenant who's been coordinating much of the county's strategy at multiple fires in successive 12-hour shifts, speaks the words distinctly through the radio crackle: "We got a good reburn going on, it's now outside the lines." Reburn is what it says: leaves, branches, pine needles fall in hot spots, combust, start fires again.
"All of a sudden," Petito says. "This is what's killing us. Now we've got to send units up there."
That's what's worrying firefighters and the Division of Forestry about the Espanola fire, the biggest fire in the county right now, the least controlled, the most dangerous and, if winds change, the nearest to the habitations of North Daytona, where homes are surrounded by trees. And the winds are about to change. So far they've been blowing in a westerly direction, pushing the Espanola fire where there's been nothing but trees for miles. But the forecast has winds changing to a southerly direction by Sunday. That's bad news for Daytona North, also known as the Mondex, although firemen are doing what they do in these situations: staying two or three days ahead of the fire, and outsmarting it to the extent possible. The Espanola fire is in a huge bog. It's been difficult to reach, so difficult to control and put out, which is why it's grown to between 500 and 700 acres. Firemen have been back-burning their way to it to fight it, setting intentional fires to burn roads to the fire itself—and burning off fuel to its south in a preventive measure, should the wind change threaten Daytona North. That's why you've been seeing such huge smoke columns from that area for the past couple of days.
It's also why firemen can't let nature take its course. "If the winds change and they start blowing out of the west toward the east, what's going to happen?" Petito says rhetorically. "It's going to blow it right into Palm Coast, so we need to make sure that we have it controlled enough that it's not going to blow back to the east. That's what they were saying happened in 1998. I wasn't here in '98 so I can't speak for those people but the stories that they told me is that we had a bunch of smaller fires that we didn't pay attention to, and then those became bigger fires and when the winds changed it blew it back into the city. So we're paying extra attention to them so that doesn't happen. That's what happens: they're saying the winds are going to change from blowing to the west they're going to be blowing to the south, supposed to be Sunday night to Monday morning possibly, and that fire, the head fire of the Espanola fire, is just north of Daytona North, see what I'm saying? So you want to get control of that on that bottom side before the winds change. Strategies and tactics. You have to stay three days ahead of the weather—OK, what's the weather going to do three days from now? Because if that weather is going to change, that's going to set our tactics."
The good news is that the White Eagle fire has died down—or rather, that the tactics and strategies around that fire have paid off. In some ways, Petito says, even though it was a smaller fire, it was worse than the Espanola fire because it was much closer to homes. The trick now is to keep the Espanola fire from wrecking havoc before it's put out.
And out there, there's no White Eagle Lounge for the firemen to relax in. That's been the happier story of the fire that bears the lounge's name. Both Palm Coast Fire Chief Mike Beadle and Petito have been heaping praise on the place for the role it's played.
"The White Eagle here, I need to say," Petito says, "has been absolutely spectacular. We've been using it as a staging area, and the guys are coming here for lunch, and the crew from the White Eagle is taking care of the guys like—excellent."
A reminder about how you can help: Firemen don't need food. They need water, and a specific kind of water: small bottles that fit in their pockets—not large-size containers of it like gallons. You can deliver crates of bottled water at any fire station in town or the county.
Ride-Along Photo Gallery: The White Eagle Fire and Beyond
[nggallery id=66]