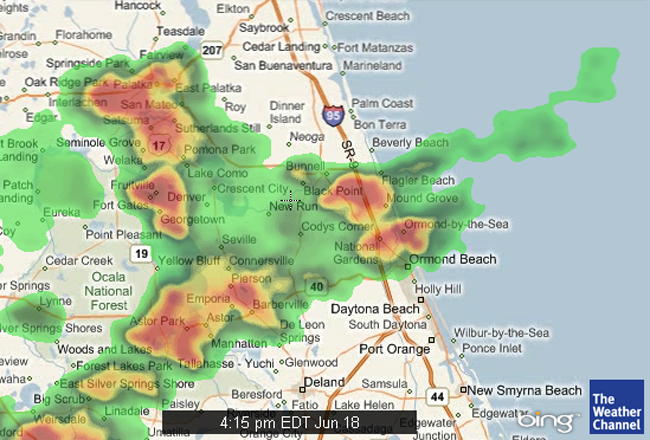 Last Updated: 8:20 p.m.
For a complete update on Saturday's fire and firefighting activities, go here.
Update: The National Weather Service extended the severe weather alert for northeastern Flagler County until 5:45 p.m.

The National Weather Service has issued a severe weather advisory for eastern Flagler County, including Palm Coast and Flagler Beach, in effect until 5 p.m. Expect severe thunderstorms, strong winds and excessive lightning. There is a possibility of small hail. Take precautions. Avoid open areas.
At 4:21 p.m., the strong thunderstorm was located four miles southwest of Flagler Beach, moving at 15 miles per hour. The thunderstorm was expected to affect areas around Bunnell, Espanola, Palm Coast and Marineland. Gusty winds of 45 to 55 miles per hour were in the forecast, with heavy, localized rainfalls.
Friday's thunderstorms dropped 2 to 3 inches of rain in the area of the 5,000-acre Espanola fire. It helped in the firefighting effort on the eastern and northern part of the fire, but not on its southern and western flanks, which are still burning actively, and it did little to stem the power of the fire: much more sustained rains are needed. Friday's storm had another advantage: lightning was not frequent, though it apparently triggered two new fires that declared themselves on Saturday–one on I-95, about eight miles south of Palm Coast, and another on State Road 100, south of the Espanola fire. Both fires were contained, and were 5 acres or less. At one point Black Hawk helicopters were scrambled out of the Flagler County Airport to dump buckets on the I-95 fire, but they were recalled.
Lightning in today's thunderstorm is not expected to be light. Rather, the storm is expected to unleash numerous lightning strikes, along with some precipitation, likely triggering new fires that will declare themselves in the next 24 to 48 hours. The Weather Channel reported that on Wednesday, 50,000 cloud-to-ground lightning strikes were recorded across the state.
As of 4:40 p.m., a band of heavier rain and thunderstorms was passing to the south of the Espanola fire, though another, more localized cell to the north was passing over it. On Friday, the thunderstorm that opened over the eastern part of the Espanola fire stalled there for a while, held in place by a seabreeze.