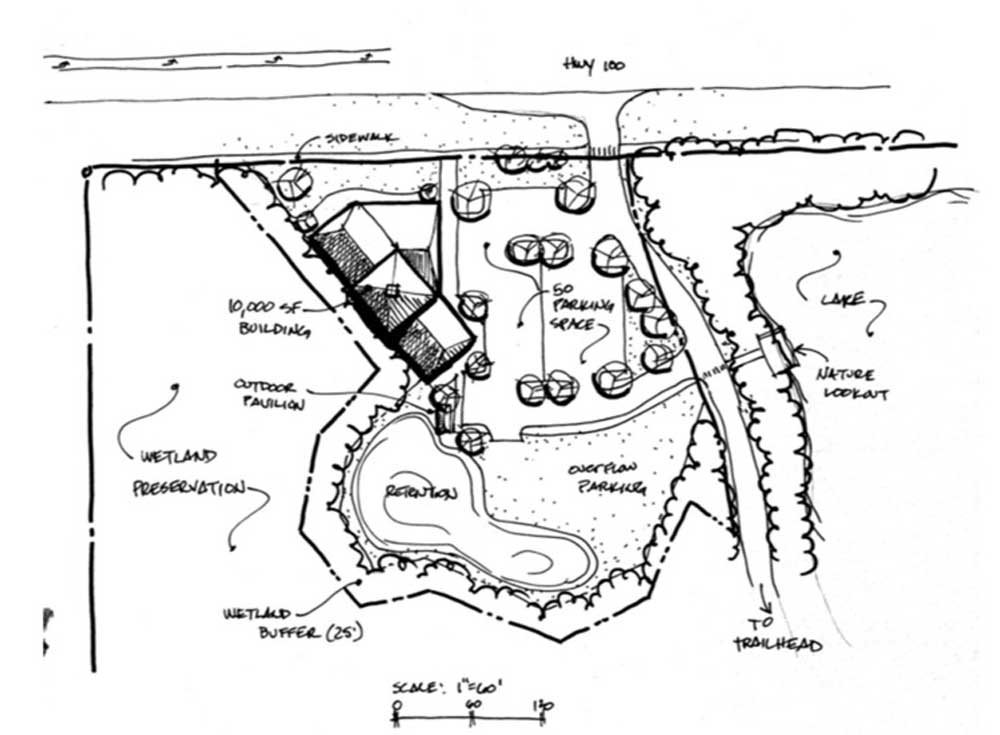 Over three years in limbo and with two derailed prospects on A1A in Flagler Beach, Flagler County's future visitor center got its biggest boost today on two grounds: The County Commission all but approved locating the center on State Road 100, next to the future pedestrian bridge and heritage trail. And it approved contributing an additional $500,000 as a local match for a hoped-for $8 million federal grant to build the center.



The Federal Highway Administration National Scenic Byways grant has a 20 percent local match, and will be filed by the Friends of A1A organization. The county around this time last year allocated $1.1 million. "Rising costs," as a tourism bureau memo to commissioners explains it, are behind the request for additional dollars. The commission's vote was unanimous.
The money is drawn from the Tourist Development Council's coffers, which are drawn from the county's 5 percent tourism surtax, charged to short-term renters and hotel and motel visitors. In essence, almost the totality of the money is being paid by visitors, for visitors.
"Staff has been diligently, for probably two years now, exploring multiple possible future locations, partnerships, funding sources," Amy Lukasik, the tourism bureau's director, told commissioners at their meeting this evening. The bureau is a division of the county administration. "This time there are a few key differences from last year's resolution that was approved. Number one, we have identified and vetted a location."
The bureau in two previous cases had first looked at buying the old Bank of America building opposite the pier in Flagler Beach, then at buying a vacant parcel on South 9th Street, fronting the beach. Both were expensive propositions. This time, the county owns the 23 acres where the Flagler County Visitor and Eco-Discovery Center, as it is being called, would be located. It's currently a shell pit. It's within a stone's throw of the new pedestrian bridge.




The future 10,000 square foot, $6.5 million visitor center would have 51 parking spaces. The additional $1.5 million would be earmarked for associated infrastructure, including lighting and turning lanes.
"There's also opportunity for a lake overlook and informational kiosk education type covered areas as well," Lukasik said. " The area would also include reception, ticketing, gift shop exhibits, interactive displays, multipurpose event space, informational materials and lots of bathrooms." The facility will save the county $60,000 a year in rent, since the tourism bureau is currently renting space at a privately held office building at the county airport.
But Commissioner Donald O'Brien raised a pointed question based on the fact that Flagler County's tourism numbers are not exactly in need of a visitor center to be enhanced. "I saw some of our tourism numbers, our collection numbers, and they're growing and they've grown," O'Brien said, "so at what point do we get to diminishing returns, say on the marketing side where additional dollars we're spending don't necessarily generate any additional tourism, because it's coming in anyway? And maybe we reallocate all of that. I just think we maybe need to have a discussion about that. Maybe Now's not the time to do that, Mr. Chair, but in terms of the financial side of it, how this relates to what our reserves are, what we have and how this impacts that–I don't see that."
The county's reserves have been dwindling. But the tourism pot is separate. It's run as its own, separate enterprise. As of January, the capital fund in the tourism pot had about $3 million, Lukasik said. As for visitors coming anyway, Lukasik said, "People don't know where Flagler County is. I know it's hard to believe that, but it's very competitive," she said. She said the TDC's reserves are in the 20 percent range. Additional revenue in unexpectedly strong years mean greater reserves.




"I can guarantee you I can get you a better return on investment for $500,000," Lukasik said.
"I'm not arguing that part," O'Brien said.
A few members of the public addressed the commission. One spoke of the visitor center's place in encouraging eco-tourism and bringing in more money. Another, Denise Calderwood, a former candidate for the commission, was less enthusiastic, questioning the process: "That should have been on a workshop," Calderwood said. "It should have literally been vetted for everybody to understand it, for the community to understand that you all are approving $500,000 on next year's capital budget, when I don't believe it's necessary."
(It'not entirely accurate: the county's capital budget is separate from the tourism bureau's budget, and tourism bureau items are discussed at TDC meetings before they are brought to the commission for approval.) Calderwood conceded that "it finally makes common sense" that the center would be located on county-owned land, before calling the tourism coffers a "slush fund"–a characterization that later drew a sharp rebuke from County Commissioner Greg Hansen.
Danielle Anderson, one of whose innumerable roles in the community is as the byway program administrator for Friends of A1A, was more appreciative of the county's role, imagining a more cohesive landscape of tourism organizations ahead, such as hers, Heritage Crossroads and TDC partnering. "This is going to tie all of it together under one roof, instead of being separated and siloed," Anderson said. "This is going to bring it where it needs to be, together."
Daytona State College's Nancy Duke Birkhead, who heads Heritage Crossroads (whose mission is to "highlight the historic resources of Florida's first Heritage Highway") said the visitor center's role should be more expansive than assumed by the name: "We need a place in Flagler County to talk about our history to talk about our heritage," Birkhead said. "Plus one of the great benefits that I see for Heritage Crossroads: We use a lot of young people in our projects. We do service learning at Daytona State, so I use a number of my students to do exhibits on some of the founding families of Flagler County, for example," or on other historical aspects of the region. "You need a place for those kids to be able to teach younger people to be able to put together exhibits, to be able to put together films that could really show people what this county is all about."




To Andy Dance, the county commissioner, the discussion and potential project reminded him of a Garth Brooks song, "Unanswered Prayers."
"I know a lot of people last year were praying about the other visitor center, the other location, but I do believe that this is the best choice and it's a good thing," Dance said. He spoke of the historical possibilities, the environmental connections, and the site's value over the years. "I think this has ended up being really a gem of a site for us to take advantage of, and it's been a working site since the 50s."
The commissioners voted for the $500,000 allocation without hesitation.
We will still come before you again. This isn't the last time. This is just to apply," Lukasik said. "We have no idea what lies in front of us."
visitor-center