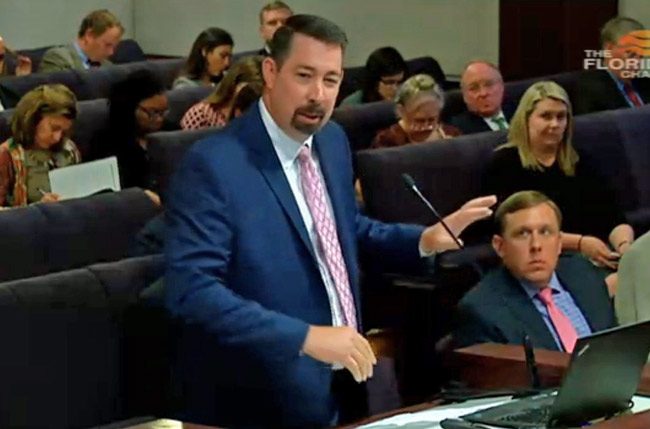 Regulating—or not regulating—vacation rentals is turning into a near-decade-long struggle involving hundreds of cities and counties in Florida, with Flagler County at the forefront of defining the regulatory approach and the short-term rental industry pushing back, often at the expense of home rule.
The struggle resumed today as the Senate Community Affairs Committee held a nearly-three hour workshop on the issue, framing what's to come in a repeat of what took place in the legislative session last spring as the short-term rental industry tried to undo a 2014 law giving local governments authority to regulate vacation rentals.
Flagler County is largely responsible for that law and the 38 ordinances cities and counties have adopted since, most of them using Flagler's as a template. The county is willing to revisit the law but wants mostly to protect its authority to regulate what, in this county, amounts to a hundred-some rentals, with a 133,000 such units across the state. The industry wants regulations significantly scaled back, pushing for regulations that only treat all single-family homes alike, including those used as vacation rentals. To Flagler and other opponents, that approach would be the equivalent of no regulation.
Last year the 2014 law came close to being repealed, with a nullifying measure making it through several House and Senate committees before falling short toward the end of the session. County Attorney Al Hadeed was at every committee hearing, battling back against a tide of industry lobbying for repeal.
Today, Hadeed was joined for the first time on the issue by County Administrator Craig Coffey, who–after being mistaken for the "county manager" of St. Johns County and a representative of the state association of counties–addressed the committee by portraying himself as a fan of vacation rentals, but also describing Flagler's needs to preserve the rights of year-round property owners alongside those of vacation-home renters. That can only be done by preserving local government's authority to regulate, he said.
"Maybe the balance wasn't perfect in '14, maybe we need a new balance, but I think the balance has to stay," Coffey said. "We have folks in our community that don't want them at all. We're not on that team. And we have folks that want totally unregulated. We're not on that team. We're kind of trying to find that balance with you guys." But, he told senators, if they hear of outliers, of extreme cases that are causing problems, "don't mass-punish 500 cities and counties."
Sen. David Simmons, a Longwood Republican, asked Coffey what he asked almost every person who addressed the committee: what would you propose? Coffey's answer was more instructive for its premise than its details: he recognizes that bills seeking to rewrite the law are coming. He didn't want to be seen as an outright opponent of those bills, or an ardent defender of the current law, though he'd welcome preserving that law and moving on. Instead, he described himself willing to deal, to allow local governments to make regulations less restrictive if they so choose, but to give them room to decide, and to preserve the authority to control vacation rentals within some parameters—safety, building codes, noise. "We will take all the vacation rentals you can send our way, we just want to moderate it," Coffey said.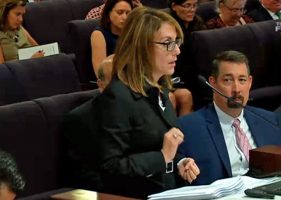 The committee workshop had none of the hurried, tense, done-deal feel of committee hearings, when senators or representatives listen to speakers quickly, one after the other, discuss the bill under review cursively, then vote with assembly-line speed, their votes likely decided well ahead of time. The length of the workshop enabled a more deliberate approach but also reflected the importance the issue will have for lawmakers. Led by Tom Lee, the committee chairman, they seemed to recognize that this may be the year when the matter is more decisively resolved. At one point Lee asked a speaker what the industry would look like if nothing was done and the existing law stayed in place.
Lori Killinger, the lobbyist who represents the Florida Vacation Rental Managers Association, seized on the question to paint a future where vacation rentals would dwindle for being too frustrated with a mosaic of regulations. She spoke with a stack of the ordinances she said have mushroomed since Flagler's in 2014, describing them as lengthy and filled with "whereas" clauses that make it difficult for the lay person to understand.
She predicted that "eventually people are going to get tired of complying with these ordinances," and that there will be a "cooling effect" on the industry. (An earlier version of this story misinterpreted the context of a statement Killinger had made: she was paraphrasing another industry representative's statement about the "proliferation" of short-term rentals, not speaking those words as her own.)
Certainly, the numbers she herself presented—133,000 such units around the state—point to an increase in rentals, even since the 2014 law: the vacation rental industry is booming, in spite of (if not because of, as some local governments might argue) local regulations.
For all the workshop's leisureliness, an undercurrent of tensions was also apparent, as when Killinger, one of the last people to address the committee, turned to Coffey, who was sitting right behind her to her left, and to "game out" her scenario, asked him: "Can I pick Flagler?"
"No, pick, you city," Coffey shot back without hesitation, or so much as a smile.
"No, Tallahassee? No, that doesn't work," Killinger said, turning back toward the senators.
"That works," Coffey persisted: he was not going to give ground.
Nor was the short-term rental association representative: "I'm in Flagler," she declared, going on with her scenario, which eventually led to a homeowner thinking about opening a vacation-rental property only to abandon the idea. But again, that hasn't been Flagler's experience, where, Coffey had noted earlier, homes are being built as vacation-rental properties—one of them with 11 bedrooms, as one senator pointed out, brandishing an image—and by investor companies, not by mom-and-pop property owners.
Killinger wouldn't concede the fact, saying that "maybe" investors are buying up property, but, she said, even if she were to concede that some were run by investors, "you're still talking about 100,000 people or more who are forced to follow" these regulations, she said.
The workshop did signal what likely alliances might form and where the deepest enmities will endure. Most interestingly, Thomas Martinelli, who represents Airbnb, the hybrid vacation-renting system where more than 80 percent of homeowners share the house where people rent a room or two, spoke more willingly of preserving regulations than not, and appears to have had an ongoing relationship with Coffey.
"I've said it to Craig, like, 17 times, and we are sincere in that sentiment," Martinelli said, to Coffey's nods (and smile). "We'll help you. We're here. We want to make sure that this is right."
The hotel industry is also on the side of more, not less, regulations, though Sen. Jeff Brandes, the St. Petersburg Republican who last year essentially saved Flagler and the 2014 law with his amendment to a proposed repeal, acidly said he didn't want the hotel industry's position "to juice" hotel stays.
"I don't know what's coming, what it's going to look like," Lee, the committee chairman, said of coming measures on vacation rentals. What's clear is that they're coming, and the battle lines were drawn today.
Including one additional caution from Coffey, a reference an attempt by one senator last spring to veil scaling back regulation behind a bill seemingly favoring veterans. "As a veteran, don't wrap it in the flag. I'm a combat veteran, I saw that going on, those shenanigans, last year, don't wrap it in the flag, please. Veterans should follow the same rules as everybody else."