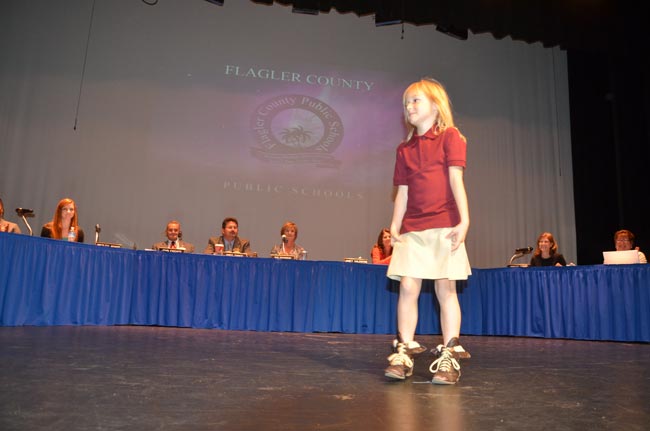 There was a shill in the air the moment you walked into Matanzas High School's Pirates Theater this evening: a couple of school district staffers were handing out generous discount coupons for Bealls, the department store. But wasn't this the place for the Flagler County School Board's latest—and last—forum on school uniforms before the board takes an up or down vote on the matter on Jan. 17? It was.
And the bait-like coupons weren't a coincidence. The district had invited Bealls store manager Laurie Upton to show what a few uniforms would look like. About 20 minutes into the forum—after panelists had presented pro and con positions—an oddly funky sound track came on and the audience of about 45 (almost a third the size of the audience at the Flagler Auditorium last month) sat through a fashion show: two elementary age students and the student representative on the school board—Wesley Adams, who is staunchly opposed to uniforms—paraded the length of the stage, showing kakhis, polo shirts and skorts to a bit of scattered applause.
Upton made no bones about it. She told the audience that should the district opt for a uniform policy, she hoped Bealls would be shoppers' target of choice, for tops priced between $13 and $15 and bottoms priced between $15 and $30 each. School Superintendent Janet Valentine said the fashion show was intended only to give people a more concrete idea of what they might (literally) be looking at in terms of style and prices, should the board adopt uniforms. She said she wasn't aware that coupons were being handed out in the lobby.
The fashion show was actually a sideshow of the forum's intentions. Unlike the previous forum at FPC, this one wasn't open mike: no one from the audience could walk up to a mike and make statements to the board, though people were welcome to write questions on three-by-five cards, which Sue Dickinson, the board chairman, later posed (skipping a few). She posed them to a panel that the district had assembled for the evening: Jay Wheeler, a school board member in Osceola County since 2002 and a champion of uniforms. Osceola adopted a uniform policy three years ago. There was also a pro-uniform parent and an anti-uniform parent, and two anti-uniform students (including Adams). The district tried to get a pro-uniform student but couldn't get one to agree to be on the panel. Dickinson chalked it up to fear of retribution, though during the forum a student in the audience seemed to volunteer for the role. That student didn't make it on stage.
The school board also sat on state, behind draped tables: Dickinson in the middle, flanked by John Fischer and Colleen Conklin (the pro-uniform bloc on the board) and Trevor Tucker and Andy Dance, who are opposed to uniforms at the moment. The group decided to hold public forums and polls and informal discussions to ensure that whatever it decides come January, it will have done its work with the public. The outcome may well have been pre-determined, given where the individual board members stand on the issue, but Conklin is still attempting to portray her stance as undecided, and she may well be the swing voter whose final decision will come down to that Jan. 17 meeting. She told Wheeler that she would visit Osceola in the meantime, and focus on speaking to parents and staffers who opposed the uniform policy. (Fischer has already visited Osceola.)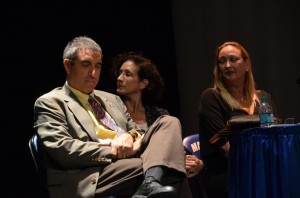 Each panelist had a bloc of time to make a presentation. Wheeler took up almost all of 15 minutes. He spoke of an assistant superintendent who'd once been "adamantly opposed" to uniforms, only to shift entirely. He said gang activity was spiking in Osceola, a district of 54,000 students, and one of the poorest in the state. Uniforms took care of that, he claimed. He went through the evolution of the uniform debate as if to mirror its latest incarnation in Flagler, characterizing a "vocal minority" allegedly drowning out a silent majority on the issue, speaking of a couple of board members who thought it wasn't the right time (as if to echo the two board members in Flagler), and concluding on this assertion: "We passed school uniforms because of our gang activity." But the collateral advantage has been satisfying, he said, even though he conceded that there is no evidence of a connection between uniforms and better academic performance, and that it would be disingenuous of him to make one, given the other changes that have taken place in Osceola in the past three years—in the curriculum, in the establishment of a magnet school, in personnel changes.
The mother of three children attending Belle Terre Elementary then spoke "without a doubt" about favoring uniforms for budgetary reasons and to dim others' temptations to judge hers and other children over their clothing, and to underscore what she sees as uniforms' reflection of character.
Mitzy Gee, a parent who spoke immediately after her and who's been a vocal and frequent opponent of the initiative, rebutted the points by underscoring other common theme of uniform debates: there is no hard evidence showing that uniforms improve attendance, grades or character, or reduce such things as drug abuse. She also spoke against the notion that the school district should exercise its authority in what amounts to "a waste of time" at a time when none of the schools in Flagler, including charter schools where uniforms are required, have met the federal "adequate yearly progress" criteria. She had no objection to an optional uniform policy that would grant parents the right to send their children to any school in uniform. Then it was up to both student representatives to add to the opposition.
The many audience questions posed have been asked before, though they clarified at least two points, one of them, both essential to the debate. At one point Conklin asked Wheeler if students are allowed to wear jeans in Osceola schools. They are. She then asked whether it would not be more accurate to define Osceola's policy as a very strict dress code, rather than a policy. Wheeler said she was right, though the term "uniforms" was more potent. Yet so far, and based on the uniforms shown during the fashion show, this district appears intent on a stricter uniform policy, not a stricter dress code.
Which brought up the second point: If students were adhering to the existing dress code, Dickinson said, "we would probably not be having this discussion." That was an odd assertion: Several months ago, in a presentation to the board, the student services director, with hard evidence this time, showed that dress code infractions were relatively few, given the number of students in the district. As an article noted at the time, referring to the first four months of the last school year, "In all, the district had 177 referrals related to dress this year, out of a district population of 13,000, and well over half of those were at Flagler Palm Coast High School, which also has the highest enrollment in the district (2,400 students).  It is almost a non-issue in elementary school, where the county's five schools combined have just four referrals this year. Indian Trails Middle School had no referrals at all: the school doesn't write up referrals unless the problem is chronic, which suggests that, when problems arise, mere warnings are doing the job."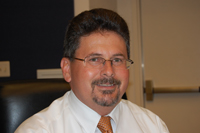 Dress-code violations are not, in fact, at the origin of this latest debate on uniforms. As Conklin herself asserted repeatedly—and did so again Wednesday evening—the issue was revived when Fischer, the school board member, revived it, because it was one of his main campaign planks.
At the end of the forum each board member made a brief closing statement, some more brief than others (Tucker merely thanked people for showing up). Conklin, hinting at being swayed, said that for her the matter will come down to economics, though she remains convinced that uniforms save money. And Dance repeated his assertion that this is not the time to impose "what amounts to an unfunded mandate." His voice seemed to break on several occasions when he spoke of the hardships many students and parents are facing, and when he spoke of the freshman gym class at FPC, half of which, he said, needed clothing assistance to be in proper gym attire.