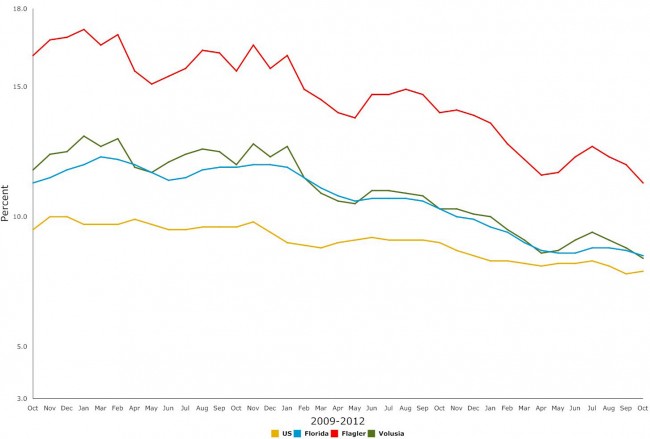 Flagler County's unemployment rate in September dropped sharply to 11.3 percent, from a revised 12 percent in August, as improving economies statewide and in the country continue to to trickle down even to the counties hardest hit by the Great Recession. Flagler's 11.3 percent rate is the lowest in four years: it was last at 11.3 in November 2008.
Florida's unemployment rate also fell, to 8.5 percent, a level last seen in January 2009, when it was 8.6 percent. The national rate is at 7.9 percent, although job creation nationally has been more brisk than it's been in Florida. October numbers were slightly more brisk: the ranks of the unemployed fell by 18,000, the number of people holding jobs increased by 21,700 (for a total of 7.4 million), but the labor force grew by 42,000, a sign that more people are willing to rejoin the workforce. Net job creation, in other words, was just over 12,000. Nationally, too, the labor force has been growing rapidly, and faster than jobs, a sign of optimism. In previous months, Florida's unemployment rate had fallen more because people were leaving the workforce altogether than because they were seeking or finding jobs.
Florida has created just 67,600 jobs over the past 12 months, continuing a trend of about 6,500 new jobs a month since Gov. Rick Scott took office. Campaigning for governor, Scott had pledged to create 700,000 new jobs in seven years in addition to natural job creation. (In Scott's words, "that plan is on top of what normal growth would be.") He then back-tracked, saying he would just create 700,000, denying that he'd ever said he would do so on top of normal growth. Despite the change in his accounting method, Florida's tally in the first 21 months of Scott's administration remains well short of meeting the pledge. Counting October numbers, the state has added 152,500 jobs in 21 months, an average of 7,260 jobs amonth, more than 2,000 jobs a month short of Scott's revised goal.
"We are creating an environment that fosters job creation, economic development and provides a skilled workforce," Scott said today. "My number one goal is to create jobs for Florida families and get this state back to work." And borrowing a phrase from Barack Obama's election-night victory speech ("we've got a lot more work to do"), Scott added: There is still more work that needs to be done, but I'm confident we're on the right path."
No single job sector showed strong job creation in October. But no single job sector showed significant losses, either. In the plus column, retail trade was the largest winner, with 8,400 new jobs (or just under a 1 percent increase), as shops get ready for the holiday season. Administrative and waste services added 5,300 jobs, education and health services added 5,100, and government, led by state government, added 2,600 jobs, a surprising switch from a long run of job losses in state and local government.
In the losing column, non-durable goods lost 1,200 jobs, transportation, warehousing and utilities lost 1,400, information lost 1,200, finance and insurance lost 2,200, professional and technical services lost 5,300, and leisure and hospitality, which includes the tourism industry, lost 3,300 jobs.
For all the improving news, Flagler County remains stubbornly near the top of the chart among the counties most burdened by unemployment. Hendry County is first, with unemployment at 12.6 percent, but Flagler is second, at 11.3 percent, followed by St. Lucie, at 10.9 percent, and Putnam, at 10.3 percent. Monroe County is best at a North Dakota-like rate of 4.7 percent, followed by Walton (5.4 percent), Okaloosa (5.7) and Wakulla (5.9).

Flagler County and Florida Unemployment Report, October 2012