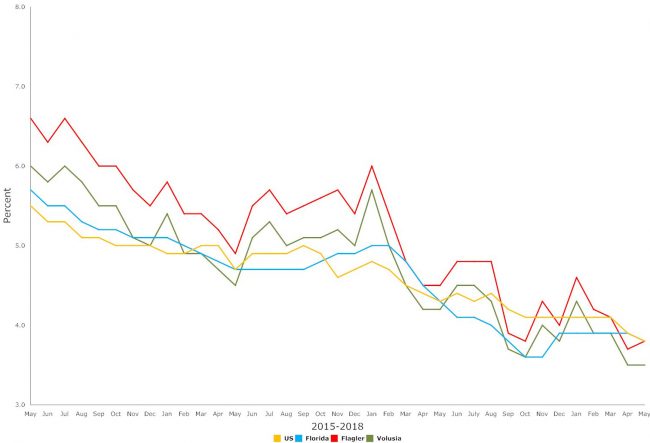 Flagler County's unemployment rate of 3.8 percent in May is a re[peat of the post-recession low struck last October, but it's the first time since before the recession that the county has managed to keep its unemployment rate below 4 percent for two successive months. A rate below 4 percent is generally considered to be full employment.
The last time the county's rate was that low before the recession was in November 2006, when it was at 3.7 percent and rising very fast toward double-digits. Flagler's unemployment rate before the recession had bottomed out near 3 percent, as had Florida's. Florida's unemployment rate in May was the same as Flagler's.
Flagler's workforce is also continuing its growth. The labor force hit a new high of 47,204, up 600 compared to a year ago. Of those, 45,423 residents are holding jobs either in the county or out of the county. The figure reflects full and part-time jobs. It takes a worker logging just one hour of work in the period of the labor report to register as an employed person. There were 1,781 unemployed persons in the county in May, up about 40 from the previous month but down 335 from a year ago.
The unemployment report's strength parallels the soundness of recent housing and permitting reports and a report from the property appraiser showing Flagler's property values appreciating at their best clip since 2007 (7.5 percent).
Florida added 15,100 jobs in May, but 19,000 private-sector jobs. The difference is in government jobs, a sector that lost 3,900 jobs over the month, a third of them in local governments. As always, Gov. Scott in his unemployment-report statement did not take public-sector jobs into account, focusing exclusively on private-sector jobs even though 1.1 million Floridians, or 13 percent of the labor force, work in the public sector. That includes teachers, cops, firefighters, school bus drivers, public works employees, and so on.
"Every month, private-sector businesses are adding jobs, dropping our unemployment, making it easier for every Floridian to find great work," he said in the statement. In the past year, 124,000 people entered Florida's labor force, a growth of 1.2 percent, which is greater than the national labor force growth rate of 1.1 percent.
Most job sectors showed modest increases in their ranks, with the largest proportional increase in education services, at 0.7 percent (1,200 jobs), and the largest net increase in leisure and hospitality as the tourism season ramps up. Hotels and food services added 4,000 jobs in May, arts and entertainment added 800.
Hendry County continues to top the list as the county with the largest unemployment rate, at 5 percent. Putnam is not far off at 4.5 percent. St. Johns and Okaloosa have the lowest rate, at 2.6 percent, followed by Monroe with 2.7 percent. The Orlando-Kissimmee-Sanford metropolitan area has been the state's most brisk job-producer since last year, creating 44,000 jobs over the past 12 months, a year-over-year increase of 3.5 percent. Jacksonville is at 3.2 percent. The Deltona-Daytona Beach-Ormond Beach zone is at 1.4 percent, with 2,900 new jobs over the year.
The full unemployment report is below.

Florida May 2018 Unemployment Report