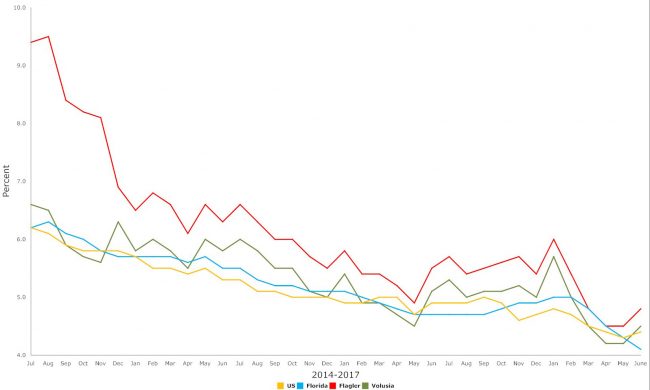 Flagler County's unemployment rate ticked up three decimal points to 4.8 percent in June as the labor force shrank a little and the unemployment rolls grew by a little over 100 people in the most disappointing jobs report since January, when the unemployment rate ticked up significantly. Florida's unemployment, on the other hand, fell to 4.1 percent, from 4.3 percent in May, with an addition of 19,400 net new jobs.
The state's labor force now stands at 10.3 million, with 419,000 officially jobless Floridians. The figure does not reflect the number of working-age people who have dropped out of the labor force, nor the number of people who are under-employed–those people working part-time because they could not find full-time work, or because their hours were cut back.
When those workers are included, Florida unemployment and under-employment rate jumps to 10.3 percent, one of the highest in the nation. The national average is 9.5 percent. Florida is also in the bottom quartile of states when it comes to per capita wages.
Gov. Rick Scott touted Florida's latest unemployment numbers from Las Vegas, Nev., this morning, and, unusually, did not make a distinction between private-sector job growth and public-sector job growth, saying that "nearly 18,000 new jobs were created for families across the state in June." (The news release his office issued did make the distinction when it referred to total job growth since 2010.) In the past, Scott has only referred to private-sector jobs, as if public sector jobs were not part of the equation. One reason for the distinction this time may be that government jobs grew by 1,600 month over month (and by almost 11,000 over the year).
Scott was in Las Vegas, meeting with representatives of Allegiant Air at their Nevada headquarters to discuss the company's presence in Florida. Since Allegiant Air chose Florida as the best location for their new East Coast Training Center last year, their base at Orlando Sanford International Airport has become the company's largest in the United States. Allegiant Air is currently responsible for more than 15,000 direct jobs across Florida.
In Flagler, the labor force in June stood at 46,000, or 1,000 workers more than in June last year. Employment in June was at 43,901, a decline of about 100 from the previous month, but an increase of about 1,500 over the year. The figure does not necessarily represent full-time work: a worker need only have registered one hour of work in the employment period to run up as employed. The figure reflects Flagler County and Palm Coast residents who hold jobs. Those jobs may be in the county or anywhere in surrounding counties. The number of unemployed people ticked up to 2,200, an increase of just over 100 people over the month.
The full jobs report is below.

Flagler-Florida Unemployment Report, June 2017