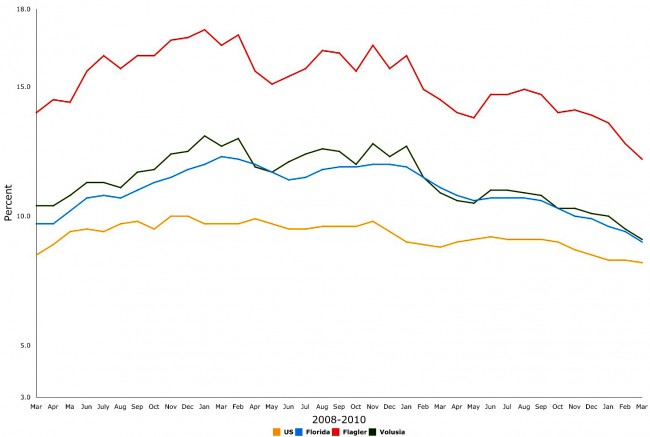 Flagler County's and Florida's unemployment rates dropped significantly in March, to levels not seen since the end of 2008, solidifying an economic recovery and confirming what many local business owners, including car dealers, Realtors and bankers, have been saying for the last several months: the last quarter's economic activity is the best they've seen since the beginning of the Great Recession.
Florida's unemployment rate in March fell to 9 percent, from 9.4 percent the previous month, a big drop that brings the rate to its lowest level since January 2009. There were 836,000 jobless Floridians out of a labor force of 9.3 million. The state added a net 10,800 jobs in March, and 89,800 jobs over the past 12 months.
Flagler County's unemployment rate fell to 12.2 percent. It's still the highest in the state, with the next-lowest rate in Hernando County, at 11.3 percent. But the labor force shrank only marginally in Flagler, and the number of people with jobs increased, suggesting that the unemployment rate is falling because people are returning to the workforce–and finding work–not because they're abandoning it altogether, as they had at the depth of the recession.
There are fears, however, that the gains may be temporary. Nationally, layoffs are rising again, home sales are slowing, so is manufacturing as exports begin to feel the effects of Europe's on-again financial crisis and oil prices remain high. For now, consumer confidence and car sales are still strong.
In Florida, Construction, manufacturing, transportation and warehousing, professional and technical services and education services all saw job losses. Wholesale trade, administrative and waste services and tourism saw job gains.
There were 10 Florida counties with double-digit unemployment rates in March, down from 18 in February.