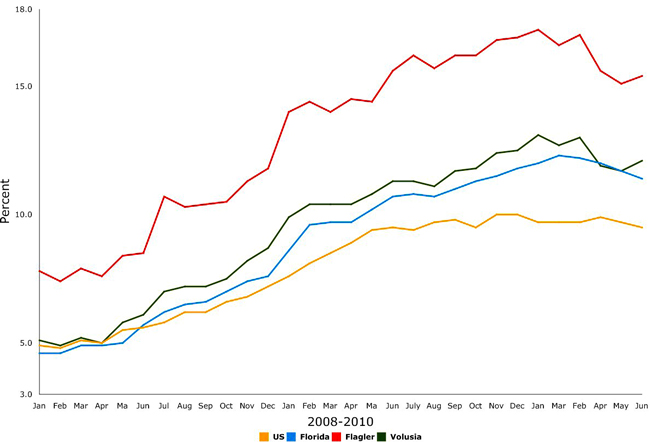 The unemployment rate in Flagler County rose again in June, from 15.1 to 15.4 percent, and unemployment rose by four-tenth of a percent in Volusia County, largely due to a statewide loss of 25,000 government, census-related jobs.
An even more worrisome sign for Flagler: while there was an actual net loss of 63 jobs in a workforce of 32,731 in June, the workforce itself shrank by almost 1 percent, a significant reduction that suggests the county is bleeding workers who are choosing to relocate elsewhere. The workforce stood at 32,731 in June, down from 33,028 in May–and down from its year-ago level of 32,893.

There was some private-sector job creation in the rest of the state, but it did not compensate for the large loss in temporary census jobs, leading to an overall net loss of 1,900 jobs in Florida last month, and reversing the gains of the last few months. The loss was steeper in Flagler and Volusia, where the underlying job market remains weak. Florida's seasonally adjusted unemployment rate fell from 11.7 percent in May to 11.4 percent in June–not because there were more jobs, but because there were fewer entrants into the work force, and more of the unemployed quit looking. There are still 1.06 million Floridians out of work.
"This continuing decline in Florida's unemployment rate is another strong indication that our economy is improving," said Cynthia R. Lorenzo, director of the state's labor department. Lorenzo is overstating the case: it's difficult to claim that an economy is improving when job creation is negative. But there are signs that the private sector was picking up some of the unemployment slack. Professional and business services added 11,800 jobs across the state. Construction, in an surprising turn-around, added 2,800 jobs. Trades, utilities and transportation added 3,700 jobs. Administrative and waste services added 7,700, and leisure and hospitality services, meaning tourism, added 7,000 jobs–an especially bright spot considering the dreaded effects of the Deepwater Horizon oil spill on Florida's beaches.
Besides the 25,100 government jobs lost, some 3,400 jobs were lost in health care, 1,900 in financial services, 1,100 in real estate, and 500 in education and health services. Other sectors were either static or saw modest gains.
Florida's 10 Highest and 10 Lowest Rates by County
| Rank | County | Unemployment Rate, % |
| --- | --- | --- |
| 1 | Hendry | 16.1 |
| 2 | Flagler | 15.4 |
| 3 | St. Lucie | 14.3 |
| 4 | Hernando | 14.2 |
| 5 | Indian River | 14.2 |
| 6 | Marion | 13.9 |
| 7 | Putnam | 13.4 |
| 8 | Citrus | 13.3 |
| 9 | Levy | 13.1 |
| 10 | Lee | 13.0 |
| 58 | Alachua | 8.4 |
| 59 | Jackson | 8.4 |
| 60 | Leon | 8.2 |
| 61 | Wakulla | 8.2 |
| 62 | Franklin | 8.0 |
| 63 | Lafayette | 7.9 |
| 64 | Okaloosa | 7.6 |
| 65 | Monroe | 7.4 |
| 66 | Walton | 7.4 |
| 67 | Liberty | 6.8 |
Source: Florida Department of Labor