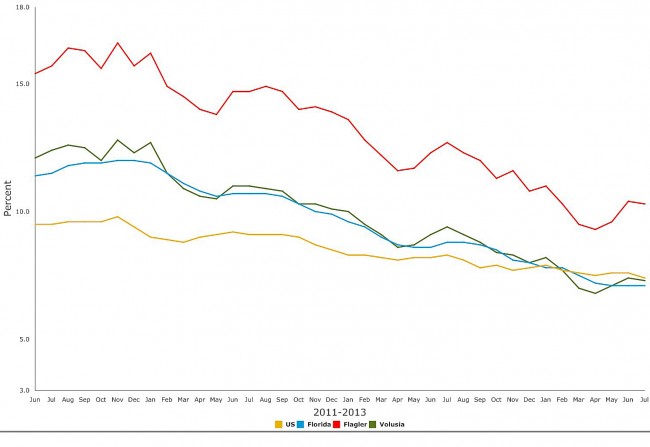 The national economy, Florida's and Flagler County's might as well be the three twins of lethargy: all three economies are mirroring each other in fitful but anemic activity, adding some but mostly low-paying jobs as Florida's unemployment rate remains at 7.1 percent for the third straight month, barely under the national rate of 7.4 percent, and Flagler's continues in the low double digits, at 10.3 percent.
There were 665,000 officially unemployed Floridians in July. The figure does not include discouraged workers who have stopped looking for work, or under-employed workers who are holding part-time jobs because they couldn't find full-time work, or because their hours were cut back. That figure is calculated by the U.S. Department of Labor as the so-called "U-6" alternative unemployment measure. Through the second quarter of 2013, Florida's U-6 unemployment and under-employment rate was 15.1 percent, 12th-worst in the nation, and contrasting sharply with Gov. Rick Scott's image of a state either on the mend or besting the national economy's health. The national U-6 rate is 14 percent.
The national economy added just enough jobs last month to keep up with the natural rate of growth among job seekers. Florida added 27,600 jobs, not a bad showing relative to previous months, but still not the sort of job-creation momentum that could move the state. And what jobs are being added have little resemblance to those lost even as statewide employment is now above 8.765 million, and nearing its pre-recession level.
The upshot, an analysis of the post-recession workforce concluded in the Tampa Bay Times earlier this week: "Collectively, we're earning less money with more people clustered in lower-paying jobs in retail, tourism and health care. There are more part-timers and workers combining a couple of part-time jobs into one full-time paycheck."
What's true in the state has been largely true in Flagler. Construction jobs–cut in half statewide, and by more than half in Flagler County–have been replaced by low-paying restaurant and other leisure or tourism-type jobs. The state lost 382,300 construction jobs overall during the Great Recession. That loss has yet to be dented for the better. But leisure and hospitality have added 110,000 jobs.
The most advertised occupations in Florida in June also reflect the sort of low-grade economy the state has been thriving on: registered nurses, retail sales, retail supervisors, customer service reps and first-line supervisors of food preparation workers.
In July, Flagler County's labor force fell slightly, to 34,934 (a loss of 177), but the number of job-holders also fell, by 214, to 31,296, and the number of unemployment persons rose by 37, to 3,638.
Flagler County remains tied for second among counties with the worst unemployment rate in the state. It's tied with St. Lucie, with Hendry in first. Putnam is in fourth place, with an unemployment rate of 10 percent. All other counties in the state have rates below double digits.
Within particular industries statewide, most sectors saw very modest job gains. The two biggest losing sectors by proportion were local government, which shed 6,700 jobs, or 0.9 percent of its workforce, and management of companies and enterprises, which shed 900 jobs, a 1.1 percent loss.