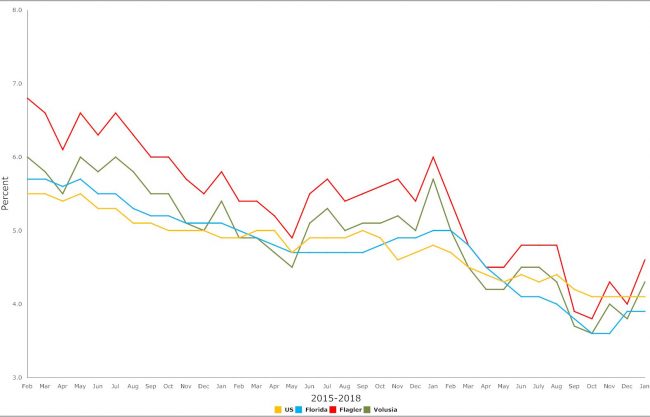 Most of 2017 brought good news for Flagler County on the unemployment front, with employment rising by about 1,300, the labor force adding about 1,000 working-age people, and unemployment falling by about 700 overall.
January is starting the year on a slightly cloudier note: unemployment ticked up a substantial 0.6 point, and the number of unemployed people in the county increased by 273, to 2,128. But the numbers may not be as bad as they seem: the number of employed people stayed flat at 44,286, while the labor force increased by almost the exact number as that of the unemployed: 272. In other words new entrants into the workforce, or people who have just moved to Flagler County and haven't yet found work, are the reason the unemployment rate went up–not necessarily because of a softening of the economy. The unemployment rate in Flagler is a full percentage point below where it was a year ago.
But unemployment in St. Johns, Duval and Volusia is also up by 0.5 points in each of those counties, which could hint at a regional slowdown. Florida's unemployment rate remains unchanged from a revised 3.9 percent in December, with 397,000 Floridians out of work, out of a workforce of 10.2 million. The state added 10,500 jobs over the month and 150,000 over the year, paralleling national gains.
The number of people employed in any given county reflects only the number of people living in that county, holding jobs. The jobs may actually be in any of the surrounding counties. It takes only an hour's work to register a person as employed for the period covered by the unemployment report, which does not distinguish between part-timers and full-timers, or part-timers who could not find full time work, and those who work part-time by choice. Federal labor figures do reflect those distinctions, summing them up under what the Bureau of Labor Statistics calls the alternative measure of labor underutilization. Under that measure, which includes the under-employed or those who have dropped out of the labor force (and who are therefore not counted in Florida's official unemployment figure) the unemployment and underemployment figure for Florida is currently 9.1 percent, substantially higher than the national average of 8.5 percent.
Statewide and month over month, real estate, rental and leasing saw the heaviest proportional job losses, at 1.3 percent of that workforce or 2,400 jobs, though the sector saw a 3.8 percent improvement over the year. Transportation, warehousing and utilities lost 1 percent (3,000 jobs), management lost 0.9 percent (300 jobs), state government jobs lost 0.8 percent of their workforce (2,000 jobs), and arts and entertainment lost 0.7 percent, or 1,600 jobs. There were no big winners other than construction, with a 1 percent gain (28,600) jobs. Other sectors saw smaller gains or remained flat.
The January unemployment report coincides with the U.S. Department of Labor's annual "benchmarking" of unemployment figures, when the year's figures are revised and, in Florida, January and February figures are released withing two weeks of each other. The February report will be released on March 23. State jobs were made up by 1,700 jobs added to local government payrolls, a 0.2 percent increase.
St. Johns County still ranks as having the lowest unemployment rate in the state, with Okaloosa in second place. Hendry County has finally lost its title, held for years (after Flagler held it) as the county with the most unemployment: it's been replaced by Citrus, at 6 percent, followed by Sumter at 5.9 percent. Hendry is at 5.6 percent.
The full report is below.

January 2018 Unemployment Report.