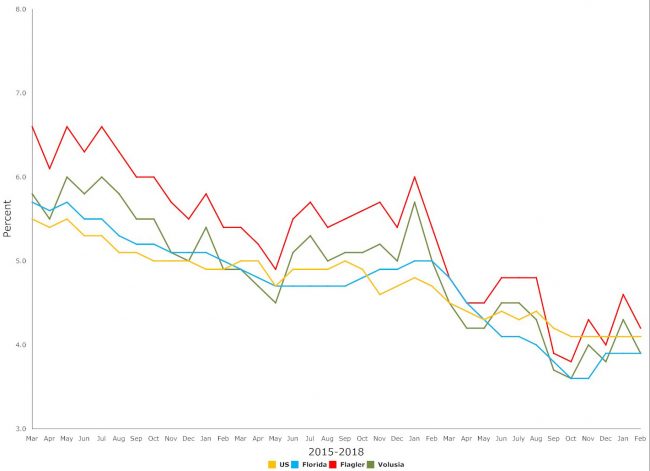 "The future is so bright you have to wear shades," Helga van Eckert, director of Flagler County's economic development department, said on WNZF's Free For All Fridays this morning–and she hadn't yet seen the February unemployment report, which wasn't released until 10 a.m.
The numbers echo van Eckert's statement: Flagler County's labor force jumped by 500 and reached a new high of 47,024. The number of people holding jobs also reached a new high of 45,055, dipping the number of unemployed below 2,000 and sending the unemployment rate back down to 4.2 percent– not quite the post-recession lows of 3.9 and 3.8 percent over two months last fall, but close enough: the more relevant numbers for the local economy are the steadily growing labor force, which reflects working-age people with families who generate a much larger economic ripple effect than retirees and make fewer demands on services.
The labor-force number mirror the latest Census Bureau estimate of Flagler County's population, which was put at 110,000 this week. For comparison's sake, the labor force in the earliest days of the economic recovery, in March 2010, was at 33,000, the number of employed persons at 27,600, and the number of unemployed at 5,500. The labor force has since grown by 42 percent, and more impressively, the rate of people holding jobs has grown 63 percent, by a net 17,500 people. (Only a handful of those jobs–in the dozens or the low hundreds at most–had anything to do with local governments' economic development departments.)
Keep in mind that both the labor force and the number of job holders in Flagler County doesn't mean that the jobs are here: it only means that county residents are job-holders, but may be employed locally or in any of the surrounding counties. The job figures also don't make a distinction between full and part-time work. It takes only an hour of work in the period covered by the unemployment report for the person to be recorded as employed. But even with all the caveats, the jobs report points to solid growth all around, likely with the exception of wages, a perennial laggard in this recovery, and particularly in Florida, where low-paying service and tourism jobs dominate.
Florida's seasonally adjusted unemployment rate for February was unchanged again at 3.9 percent, with a net gain of 26,700 jobs and just under 400,000 Floridians officially out of work: the figure does not reflect the number of Floridians who have dropped out of the labor force or don't follow the very strict guidelines of unemployment offices in order to be recorded as unemployed–and to receive an unemployment check. The federal government's measure of state by state unemployment and under-employment, which includes discouraged workers, places Florida's figure at 9.1 percent, well above the national average of 8.5 percent.
In February, St. Johns County had the state's lowest unemployment rate (3.0 percent) followed by Okaloosa County (3.2 percent) and Monroe, Orange, Seminole, Union, and Wakulla counties(3.3 percent each). Twenty out of 24 metro areas in Florida had over‐the‐year job gains.  The areas with the largest gains were Orlando‐Kissimmee‐Sanford (+43,800 jobs, +3.5 percent), Tampa‐St. Petersburg‐Clearwater (+30,600 jobs, +2.3 percent), and Jacksonville (+18,600 jobs, +2.7 percent). 
The full February report is below.