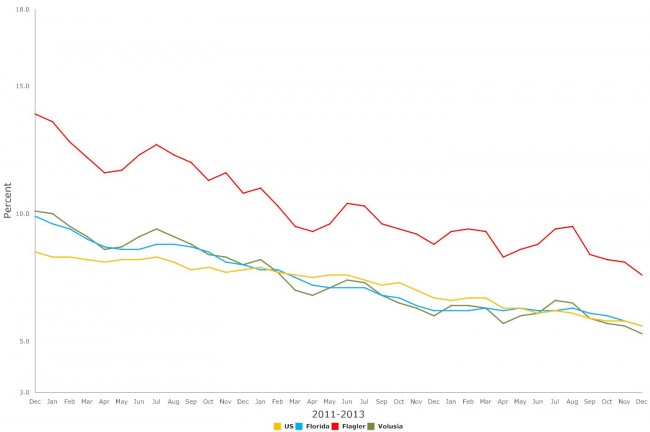 Flagler County's unemployment rate is no longer worse than Belgium's: After more than six years of crisis-level joblessness, the county's unemployment rate in December fell by half a percentage point, to 7.6 percent (from 8.1 percent in November), matching a level last seen in April 2008, when the rate was rising rapidly.
For the year, Flagler's unemployment rate improved by 1.1 percentage point. It's still not enough to bump the county out of the second-worst place among Florida's 67 counties, but designation no longer weighs as heavily as when it was paired with heavier unemployment, either.
Flagler's improvements are part of a statewide and national brightening that's seen the American unemployment rate fall to 5.6 percent last month, a rate Florida matched even as the number of people holding jobs declined by 4,000. The decline was the result of people dropping out of the workforce rather than because of job creation: 17,000 people dropped out of the workforce in November.
Flagler County's better numbers in December are also clouded by the fact that they are not do to healthier job creation, but rather to a decreasing in the county's labor force. The labor force shrank in Flagler by 297 (for a total labor force of 35,061). The county also lost 107 jobs over the month (that is, 107 people living in Flagler County lost jobs), and 190 more people were unemployed.
The figures look better when compared to a year ago: almost 1,000 people living in Flagler County have jobs compared to December 2013 even as the labor force has grown, albeit slowly, by 649 (one of the slowest growth years in decades) and the number of unemployed persons fell by 315.
The full report is below.