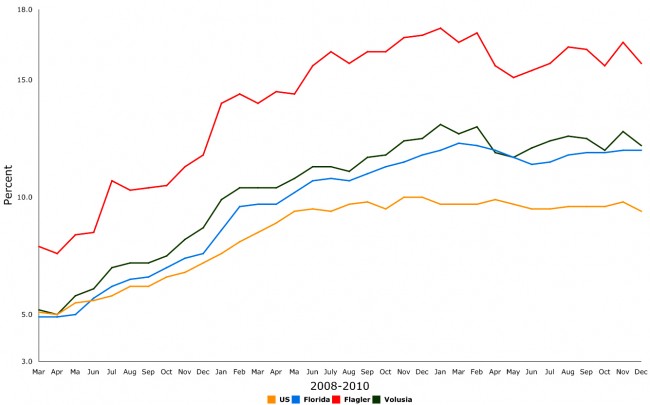 Flagler County's unemployment rate fell from 16.6 percent in November to 15.6 percent in December, continuing a more-than-yearlong trend of seesawing within that range without a sustained downward break. Florida's unemployment in December remained unchanged, at 12 percent. The statewide rate has been stuck in that range for 13 months.
Flagler's rate in December matched that of Hendry County's, ranking it the highest in the state again. There were 52 counties (out of 67) with double-digit unemployment rates.
As in several previous months in this slowdown, job creation in Flagler (126 net jobs) was not as steep as the decrease in the number of people drawing unemployment (320) or the reduction in the local labor force (194). If Flagler's unemployment trends are following national trends, more people are dropping off of the unemployment line from being too discouraged to look for work: those workers are no longer counted among the unemployed. The reduction in the labor force, indicative to some extent of residents leaving the county, follows another trend signaled by recent Census Bureau figures: Flagler County is losing population–not much, but enough to reverse the previous decade's trends, and to affect the local housing market.
If the local population is decreasing, or not increasing, the county's vast inventory of empty dwellings (more than 15 percent in Palm Coast, a higher proportion countywide, according to the Census) will work against a solid restart in the local housing and real estate industries.
In Florida, the state actually lost 17,900 jobs in December. Some 1.108 million Floridians are out of work in a labor force of 9.24 million.
Over the past year, construction lost 20,200 jobs, a 5.6 percent decline; financial activities lost 7,700 jobs, or 1.6 percent; information technology lost 5,200 jobs, or 3.8 percent, manufacturing lost 5,000 jobs, or 1.6 percent, and government lost 3,200 jobs, or 0.3 percent.
Industries gaining the most jobs included private education and health services (34,500 jobs), leisure and hospitality (33,900, or 3.8 percent), trade, transportation, and utilities (9,600, or 0.7 percent) and services (9,300 jobs, 3 percent).
Here's how the region ranked in unemployment rates by metropolitan statistical areas:
Palm Coast MSA 15.7 %
2. Ocala MSA 14.0
3. Sebastian-Vero Beach MSA 13.6
4. Port St. Lucie MSA 13.4
5. Miami-Miami Beach-Kendall MD 13.2
6. Cape Coral-Ft. Myers MSA 12.5
7. Lakeland-Winter Haven MSA 12.5
8. Deltona-Daytona Beach-Ormond Beach MSA 12.2
9. Punta Gorda MSA 12.0
10. Tampa-St. Petersburg-Clearwater MSA 12.0
11. Palm Bay-Melbourne-Titusville MSA 11.9
12. Miami-Ft. Lauderdale-Pompano Beach MSA 11.8
13. Panama City-Lynn Haven-Panama City Beach MSA 11.6
14. North Port-Bradenton-Sarasota MSA 11.6
Florida 11.6
15. West Palm Beach-Boca Raton-Boynton Beach MD 11.5
16. Naples-Marco Island MSA 11.5
17. Orlando-Kissimmee-Sanford MSA 11.3
18. Jacksonville MSA 11.0
19. Pensacola-Ferry Pass-Brent MSA 10.7
20. Ft. Lauderdale-Pompano Beach-Deerfield Beach MD 10.2
United States 9.1
21. Tallahassee MSA 8.7
22. Crestview-Ft. Walton Beach-Destin MSA 8.3
23. Gainesville MSA 8.3