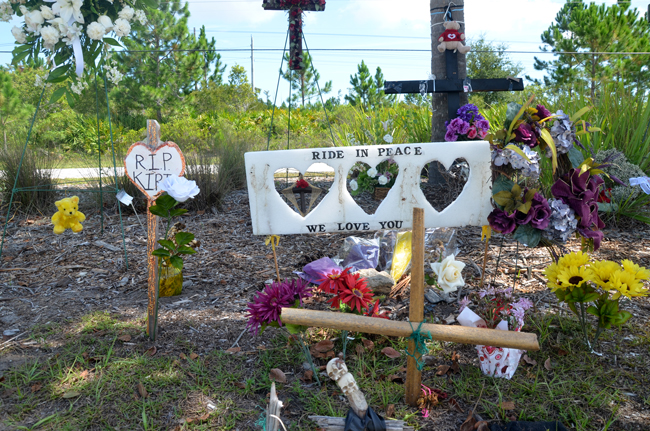 Twenty-four people were killed on Flagler County roads in 2011, one more than in the previous year and eight more than in 2009. The fatalities were especially steep among pedestrians. The rise contrasts with Florida's road fatalities, which continued to fall in 2011, to 2,373, a decrease of 71 from the previous year, and of 190 from 2009, according to preliminary figures released today by the Florida Department of Highway Safety and Motor Vehicles.
In Flagler, 31 road-related deaths were recorded in 2008, and 30 in 2006.
Florida's road fatalities are at their lowest since 1978, even though the state's population has doubled since. The DMV attributes crash-fatality declines to greater safety awareness. But miles traveled on state roads have also fallen significantly since the onset of the real estate crash in 2007: fewer people are holding jobs, fewer construction trucks are traveling the roads, fewer pedestrians are walking to and from work in a state that leads the nation in the proportion of pedestrians killed.
Four Florida metropolitan areas rank as the most dangerous pedestrian regions in the nation, with the Orlando-Kissimmee region topping the danger list and logging 550 pedestrians killed from 2000 to 2009, the paper reported, an annual fatality rate of 3 per 100,000.
That rate was exceeded by Flagler County in 2011, where at least four pedestrians were killed in 2004, in a county with a population of less than 96,000. In other words, the Palm Coast-Flagler County area was more dangerous for pedestrians than the most dangerous metropolitan region in the country.
The pedestrians killed include Jigme Norbu, the 45-year-old nephew of the Dali Lama who had managed to walk almost 8,000 miles on 19 walks across the globe (for peace in Tibet) only to be killed by a driver in the darkness of State Road A1A in the Hammock in the early evening of February 14, Valentine's day, on the first day of what would have been his Florida Walk for Peace. There is a sidewalk on A1A, but Norbu, who was walking south along the white line on the opposite side of the road, had apparently not seen it.
Alex Taylor, a 54-year-old transient, was killed as he walked along his bike in the bike lane in Bunnell, opposite the Government Services Building, the early morning of Sept. 27, in a hit-and-run that has not been solved. Police believe he was hit by something protruding from a truck, and that the truck driver may not have been aware.
Another driver in an apparent hit and run killed 76-year-old Francoise Pecqueur as she did what she'd been doing for years–walking her dog on Columbia Lane in Palm Coast in early evening. She was struck by Jamesine Fischer, the 55-year-old wife of Flagler County School Board member John Fischer, who left the scene of the accident and informed authorities that her PT Cruiser may have involved in the fatal accident only 12 hours later. That investigation is continuing.
And on Nov. 30, Josefina Reid, a 54-year-old resident of Palm Coast and dedicated jogger in the Seminole Woods area, was killed when a driver, distracted by his children in the backseat, struck her in broad afternoon daylight as Reid jogged south on Sesame Boulevard. It was the second road fatality in three months in Seminole Woods: On Aug. 26, Kirt Smith, a 15-year-old boy riding the bicycle he'd received for his upcoming 16rth birthday, was killed by a passing pick-up truck while riding south on Seminole Boulevard.
In Reid's, Pecqueur's and Smith's cases, there were no sidewalks.
"Walking in this car-obsessed state," the New York Times wrote in August, "can be as tranquil as golfing in a lightning storm. Sidewalks are viewed as perks, not necessities. Crosswalks are disliked and dishonored. And many drivers maniacally speed up when they see someone crossing the street."
The deaths of Reid, Pecqueur and Smith (Taylor's death was mostly ignored) prompted an outcry from Seminole Woods residents and others who launched a petition to "light up Palm Coast"
and appeared before the Palm Coast City Council to demand sidewalks in Seminole Woods. Palm Coast City Manager Jim Landon repeatedly addressed the matter, saying that Seminole Woods Boulevard is next in line for a sidewalk, but that there is no money for now. The last federal grants, part of the Obama stimulus package dating back to 2009, built the additional sidewalks along Belle Terre. Nothing stops the city council from assigning existing funds to a sidewalk project, or raising taxes in order to have the funds to do so, but the council, facing immense pressure from constituents against higher taxes, has mostly held the line on raising them.
Meanwhile, the state highway department on Wednesday took advantage of the lower fatalities across the state to highlight its ow role in the numbers.
"The Department's No. 1 priority is to protect the lives and personal security of our residents and visitors through enforcement, service and education," said the department's Executive Director, Julie L. Jones. "While the six-year downward trend is encouraging, we continue our strategic efforts to drive down the number of crashes in Florida and the number of injuries and fatalities that come as a result."
The Centers for Disease Control and Prevention reports that motor vehicle crashes are the leading cause of death among those age 5–34. Understanding that the leading cause of death for so many is preventable, the Director of the Florida Highway Patrol, Col. David Brierton, echoed Jones' commitment to saving lives.
"The men and women of FHP patrol Florida's highways 24/7 to make them safe," said Florida Highway Patrol Director David Brierton. "Our law enforcement partners and public safety stakeholders are also important to the solution. Motorists can do their part, too, when they buckle up and drive sober."
Department officials say they're taking a strategic approach to making Florida's roadways safe through education, licensing drivers, registering vehicles, and leveraging technology.