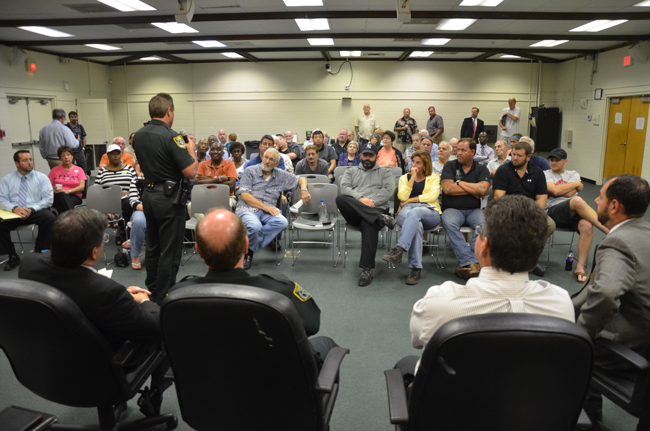 They began as solo acts. A county commissioner or a city council member here and there would hold a town hall meeting periodically to more directly be accessible to constituents, at least to those who turn up. Not many do.
When Nate McLaughlin was elected county commissioner, his town halls at Hidden Trails in the western part of the county started drawing larger crowds, particularly since the meetings are preceded with that unfailing bait: free food. (Long gone are the days of the early Republic when generously free booze was every citizen's requisite for a lent ear). The food is provided by Pastor Charles Silano, who runs the Grace Community Pantry in Palm Coast. McLaughlin then started asking Andy Dance, the school board member, to join him, only adding to the town halls' popularity.
McLaughlin and Dance decided to move their latest town hall to Palm Coast and invite Palm Coast City Council member Jason DeLorenzo to join them. Before long, Flagler County Sheriff Jim Manfre was included, and the quartet appeared before an impressive town hall crowd–impressive for Palm Coast–of some 50 people (not including reporters and staff) Tuesday evening at the Palm Coast Community Center.
It was the closest thing to a cross-agency summit, for constituents' sake, that the county has seen in recent years, particularly since the county's habit of hosting massive government summits fizzled almost two years ago, when those meetings proved more unwieldy and dull than productive. Tuesday evening, the four men sat informally on chairs that faced the assembly with not even a table between them, emphasizing their approachability and openness to any question–or criticism.
When the subject quickly turned to the perennial traffic, speed, noise and fumes issues on Florida Park Drive, the narrow, two-lane speedway that cuts through Palm Coast's F Section and beyond, Manfre offered to asign his traffic unit to the area, only to hear a resident rebuff him unceremoniously.
"I dont want to be disrespectful, but everything you just said is a bunch of crap. You guys are never on that street," one resident said (he did not identify himself), citing the 11,000 cars a day that run through the area, many of them as a result of Matanzas High School. "we can't take it anymore. We are sick of it."
Marc Carman, the sheriff's Palm Coast commander, jumped in, disputed the allegation that the matter hasn't been addressed, and explained that state law keeps cops from ticketing people who speed at merely five miles above the speed limit. Officer's discretion dictates when to ticket after that, but Carman said it would be "probably six or seven miles an hour" over the speed limit before a ticket is issued. Speed bumps or lowering the speed limit would not be feasible, he said, because it's unlikely to lower the actual speed drivers will drive. That didn't please the many people who wanted to speak about the issue. A woman said she's lost her mailbox four times since she's lived along the road. "How many times are we going to replace our mailboxes with kids driving with baseball bats?"
Pastor Sims Jones, noting a speeding ticket he got in the mail, after being snagged while driving on I-95 in South Carolina, said similar speed-ticketing cameras could be installed in Palm Coast. It would catch speeders and generate revenue, he said. But Palm Coast council members are contending with a growing backlash against red-light cameras. They're not likely to approve speeding cameras. More to the point, as Carman pointed out: Florida law doesn't allow it. Someone in the assembly suggested that the Florida Park Drive matter be addressed in a special meeting at another date. It wasn't clear whether that would actually take place.
The town hall meeting lent itself to some silent dramatics, too. Steve Clair, the former sheriff's major, Greg Weston, the former lieutenant, Lynn Cattoggio, the former captain, and Chris Ragazzo, a former sergeant, all fired by Manfre over the past 10 months, sat on the very first row, eight feet away from Manfre, one next to the other in an imposing–intentionally intimidating–row. None of the four addressed any of the four officials, though Weston and Clair at various points took video of the proceedings with their iphones. Clair is among the finalists for the police chief's job in Flagler Beach, where Manfre has made no secret of his disapproval. (Weston and Clair also attended this morning's meeting of the Public Safety Coordinating Council, of which Manfre is a member, but they sat at a farther distance.)
Other topics included common core, the county jail, the odd goings on along Royal Palms Parkway (the city is getting ready to add a turning lane at Rickenbacker Drive), Walmart's continued absence at the south end of Old Kings Road, sidewalks for Seminole Woods (on the way), the Palm Harbor Golf Course's money losses, the roll-out of free laptops to Flagler County school students, and of course the inevitable comment and questioning of Palm Coast's reviled red-light cameras, which DeLorenzo addressed.
He said the contract with American Traffic Solutions, the Arizona-based company that manages the 43 spy-and-snap cameras for Palm Coast, runs through 2017. And although DeLorenzo has opposed the cameras, "the financial implications of canceling that contract right now would be significant, and I don't think even I would be for that right now," he said.
One of the most frequent questions Dance and other school board members get has to do with the seeming paradox of a school district rolling out a $4 million laptop program within months of begging the community to assume a slightly heavier property tax, because of diminishing funds. (Voters rejected the plea.) Dance provided the answer: the district has separate money pots, many of which can't be interchanged and used for matters other than those required by law–or by the voters. A little over a year ago, voters approved a half-penny sales surtax for the district. That surtax is designed for technology improvements and investments–such as the five-year initiative that, by its end, will result in every Flagler County students having either a free iPad or a free Macbook. Cornelia Manfre, the Sheriff's wife, was in the audience and spoke as the chairperson of Flagler Palm Coast High School's advisory council to fully endorse the laptop program.
Common Core was mentioned only once, and with little heat: one woman wanted more public awareness of its benefits, and Dance noted the three dates the state scheduled for public hearings on the common core standards. None of those public hearings will be near Palm Coast (Oct. 15 in Tampa, Oct. 16 in Davie and Oct. 17 in Tallahassee) but the Florida Department of Education is taking public comment from, anywhere in Florida only,e through October 31. You can contribute your comment here.
The county jail's new 266-bed jail will "go out to bid pretty soon," McLaughlin said, though Manfre did not address a question about whether it would decrease the per-day cost of housing inmates. In fact, the new jail will likely increase those costs, as it will require a larger corrections and support staff and maintenance. Manfre did say that because of new programs that are diverting inmates away from jail, the county won't have to build a larger jail–and will save money that way.
If it's always cheaper to build new as with the jail, Dennis McDonald, the former county commissioner candidate and current critic of city and county governments, questioned why would the county be throwing "crazy money" at the renovate old hospital in Bunnell the county just acquired on behalf of the sheriff's new headquarters. McLaughlin disputed the notion of "crazy money" and said, without quite answering the question, that it made more sense to refurbish the existing building.
DeLorenzo said there's been nothing new on the coming of Walmart at the south end of Old Kings Road. "There aren't enough households to support a Walmart in that location yet," he said. "But Walmart does not generally buy their property unless they plan to build at some point in time." (On the other hand, about 11 percent of big box stores are currently abandoned in the nation, up from 7 percent before the recession.) DeLorenzo also conceded that the city's ownership of the troubled Palm Harbor Golf Club will never result in recovering the nearly $6 million it invested there, and the deficits it's been facing year after year.
The next joint town hall meeting will feature the school board's Colleen Conklin and the county commission's Barbara Revels, both of whom represent Flagler Beach. That town hall is scheduled for Monday Oct. 14 at 5:30 p.m. at Flagler Beach's City Hall.