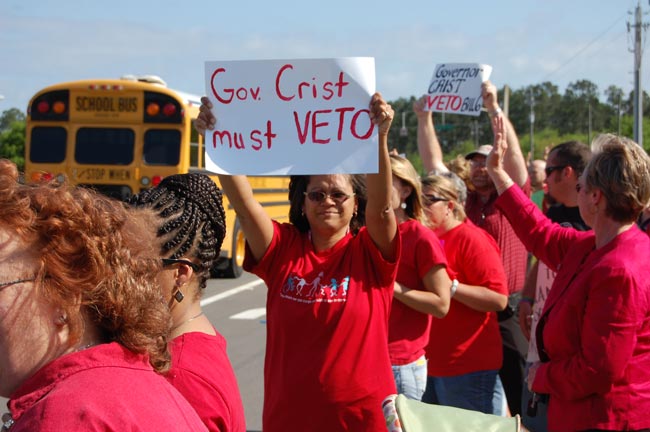 They were out in force in Palm Coast this afternoon–some 200 Flagler County teachers, supporters and children, thronging a 150-yard stretch of sidewalk on Belle Terre Parkway (where it meets Palm Coast Parkway) with one message to Gov. Charlie Crist: "We're here today to let Gov. Crist know that this bill, Senate Bill 6, is horrific, and that we want him to veto it. We know he's considering it, so we're hoping to just push him" to do so, said Debbie Kryspin, a 2nd grade teacher at Wadsworth Elementary and a teacher in Flagler schools for 17 years. Kryspin organized the rally with Nancy Gillin, a 1st grade teacher at Wadsworth. (See a photo gallery of the rally.)
The proposed law, which Crist has until Friday to sign or veto, would redefine teachers' profession in Florida, downgrading–if not degrading–their status from professionals with a measure of job protection and financial rewards for their educational advancement to service employees who could be fired at will (as long as they're hired after July 1, 2010). Teachers hired before July 1 would be safer, but only as long as their performance remains "effective or better." Standardized test results such as the Florida Comprehensive Assessment test (FCAT) would play a larger role in determining a teacher's effectiveness than, for example, a principal's evaluation or a teacher's day-to-day results in the classroom.
[in an interview with FlaglerLive shortly after the rally, Flagler County School Superintendent Bill Delbrugge called SB6 harmful to students and districts and poorly thought-out. Read it here.]

Teachers would no longer get salary increases should they earn additional degrees such as Master's or doctorates, as they do now. Nor would principals or other administrators, whose pay beyond a base salary would also be determined in large part by students' performances on tests.
The political subtext of the proposed law is thicker than its 67 pages can convey. In one regard, it's an attempt to eviscerate the powers of Florida's teacher unions by narrowing the scope of their contract negotiations.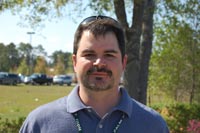 "With this legislation," Brandon Champion, president of the Flagler Education Association, said, "there are even components of it that are mean-spirited. For example, the component that says teachers are not allowed to collectively bargain for their compensation. The state Constitution gives us that right. But they want to pass a law that's unconstitutional, so it's just mean-spirited, and that's just one example of what they're doing with this legislation."
Champion carried water literally and figuratively for his teachers, who stood, cheered and waved in the afternoon's unclouded sun every time a car or truck honked its support as it drove by (which was often).
In another, regard, it's former Gov. Jeb Bush's latest salvo at public education: Bush originated the "accountability" era of the past 10 years, embracing standardized testing, vouchers and charter schools as various means to diminish the influence of local school boards and, more locally, of schools themselves in determining what and how to teach. Bush's Foundation for Excellence in Education, established in 2008, is the ideological author of SB6. Further clouding the proposed law with politics is the parallel battle between Crist and his GOP rival for the U.S. Senate seat they're contesting, Marco Rubio.
Crist and Rubio are vying for Bush's endorsement. Bush is not likely to endorse Crist should Crist veto the education bill–even though Crist, a moderate for most of his years as governor, is reportedly opposed to the bill. On the other hand, a Crist veto may indicate that the governor has given up on winning the primary against Rubio (a primary battle he is losing badly) and that Crist may then opt to run for Senate as an independent.
"People don't realize how political this is," Flagler County School Board member Colleen Conklin said Wednesday evening. "This is just a political game, and shame on them," she said, referring to GOP legislators, "because they really put our kids and our teachers in a position of being pawns in their little games. And there are so many ways they could have gone around and about this in a productive way." Instead, Conklin continued, "they took away the collaboration, they took away any sense of collaboration, any sense of respect, and the bottom line is, this is supposed to be the party of local control. They have completely stripped, Senate Bill 6 completely strips local control from the school boards, so I don't understand the hypocrisy. If they want to play political games, you play political games, but you don't drag our kids into the middle of it." (Conklin, a supporter and promoter of the rally on Belle Terre, was unable to make it due to minor surgery for her son, which was scheduled at 3 p.m.)