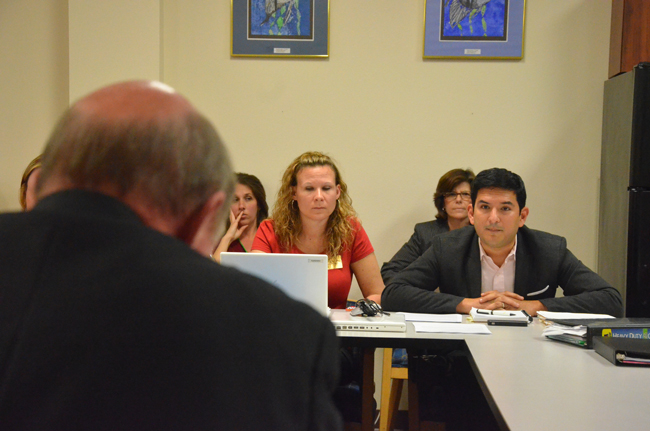 Two months into the school year, Flagler County's more than 1,000 teachers are still waiting to receive their $1,900 raise, approved by the Legislature last spring, as the district and the local teachers union continue to negotiate a new contract.
Flagler's teachers are in the same situation as teachers in 53 other counties where negotiations with unions have delayed the raises. Only 13 school districts had completed the collective bargaining necessary to award the raises as of last week, according to a presentation before a House subcommittee Wednesday. As a result, more than three months into the budget year, only about $26.2 million of the $480 million set aside for the raises has been distributed.
In Flagler, the promised raise would total roughly $2 million for the year–not a minor impact on the local economy.
Teachers have not been without a raise this year in Flagler: they've received their so-called "step" increases—annual pay increases awarded employees in accordance with their experience. For example, a starting teacher's salary is $38,213. But a teacher entering a second year's experience will see that salary increase to $38,813, then to $39,413 the third year, and so on for 35 steps, all the way to $70,677. (That salary is for a teacher with only a bachelor's degree working 196 days. The district awards supplements ranging from $2,750 to $5,550 depending on the teacher's advanced degrees.)
Ironically, while this year's step increases have been awarded—and the governor's raises have not—a sticking point in local negotiations has been over how future step increases are to be awarded. Absent fiscal emergencies, the union wants those increases awarded automatically, as has been the case to date.
"We have a very good agreement right now, very good language in Flagler County, they should honor it," says Will Vargas, a service unit leader with the Florida Educators Association and a member of the teachers' bargaining unit in Flagler. "The kids are getting better, the reading scores are fantastic, the math scores are good, obviously they have a group of teachers that are doing their job and they should be able to wake up in the morning and say, you know what, I feel OK that we're going to get a step increase."
The district doesn't mind automatic increases, but it wants the authority to trigger re-negotiations any given year when it must dip into its reserves to build a new budget.
But it's not quite that simple, says Flagler's Jacob Oliva, the deputy superintendent who's taken a lead role this year in the negotiating team in what appears to be another step in his grooming for the top spot. The step increases now are part of a mix of raises that include performance-based pay increases, as required by law, among other changes.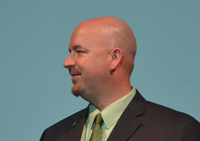 "And what the district is striving to say with the addition of performance-based pay," Oliva said, "other variables, such as the recent recession that we've been in, whether it's declining student enrollment or a reduction in our base student allocation, if we have to build a budget that includes us going into our reserve fund to build the budget, we need to have the ability to sit down at the table to make sure that we can implement performance based pay the way it's designed, and award the steps. The district never once said that we don't want to recognize the hard work of our teachers. Historically, when we have additional dollars, we put it directly in our teachers' pockets or in the resources necessary for them to be successful. But if we're in the position where we're using our reserve funds to build a budget, then we need to make sure that we can afford to do that. That is what the district is saying when it comes to automatic steps."
For example, while the maximum step increase amounts to $1,560, performance-based pay increases have to exceed that amount for highly effective teachers, and have to be at between 50 and 70 percent of that amount for teachers rated effective. Those details have yet to be worked out locally.
"In the law it states that you have to pay the performance-based pay out first," Superintendent Janet Valentine said. "That becomes the sticky part of this, and does the district then have enough money for the automatic step. So all we're saying is we want to give that automatic step, we want to give every teacher that benefit. Because they deserve it. But we've got to make sure that the district has the money to do it. That's all we're saying."
Vargas says that the union would never oppose re-negotiating step increases when the district faces emergencies, as it has, in fact, done in the recent past, when there's been a couple of years when teachers have not received their step increases. "The fact of the matter is that even if we have automatic steps, Florida statute states that if there's a financial urgency in the district, we would have to come back to the table and negotiate," Vargas said. From the union's perspective, the district's proposals Vargas said,  "are very vague or too broad," and give the district too much leeway every year to trigger negotiations.
"We're going to come back with a counterproposal for them on the 16th that we feel is reasonable and hopefully they'll pay attention to our counter and we'll reach a settlement," Vargas said. "We're trying to give them some language that alleviates the concern that the district has." He added: "We're trying to be reasonable and we're trying to deal with their concerns."
The district and the Flagler County Educators Association, the teachers union, have been negotiating a new contract since spring. It's been more intricate this year because every third year, the two sides must conduct what's called a "full book," or complete, contract renegotiation, going through the contract line by line as opposed to going through a few amendments in other years.
"So we've been negotiating almost every article and item in the contract, reevaluating language, modernizing it, making sure it meets statutes, and updating it to something that works well for the teachers and the administration," Oliva said.
Both sides have historically had civil, workmanlike bargaining sessions, with only occasional tensions and the rare, brief impasse, as happened a few years ago. Both sides today continue to stress that they are negotiating in good faith and are confident of an agreement soon, which would then have to be ratified by the union's membership, and by the school board.
"We've probably started negotiations in February or March, so this has been ongoing discussion for probably the last eight months and they've been really good, we've been very amicable and professional," Oliva said. "We've been able to find neutral ground on all of our topics and I'm confident that we're going to be able to find neutral ground on this as well."
"That step is still there and approved. We're not trying to take that step schedule away," Valentine said.
Steps aside, the teacher raises were Scott's top budget priority during the 2013 legislative session. The governor had originally pushed for the raises to be across the board, while lawmakers instructed school districts to tie them to merit. But state officials also recognized that collective bargaining rights would have to be respected.
The governor's office said Wednesday that he was disappointed in results of the survey that showed only 13 counties had awarded the raises.
"While we were trying to respect the collective bargaining process, it is disappointing that not every teacher has gotten their pay raise," spokeswoman Melissa Sellers said. "We expect districts to do everything they can to get pay raises done as soon as possible."
Teachers who have not yet received their raises will get paid retroactively when their districts and unions agree, Linda Champion, a deputy commissioner at the Florida Department of Education, said.
One lawmaker voiced concerns with the agreements that are being made. Only two counties — Taylor and Wakulla — have gone with completely merit-based programs, according to the survey, though three — Citrus, Manatee and Okaloosa — had systems that blended in performance. Meanwhile, at least four districts — Calhoun, Gulf, Holmes and Leon — have implemented plans that handed out across-the-board raises for teachers, against lawmakers' wishes.
"I'm really disappointed that we did not have more school districts, at least in the first blush, to award these increases based on performance and performance alone," said Rep. Janet Adkins, R-Fernandina Beach. " … It troubles me that we have school boards and superintendents who ignored that from the Legislature."
–The News Service of Florida contributed to this FlaglerLive report.