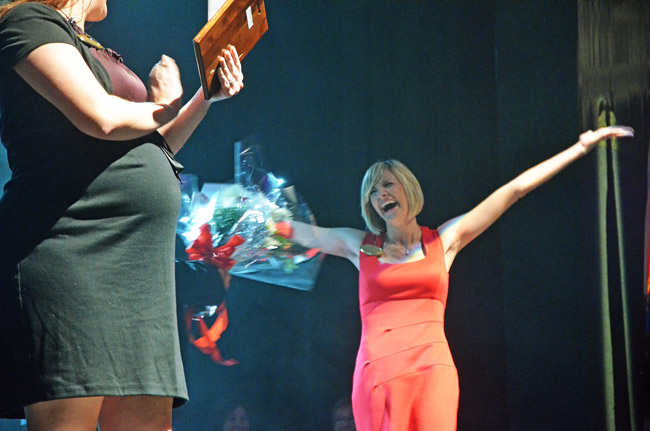 Each school had its cheering section, its flashing cameras, its banners and its hopes, filling the Flagler Auditorium's orchestra seats almost to capacity Thursday night as the school district did what it gets to do only once a year: unabashedly celebrate itself, and, more particularly, celebrate its teacher and employee of the year.
This year's winners: Colleen Newman, an exuberant first grade teacher at Belle Terre Elementary, and Sue McVeigh, a parent specialist in the district's Exceptional Student Education administration.
It was a tough field, with Teacher of the Year nominees from each school (10 in all) and Employee of the Year nominees (14 in all) nominated from schools and departments such as plant services, transportation and adult education. And it was a tough committee: a 10-member panel that included the last teacher of the year (Sarah Poppe, who delivered the evening's equivalent of a keynote address), several administrators–some of them veterans of the district's collective bargaining team–and others.
Somehow, our own Jo Ann Nahirny, the English teacher at Matanzas High School, twice a cancer survivor and the Teacher's Trenches columnist, was passed over, to the immense disappointment of a double-row cheering section that included Matanzas Principal Chris Pryor and the school's enormous Pirate mascot. (So goes the temper of awards: even Ibsen, Proust, Zola, Joyce, Tolstoi and Twain never won the Nobel for literature.)
"I'm very excited about who was chosen, I think that we had 10 absolutely fabulous candidates as this year's nominees," Janet Valentine, the school superintendent, said. Referring to Newman, she said: "I've heard great things about her. I don't know her personally but I've heard absolutely fantastic things about her for the last several years." Valentine is more familiar with McVeigh since they work in the same building.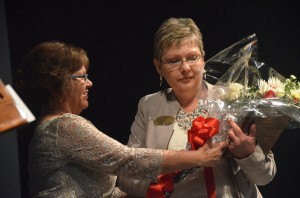 Originally from New Jersey, McVeigh has been living in Flagler Beach and working in the school district since Ronald Reagan was president–as media aide at Wadsworth Elementary, computer proctor at Old Kings Elementary and Buddy Taylor Middle School, and exceptional education teacher at Indian Trails and Flagler Palm Coast High School. Her goal, she says, according to her profile, is to be a liaison between the school system, parents and the community to facilitate exceptional students' academic, emotional, and personal success. She's created numerous programs (including after-school art and tutoring for students and parenting classes) and serves on innumerable committees.
Newman is as close as you get to a Palm Coast native: she's the product of Buddy Taylor Middle School and Flagler Palm Coast High School (Class of '97), and she's been working for eight years at Belle Terre Elementary, where she started concurrently with the birth of the school, which happens to be the most consistently high-performing school in the district. School Board member Andy Dance was first to give her a burst of roses and a hug: they know each other well, from camping at Disney's Fort Wilderness with friends over the years.
Why did she choose teaching? "My grandfather told me to," Newman says, unable to suppress a laugh. "I know it's funny. But I went to college a couple of years, I was undecided, and he says, hey, listen, you've got to figure out what you want to do. He said either you be a professional golfer like Tiger Woods, or you be a teacher. I never golfed a day in my life. So this is it, this is what I am. He knew before I did."

Teacher of the Year Nominees:
Connie Armstrong, Wadsworth Elementary School
Katie Hansen, Indian Trails Middle School
Adrienne Harvey, Adult Education-Alternative Education Schools
LaShakia Moore, Rymfire Elementary School
Susan Morden, Buddy Taylor Middle School
Jo Ann Nahirny, Matanzas High School
Colleen Newman, Belle Terre Elementary School
Rebecca Oshesky, Old Kings Elementary School
Kerri Sands, Flagler Palm Coast High School
Albra Seay, Bunnell Elementary
Employees of the Year Nominees:
Victoria (Vicki) Apperson, Matanzas High School
Judith Arnauto, Flagler Palm Coast High School
Antonia (Toni) Barton, Old Kings Elementary School
Kathleen Bashaw, Wadsworth Elementary School
Harry Dukes, Plant Services
Steve Hammons, Rymfire Elementary School
Deborah Lane, Buddy Taylor Middle School
Deborah Mazur, Everest Alternative School
Susan (Sue) McVeigh, GSB-Exceptional Student Education
Karen O'Shaughnessy, Adult and Community Education