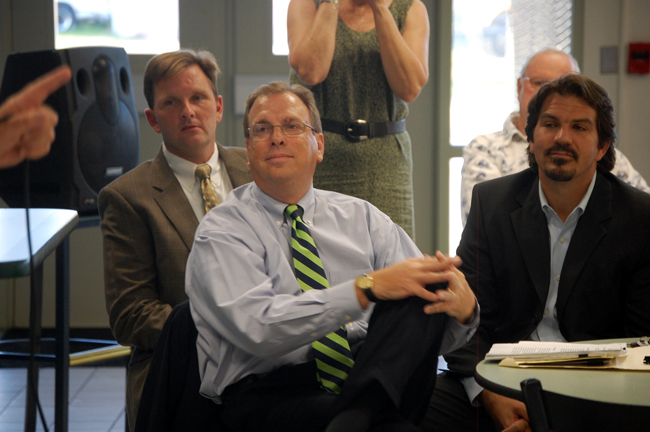 It was another impressively attended meeting of the Flagler County Tea Party Group Tuesday evening. More than 250 people filled Flagler Palm Coast high School's Dog House Café, including political candidates trolling for votes (among them John Fischer, the local school board candidate, and Joe Horrox, running for circuit judge). The main attraction was the debate over the so-called "economic development tax"—Enterprise Flagler's hobbling tax-and-build plan that would levy a tax on property owners and use $2 million a year in revenue to build industrial buildings that might attract businesses to the county.
The debate featured Enterprise Flagler's Michael Chiumento III and Greg Rawls against the tea party's Vince Liguori, the activist who'd rather see the county commission approve a sales tax and split twice the revenue between the county and the cities. (Enterprise Flagler's proposal would have its revenue administered by the county.)
The evening was to end with a straw ballot on the issue, giving Enterprise Flagler a sense of how well, or how badly, its measure was doing ahead of the November 2 referendum. Enterprise Flagler opted for that straw-ballot route at its meeting last week, and Tom Lawrence, the local tea party chairman, agreed.
But there was no vote. Just before the meeting at the high school, Lawrence said the voting was canceled. After talking about it last week, Lawrence said, he received a lot of "feedback" suggesting that a vote ran against the tea party's intention to steer clear of endorsements.
Not that a vote was necessary to know where the tea party crowds stood, or rather sat, on the issue: when Chiumento and Rawls made their presentations, the silence was polite, the applause absent, the gray congregation approximating nap time.  When Liguori spoke, life returned to the congregants, Liguori was interrupted several times with applause, and during the Q&A afterward, the only times the crowd erupted was in opposition to the Enterprise Flagler plan—on every count: there was displeasure over the plan's vagueness, over the exclusion of the public, over the absence of proof that building a structure would attract anyone. What, in sum, have become the usual plaints against a plan that's never made it out of the neonatal intensive care unit.
"If you build this building, they will come?" one woman asked, to laughter.
"Companies put together a five-year plan. They don't come down to your county and say I need a building, and I need it right now," Bill McGuire, a retired executive, said.  "What we're all about and what we should be about is tourism," not building BMWs, he added.
"This is not only about building a facility and hoping that somebody comes," Chiumento said, describing the building component as "the farthest thing from the truth." Rather, he said, it's about recalibrating the local economy, the local workforce included, and helping local businesses stay here. Again, however, it's unclear how the small amount of money the tax would raise would achieve all that, legally or financially: the measure sets out, precisely, the proportions that must be spent on infrastructure exclusively (60 percent) as opposed to marketing (up to 10 percent) and  tax incentives (up to 30 percent).
Still, it was a stoic performance for Rawls and Chiumento–Chiumento especially. He's been the face of the economic development tax. He's also a lawyer trained to read juries. This one was an open, large-print book.
There was plenty of doubt over local government planning of the commercial economy, too. Liguori mentioned three developments and developers that got the crowd's disapproving recognition:  Ginn, European Village and City Walk. "Somebody is not doing their proper planning, are they," Liguori said.
The question-and-answer period ran longer than the two sides' presentations. More than a dozen people asked questions or made comments. Virtually no one spoke in favor of Enterprise Flagler or its plan, or asked questions that indicated more than skepticism. Most spoke approvingly of the notion of economic development, but not the type the Enterprise Flagler measure was putting forward. The notion that people were there to educate themselves on the issue was put to rest. Minds are not in flux at tea party meetings, where people gather to revel in their mutual certainties, not to explore ideas.
"I'm not going to pay one cent more on my property taxes," one woman said, claiming the Q&A microphone for what seemed like an entire presentation of her own. "I'm sick and tired of people coming to me to take my property tax, that ain't going to happen to me." She was roundly applauded. Tea party meetings, of course, are not much concerned with fact, either, especially the sort of facts that contradict their mythology.
The applauded woman was Anne Martone, who's also complained to the Palm Coast City Council about taxes. You'd never know that her taxes have gone down each of the last four years, and will go down again this year. She paid $1,404 in taxes in 2006, when her house was valued at $114,000. She was down to paying $957 this year, with her house value down to $94,000. In 2010 she'll be paying taxes on just $31,000, so her property taxes will most likely fall again even as the the county tax rate will rise, and would likely fall even if the "economic development" tax was tacked on.
Precision and transparency, however, as Enterprise Flagler itself is learning, doesn't score as high as sloganeering.