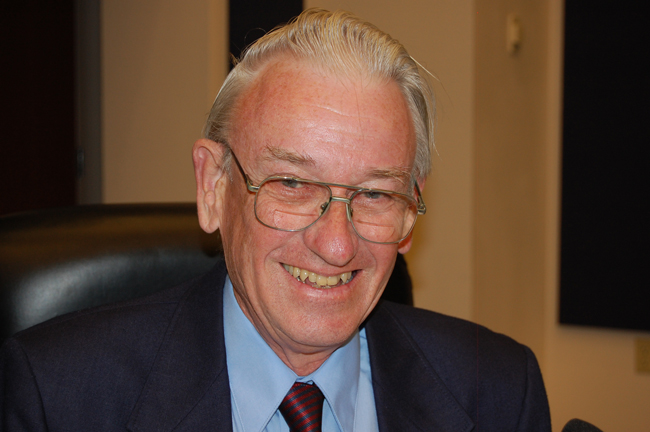 It got a little rowdy, a little loud, during Monday's Flagler County Commission workshop on next year's budget—the third such workshop in a series of about nine. The workshops are usually open to the public, but closed to public comment. Not Monday. Commissioners decided to give voice to public participation. They got lectured and threatened instead.
"I'll tell you from the taxpayer's point of view," Doug Chozianin, a member of the Flagler County Tea Party, told the commissioners. "Any commissioner who votes for increased millage is going to lose the next election. And I'm going to make sure"—Chozianin was interrupted by applause, cheering and whistling from most of the 100-odd people in the room, many of them standing. Then he said: "You smirked, Mr. Chairman."
"That's not a smirk," Commission Chairman Alan Peterson said.
"It's not a smirk, well it appears to be a smirk," Chozianin said. "I am tired of all these taxes and I don't see any benefit from them. So let's cut the millage. Let's cut the tax increases, let's cut the services that people like us don't use."
He did not specify what people like us meant, though it's generally clear from tea party throngs: older, white, retired, with better health insurance and better off than the average county resident. It's also not always clear what they're protesting. In Chozianin's case, he lives in Palm Coast's Marina Cove, where his taxes have been plummeting, not rising. His taxes have fallen from a high of $4,003 in 2004 to $1,866 this year. Chozianin's property tax bill for 2010 is 30 percent less than it was in 2009. His 2009 tax bill was 15 percent less than the previous year. In inflation-adjusted dollars, his tax bill this year is 61 percent smaller than it was in 2004.
Chozianin was preceded by David MacDonald, who told commissioners that his county taxes on his $300,000 house had increased 32 percent in the past two years. But he, too, is paying less, in inflation-adjusted dollars, than he was paying in 2003, while his tax bill in unadjusted dollars hasn't increased that much, other than falling for four years in a row from 2005 through 2008, and rising some again after that. Compared to his 2004 tax bill, his 2010 bill is just 11 percent higher, and that increase, again, is wiped out by inflation.
Still, MacDonald protested: "My pensions have no COLAs," he said, referring to inflation adjustments to those pensions. "Social Security has been frozen in recent years," he continued (after increasing an average of 3.9 percent a year for four years in a row, there's been no increase since 2009, though Social Security recipients got a $250 supplement as part of the stimulus package that year), "and my investment income has been plummeting. Every dollar you increase my taxes by will come from my life savings or my lifestyle. Most of my Palm Coast friends and neighbors are in the same position."
MacDonald, a tea party delegate to most commission meetings, said County Administrator Craig Coffey's request to departments to budget at 10 percent less for next year was not reflected in budget documents, though it "would eliminate most of the need to raise the millage rate, so that would have been a good starting point. As I just pointed out, what you're being given to review isn't coming anywhere close to that." MacDonald was also critical of one proposal to reimburse county employees for much of the loss they're incurring in their paychecks by having to contribute 3 percent to their state retirement pension. But that was just a proposal.
"You have not heard any enthusiastic idea about using any portion of the pension savings," Peterson said.
Two other tea party members spoke. When they were done, Peterson asked if anyone else wanted to speak. No one came up, prompting George Hanns, the county commissioner most prone to verbal gaffes, though never with malice, to say: "We've heard from the, some representatives from the tea party. Is there anyone else from the public that showed up today besides the tea party?"
That set the crowd roaring, with bursts of "we are the public" and "we are the people," and a little gavel-brandishing from Peterson.
"Order, order, please no more outbursts of that nature," Peterson said. "We've made a change to our normal rules, please respect the opinions of the people who are speaking."
Hanns backtracked: "What I would like to express Mr. Chairman, I'd like to hear from other members of the public. We didn't wish to create Woodstock here."
A few more people did come up, but only to press the point about increasing burdens on tax bills, health bills and the like. "I don't know what you have to do with school budgets," Ron Herman told commissioners (school taxes are set mostly by state law), "but it seems to me almost unbelievable that they can cut almost $2 million, and then give $1 million of that back to teachers' salaries, increased salaries." He also proposed reducing trash collection days—the first concrete cost-cutting proposal all morning.
"It's not necessary to threaten us because we're doing what we can do, and we're just as conscientious," Hanns said later, still smarting from the earlier criticism. "All of us are true Americans who believe in America, believe in Flagler County. I personally worked the last 22 years including the service district in making this a better place." He added: "Unfortunately we have some people who have a lot of influence on others and don't always have all the facts. But with your help we'll be able to bring up some good subjects, and I made a lot of notes here. We do take it very serious, and we are citizens just like the rest of you are."
"If it makes you feel better you can pick on my ancestors, but I will take it serious, all you say," Hanns concluded.
Hanns is one of the commissioners whose seat is up next year. Peterson and Barbara Revels are the others. Both the latter were pointedly conciliatory to the tea party.
"In the past when we had a budget committee that looked at every single item of our budget they came up with some good ideas, some of them got implemented, some of them could not," Revels said, "and in a way, what Mr. MacDonald and his group are trying to do is again look at our budget maybe in a completely different light than the budget committee that we had, and as I said to him and expressed to him, I myself and I'm sure fellow commissioners will be very open to great ideas that you may come up with, something we might have missed, or something that we need to reexamine. But in all of the speakers that have come forward there was one idea that actually could possibly be savings depending on our contract and if we can move it around, but the garbage pick-up I agree with completely. As much as I recycle, I don't need two garbage pick-ups a week for regular trash. I hardly have any. I think those are concrete ideas and baby steps that might make a difference that we can look at."