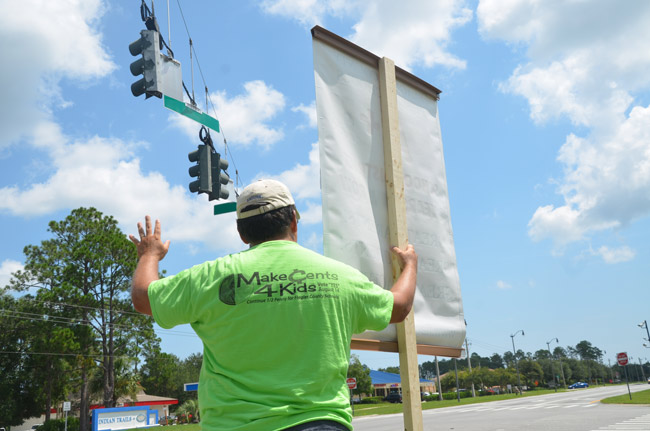 Late this afternoon, the Flagler County School Board approved going ahead with a referendum in June asking voters to raise their property tax by 50 cents for every $1,000 in taxable value—or the equivalent of $62.50 for a $150,000 house with a $50,000 homestead exemption (only the first $25,000 apply to school taxes).
The ballot will ask voters to approve a 50-cent tax. In reality, voters would be approving an extension of an existing 25-cent tax, and tacking on an additional 25 cents, for the next four years.
The vote was 4-1, with Andy Dance, the board chairman, dissenting, as he did last week when the board talked about the issue for the first time during a workshop. Superintendent Janet Valentine hasn't changed her mind since, and was in fact more forceful when asked about it on Monday.
"I am going to bring that forward, we need to do this," Valentine said, citing parents' insistence on more security measures in schools—including sheriff's deputies in every one of the county's five traditional elementary schools—and restoring 45 minutes a day to the school schedule. That 45 minutes a day was cut two years ago, along with 40 teachers, to save money. "The only way we can do that is a point five mil, and I really believe the voters deserve an opportunity to make that decision." (Property taxes are measured in "millage," with each "mil" representing $1 for every $1,000 in taxable value. Read a fuller explanation here.)
The board is making a risky bet that voters will again approve an extra levy for schools, as they did as recently as August, as they also had in November 2010, both times with more than 60 percent of voters approving.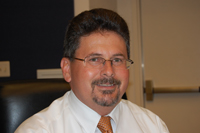 But Dance is worried that the board is going one levy too far, and trying voters' patience. "I think as we talk, I think I would be open to extending the quarter mil, but am still not in favor of the half," Dance said on Monday, repeating what he'd said last week, both at the board meeting and in an appearance on WNZF's Free For All Friday with David Ayres. Dance specifies: "The ideas that are floating are good ideas. I just don't think it's the right time to go back to the voters for a tax increase."
Dance looked around the state, where such new levies have had a 50-50 chance of success. He's worried that if it fails this time in Flagler, then the school district will be out the equivalent of close to $4 million a year, a huge sum that will translate in severe cuts. He doesn't want to take the risk.
Dance was an enthusiastic campaigner for the 10-year renewal of a half-penny sales tax that voters approved, with 63 percent in favor, in August. After some initial hesitation, he was also a supporter of the 2010 levy, which 61 percent of voters approved. But in both cases, Dance could make the argument that voters were not being asked to pay more taxes. They were being asked to continue to tax themselves at the same level as before. He's right. Both initiatives did not add to taxpayers' burden, but rather renewed existing levies.
The 50-cent levy would add half that amount to taxpayers' rates. But to say that the 50-cent levy would add to taxpayers' bills, as Dance claims, would also be wrong.
The reality is that school tax rates in Flagler County have gone down considerably in the last three years, as the state, which sets those rates, has cut them repeatedly, and most dramatically in the last two years. The state has done so even though property values have collapsed, producing a double saving for taxpayers. The state has essentially shifted the responsibility of merely maintaining adequate levels of funding onto local school boards, as the Flagler County School Board is now trying to do.
Take Dance's own property tax bill.
In 2010, Dance's house on Evansville Lane in Palm Coast was valued at $171,000. He was paying $1,154 in school property taxes. In 2012, his house was valued at $135,000. He paid just $877 in school property taxes, a tax cut of 24 percent. His overall tax bill went down, too, from $2,370 to $1,952 in the last two years—a $419 saving, or an 18 percent decline.
Most property owners are in Dance's  shoes: not only are they not overtaxed, but their effective tax bills have declined. The Flagler County School Board has felt the effects, having to cut some $7 million from its operations, the equivalent of 8 percent of its general fund. It has done so even as it has also used up half its reserves in the last three years to balance its budget. Reserves that stood at $9 million two and a half years ago are now hovering around $4 million.
That's why a majority of the school board is behind asking voters for the 50-cent levy. Still, voters don't always react empirically to tax issues. They can react emotionally. They can go with assumptions riding waves of public sentiment, which, especially on tax matters, are usually at odds with reality: they assume that their taxes are high and have kept going up, even though taxes haven't. They assume that every tax is a new tax, which, in the school district's case, is not true. And they often fail to make the connection between what they demanded yesterday—more security in schools, a longer school day—and what it would cost to make that happen.
To board member Colleen Conklin, so far the most vocally enthusiastic supporter of the levy, going for the full 50-cent levy is in fact a 25-cent levy, which on a $175,000 home, she says, equates to a $2.60 bill per month. With that, she says, the district can put school resource deputies back in the schools, improve security infrastructure such as better school entrances, and restore the school day to its previous length.
"The bottom line is, we're trying to address an issue that's been raised due to this tragedy," Conklin said of the demands for more security in light of the Connecticut school massacre last December. "We're trying to address really the outcry and concern we've heard from across the district, not just from parents, but from grandparents, and it's going to be up to the community to decide."
It's also going to take a great effort, on the school board's part, to campaign effectively for the special levy, which would appear on a special election ballot in June, possibly at a cost of $80,000. If the board's own chairman is not behind the levy, the board may have a much more difficult time convincing the public. Paradoxically, Dance's stance could be the difference between the measure's success and failure. Dance carries considerable weight—not only because he is the current board chairman, but because he commands respect on the board disproportionate to his single voice, he enjoys a broad constituency, he won re-election unopposed, and, as a member of the Flagler County Chamber of Commerce, he tends to reflect local business interests.
Scott Sowers, the current chairman of the chamber, said the chamber briefly discussed the school levy during a business committee meeting recently, but doesn't yet have enough information to know whether to take a stand—or whether the chamber will take a stand at all on the matter. But he expects the group to discuss the matter again soon.
More likely, it's on development impact fees that the chamber may again engage the school board. Last year the school board rebuffed a chamber-backed attempt to impose a moratorium on development impact fees, which are one-time levies on builders that add several thousand dollars to the cost of a home. The fees are designed to defray the cost of development, and in the school board's case, they ensure that the board has enough money to build new schools to meet demand. But for five years running, the district's school population has stagnated, and in the last two years it has declined, even though the board continues to collect impact fees. "It may come back in the near future," Sowers said, referring to the request for a moratorium.
Asked if the chamber might then ask for a moratorium in exchange for supporting the 50-cent levy, Sowers said: "That's a possibility. It's something we're trying to explore."
If the discussion goes in that direction, the school board will be in a tough position, because when it rebuffed the impact fee moratorium, it was largely supported by the general public, even as it was criticized by builders.
Conklin was struck by the connection. "I haven't heard that at all, and one issue has nothing to do with the other, and I would be surprised if the chamber did that," she said.
Meanwhile, the proposed referendum, even after it's approved this evening, must go to the Flagler County Commission for its approval: state law requires the commission to be in charge of approving any referendum. Commissioners won't object. But Barbara Revels, the commissioner who also chairs the county's economic development council, said she'd like to see a full presentation by the school board on the proposed levy.
"I obviously like to support anything the school board does that will improve education, such as security and a longer school day," Revels said. "I would worry just like School Board member Dance that they could be losing more than they could be gaining." Revels added: "It would be wise for us to be another hearing body, let everybody come out and have another discussion on it. Maybe the citizens who pay taxes as well as the school parents would have something to say in a different venue than in front of the school board. I don't know that. I'm just guessing. I'm not suggesting that the County Commission is now putting themselves in the position of a school board to know what's right for schools and finances, I'm just saying if we're going to vote on it, it becomes another opportunity for citizens to express themselves, and you never know, sometimes good things come out of that."