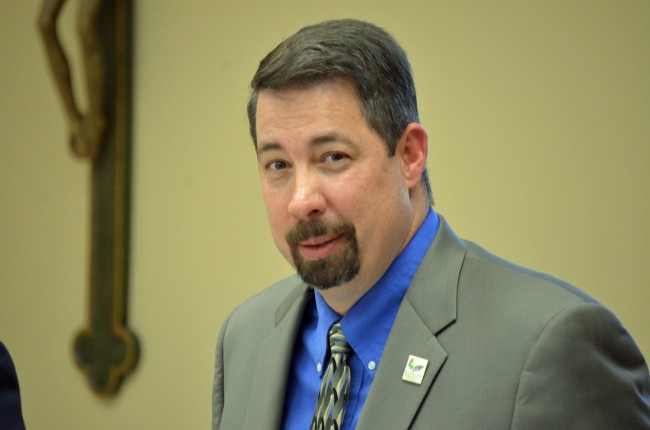 Flagler County Administrator Craig Coffey almost apologized for "making news" as he plunged through a list of projects for the future, including some yet to be approved or even discussed thoroughly by the County Commission Thursday afternoon.
Expanding an overcrowded county jail, building a modern new sheriff's operations center, upgrading an inadequate drainage system as urbanization changes the rural character of Flagler and improving fire and emergency medical response west of U.S. 1 were featured in Coffey's presentation. The list and more were presented as part of a Strategic Planning and Long-Term direction workshop, the first of four as Flagler County officials plan for the next 10 years.
Coffey said some of the projects had yet to be funded or even hashed out in public by the Board of County Commissioners. "It's basically a draft document," Coffey said.  "These are not things, for the public, that we've adopted."
Finding a cost-effective way to improve fire and emergency medical response west of U.S. 1 was number one on Coffey's list. This included either building a new fire station on County Road 305 south of County Road 2006 or opening a vacant volunteer station at St. John's Park. "Basically, if you're on the west side and you have a heart attack or fire you're in trouble," Coffey said. "The response time is slow."
Expansion and maintenance of the Palm Coast Library ranked two and three on the county administrator's list, including a new roof and flooring.
County Commissioner George Hanns complained about a hefty stormwater fee charged to the county by  Palm Coast for the library. Hans also suggested cutting down trees at the library to establish a park and make the area less hospitable to the homeless and problem juveniles. Vandalism forced removal of an $11,000 gazebo from the library grounds, he said.
Expansion of the county jail came in fourth on the list, with Coffey proposing a goal to keep the project below $18 million and double the capacity from the current 132 beds. However he wants a master plan to eventually accommodate a 1,000-bed campus. Overcrowding is a problem at the jail.
"It doesn't really say what we're going to do," Coffey said. "It just lays out the goals of the project."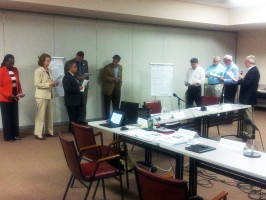 Hanns said he's been hearing about the jail and other issues for 20 years. He urged fellow commissioners not to be intimidated by one or two critics who might pop up after lengthy consideration and try to derail action by saying it's a waste of money, or that they have a better idea. "We can't keep changing our minds because two people complain about it," Hanns said, though his math might be a little off.
Continuing the public safety theme, Coffey outlined a goal to build a new $5 million, 22,000-square-foot sheriff's operations center, with a plan for expansion to 36,000 square feet to serve future growth. The county is in the midst of acquiring the old Memorial Hospital to that end, though the commission has not signed off entirely on that deal.
Another goal would relocate Public Works, Public Transportation or county storage to a former county jail building that has been vacant–on State Road 100, across from the Government Services Building–either  though demolition and reconstruction or upgrading the current building. "That building has to be torn down or rehabilitated," Coffey said. The government services building campus would be targeted for enhanced safety and functionality with a new traffic signal on State Road 100, relocating an employee health clinic to the caretaker house and moving staff and equipment from the rear of the complex to eliminate crowding.
Trying to improve the fuel efficiency of county vehicles is a fairly standard goal that probably appears on the list of hundreds of local governments.  However, improving a rural drainage system represents a goal more unique to the increasingly urban Flagler County.
Nate McLaughlin, the commission chairman, said drainage is of "economic importance to the farmers out there." He added, "When the rains fall those fields have to drain." Coffey said the challenge for the county is to fix a drainage system that is too small. "Systems that have been in place since we were a very rural county no longer work," Coffey said.
Commissioner Barbara Revels said drainage from urban areas make things worse for the farmers. "A good bit of the rest of the county ends up draining through that system and we're not charging the rest of the county," she said.
Upgrades to the north of the Malacompra Drainage Basin in the Hammock and continued efforts to prevent erosion along the shore also made the proposed list of strategic goals.
Coffey finished up the facilities and services goals with a laundry list of infrastructure issues including re-establishing a road resurfacing program. "This is something that has been on hiatus for a decade or more," he said. "We have roads on the west side that we're responsible for that we haven't done anything on for years."
The infrastructure goals included developing an annual inspection program for bridges, intersections, stormwater structures, trails and signage.
Revels suggested including goals for water utilities and garbage. She urged a decision on "whether or not to continue to take over failed utilities or whether to try to develop a county utility system," an allusion to the county's twin acquisitions of the Beverly Beach utility and the Plantation Bay utility. Both were acquired for millions of dollars. Both utilities were wrecks the county has to rebuild. She also complained there was no method for disposal in Flagler of construction debris.
A separate long list of projects for recreation and tourism included construction of baseball fields. "We have no place to hold a good tournament," Coffey said. At least not in the county proper, though if the county were to partner with Palm Coast, it might not feel the need to have tournament-ready fields of its own. Park maintenance also ranked high as well as developing the county fairgrounds and the Florida Agricultural Museum.
County commissioners began the afternoon-long planning session with an ice-breaker exercise which got them up out of their seats and moving to different areas depending on their answers to questions about their approach to issues, such as whether they were planners, or doers.
Hanns said public safety is job number one. "So anything that comes up about public safety is a priority for me," he said.  Revels said the projects that should be implemented are those that are cost-efficient and "benefit the most people." McLaughlin said he evaluates issues on a hierarchy of need. Public safety would be at that top. "Parks and recreation are the kind that wouldn't be some of your first priorities, but would be on that list," he said. Commissioner Frank Meeker said he supports projects that serve "the most people for the least cost." He wants to take care of the issues mandated to the county. Once the mandated missions are taken care of, "I think of what are the nice things we are able to accomplish."
Charlie Ericksen, another commissioner, said he thinks on a seasonal basis. "Here we are with hurricane season a month away and fire season close by," he said. "Here's an opportunity to educate the public, remind them of the plans we've got in place." Hurricane season runs June 1 to November 30.
With three more strategic planning sessions to go, the workshop season might run as long as hurricane season for the county commissioners.